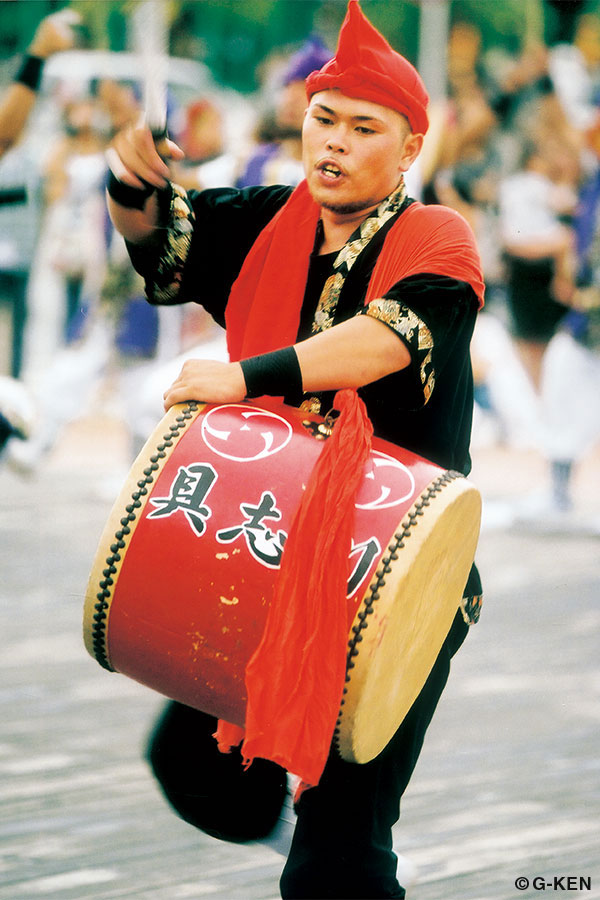 Eisa dancing is performed on the last day of the three-day Obon celebration to bid farewell to the ancestors' spirits (michi-junee). To most Uchinanchu (Okinawans), this day is a most chim-dondon (exciting) occasion. Young men and women travel around residential streets and business areas dancing eisa, accompanied by drums, folk songs, chants and whistling. Eisa was originally performed so that people could give the spirits a good send-off. Around 30 young men and women dance eisa at any one time, singing, chanting and playing drums to the strains of a sanshin.
Eisa is said to have started with ninbuchaa ("monks" in Okinawan dialect) who chanted nenbutsu (reciting the name of Buddha) and danced at funerals and Buddhist ceremonies when the Jodo Shinshu sect of Buddhism was introduced to the Ryukyu Kingdom. In the late 19th century, young men started dancing eisa to popular minyo (classical Okinawan music) instead of to the sound of nenbutsu. This dance style later formed the basis for the contemporary style of eisa seen today.
After World War II, many eisa lovers got together and started creating their own style. Due to the All-Okinawa Eisa Festival promoted by Koza City (later, Okinawa City) in 1956, youth associations in each area developed their own particular brand of eisa with gorgeous costumes and showy dancing. They also started adding more songs to accompany their dances. They used to compete with youth associations from different areas, but such competitions came to an end in 1977.
People nowadays simply enjoy watching eisa at the All-Okinawa Eisa Festival. Young children watch youths dancing eisa and dream of performing as one of the members of an eisa group some day. Young and old, boys and girls, men and women, most Okinawans love eisa, and they expect to see eisa performances every summer. Because of the current popularity of Okinawa in mainland Japan, there are many eisa fans across the water and even in foreign countries, where eisa is sometimes performed. Eisa is becoming part of an entertainment culture that Okinawans can be proud of.
Many companies observe the last day of Obon as a holiday; on Ukui, the Obon mood pervades the entire island. Around sunset, youths gather at village festival venues or community centers, and michi-junee begins.
Left: Heshikiya eisa is well known for incorporating a traditional dance style dating back more than 100 years.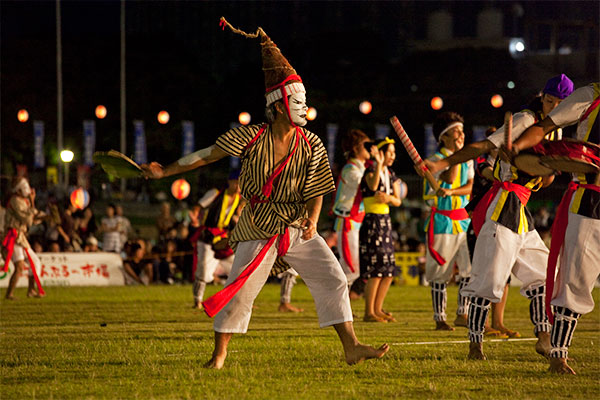 All-Okinawa Eisa Festival
The All-Okinawa Eisa Festival stands out from among other events of its kind held around the island for its grand scale. Featuring exciting eisa performances by a number of youth groups from all over the island, the festival draws some 200,000 visitors each year. With the Orion Beer Festival held concurrently on the same grounds, the All-Okinawa Eisa Festival is an Okinawan summer festival that can't be missed!
Date: mid-August to early September
Place: Okinawa City Koza Sports Park
Admission: Free *Admission is required for some of the seating areas. Admission to the beer festival is free.
10,000 Eisa Dance Parade
This is the biggest eisa parade in Okinawa, held annually on Kokusai Street, Naha's main boulevard. On the day of the festival, the street is packed with eisa groups, including youth teams and kids clubs, from across the island showing off their repertoire of both traditional and creative eisa dancing. The parade also features a spectacular eisa procession of 1,000 dancers assembled from the general public for this particular event.
Date: Saturday, Aug. 5 – Sunday, Aug. 6, 2017


Time:

13:00-18:30


Place: Kokusai Street (starting from Saion Square to Palette Kumoji, Naha City)
Admission: Free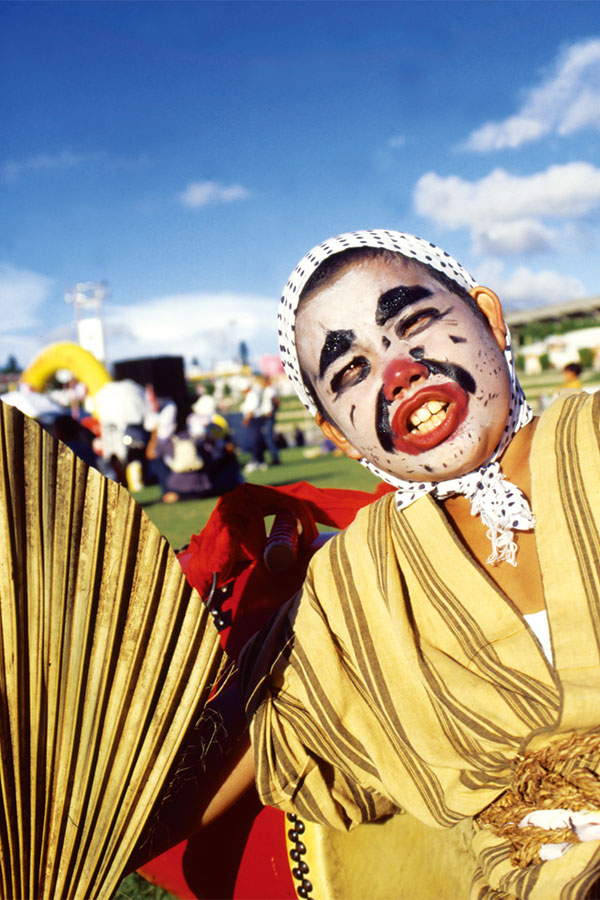 Chondara — Okinawan clowns
The role of the chondara includes cheering the dancers on; exciting, captivating and entertaining the audience; and guiding the group in the right direction. The chondara is an indispensable feature of Okinawan eisa.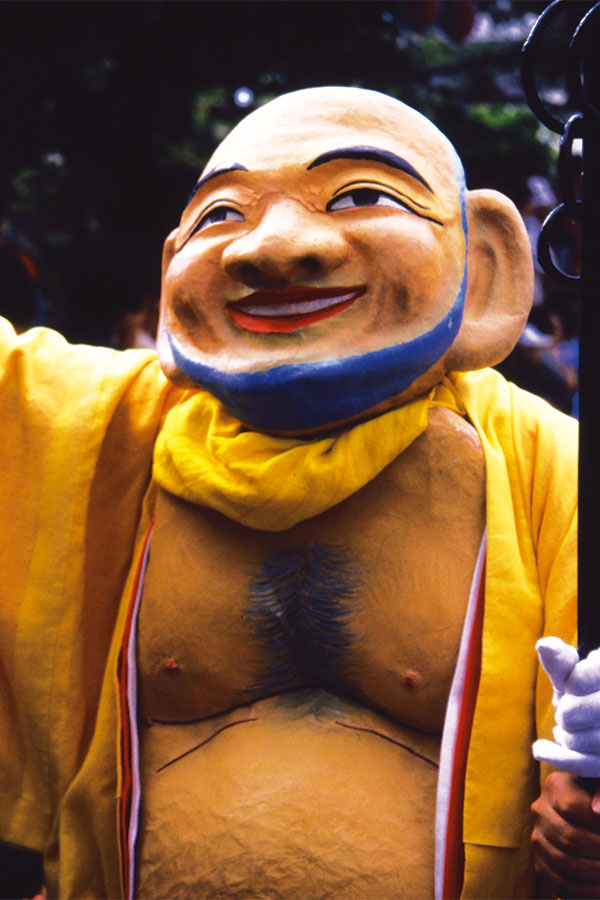 Miruku-gami (milk god)
Miruku-gami, literary meaning milk god, is a legendary figure that is often featured in Okinawan festivals, including eisa events. Local Okinawans pray to the miruku-gami for a good harvest and happiness.