American Village Morning Mart vol.4 invites people for healthy bite and exercise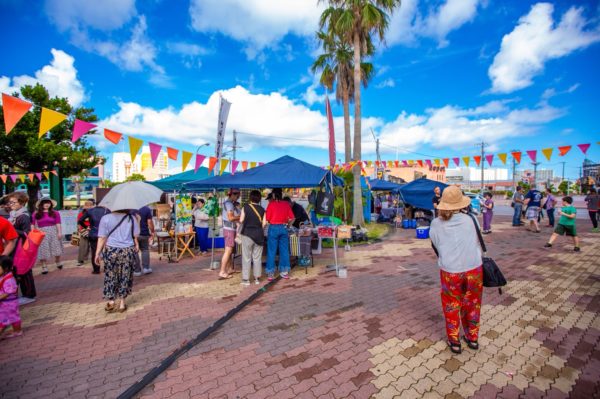 Officials at the Chatan Tourism Association are looking confident to 2020 as they are all set to kick off the first American Village Morning Mart Vol. 4 of this year on Saturday, Feb. 15.
The event has proven to be popular among locals and tourists who are looking forward to starting their day with a healthy bite and a fresh cup of coffee, followed by a little bit of exercise in the form of yoga, Hawaiian hula, or jazzercise.
This time, 17 vendors are scheduled to be at the event offering wares and treats ranging from home-baked cookies and sweets to handicrafts. Bento lunches by Double Decker restaurant and Turkish sweets by Sunabe Gyros restaurant certainly would be worthy of taking a close look at. Homemade accessories and Chatan's specialty goods are also for sale. There's even a booth where visitors can try their hand in making handicrafts.
As before, there are free lessons in Hawaiian Hula, Tahitian dance, and yoga.The event takes place in the area surrounding the Ferris wheel in Mihama and the booths will be open for four hours from 8 a.m. to noon.
The area around the Chatan Information Center will be where the vendors slling bakery products, sweets, coffee, handicrafts, and accessories.
Rumi Watari conducts a free Healing Yoga class from 8:30 to 9:30 a.m. People joining in the yoga class should wear comfortable clothes and bring their own yoga mats, towels, and other necessities.
Instructor Aiko Horiuchi from Chatan's hula and Tahitian dance studio Halau Hula Na Pua O Ka Hala and an instructor from Puahinano Polynesian Dance Studio show participants the right moves at free lessons from 9:45 to 10:45 a.m. Rental dresses are available for those who don't have their own.
For those who want something more vigorous, Yuriko Nakamine holds a jazzercise demonstration from 8 to 8:20 that promises to burn no less than 800 kilocalories and everyone ready to rise to the challenge is welcome.
Date: Feb. 15, 2020
Time: 8:00 – 12:00.
Free Fitness Sessions!
Jazzercise 8:00 – 8:20
Yoga 8:30 – 9:30
Hula and Polynesian Dance 9:45 – 10:45
Place: Chatan Information Center area, Mihama