Baby 123 and the art of pizza
Baby 123 and the art of pizza
Takako Maruo, the owner of Baby 123, makes many daily trips across cultural borders while caring for mostly children of foreign nationals. One of her favorite ways to educate her kids involves visiting local eateries. She believes this is a good way to learn language and social interaction while living abroad.
Here, she describes a fun and yummy outing she put together with a little help from a neighborhood business. Through this experience the kids got to practice language, working with their hands and also pride in accomplishment – not to mention a great meal.
If you know any little boys and girls, you know most love pizza. It's a colorful dish, fun to eat and has the kind of uncomplicated taste that they go for. They love picking up the slices and biting into the soft cheese and crispy crust. Few foods will get their attention as quickly or completely. A while back, I discovered something else: Kids love making pizza, too.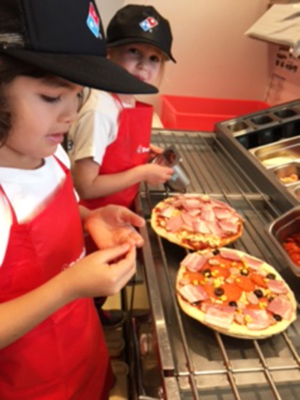 It was 9:30 when we headed out to Chatan's newest Domino's Pizza on Route 58. We arrived an hour before opening so we had the whole place to ourselves. The first thing we discovered is that there's nothing like a walk through sunny Chatan to work up an appetite. After washing their hands, the group of small chefs, wearing little Domino's caps and aprons, enthusiastically entered the kitchen to prepare lunch. They learned to put dough into a pan, place a big scoop of sauce in the middle, spread it around and add lots of cheese. Then, they got to choose whatever other toppings they wanted: extra cheese, pepperoni, sausage, pineapple and more.
All were thrilled to see their creations go into the oven and come out done. They sliced their freshly made delicacies and then boxed them. Then, we got a tour of the place and even got to sit on the official Domino's delivery motorbikes. It was one of Baby 123's most memorable experiences.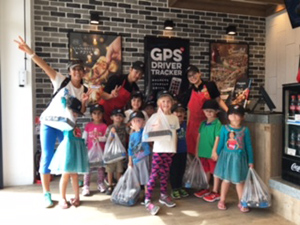 We said our "arigatous" to the manager and his assistant, who were so kind and patient, and then walked back to Baby 123 to dig into our creations. Of course, this was the best pizza our kids had ever tasted.
At Baby 123 we are always looking for new ways for our children to get out, explore their world and learn. Please call us and make an appointment to hear more.
Tel: 098-926-0826