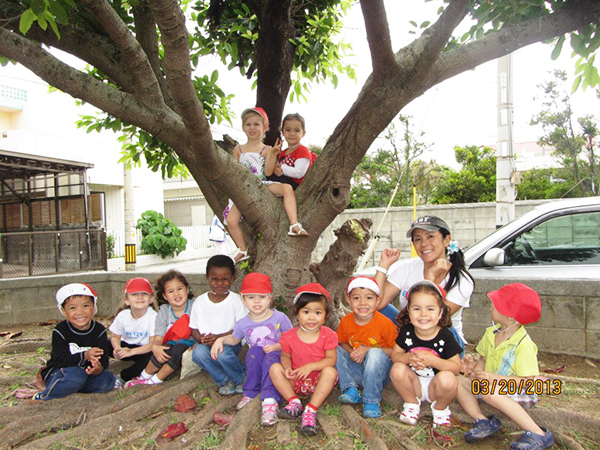 Baby 123: Okinawa, daycare and the art of play
If not for the sign on the front and the double gated entryway, a visitor might feel as though they're approaching someone's home – a home filled with smiling children. Step inside Baby 123 and proprietor Takako Maruo will be in motion right in the middle of the day's business, her watchful eyes sweeping the room while she and her staff hand out lunches or snacks, organize games and other activities or simply converse with their small charges. The VIPs of the day – the children – are all active and occupied, often laughing and always learning. But in the midst of the activity and laughter, the staff of Baby 123 take their part in what Maruo calls "the art of play" very seriously.
Since 2008 Baby 123 has been a treasured resource for moms and dads living or working near the Sunabe area who need a safe and fun place to entrust with their children. Baby 123 goes well beyond these basic requirements by literally going off the beaten path to provide a stimulating and educational environment that helps kids get the most out of a unique time and place in their lives.
For starters, there is the language. Most of Maruo's small clients are the daughters and sons of resident Americans, but there are some Japanese kids as well. If there is a language barrier at Baby 123, nobody seems to notice. "All of our staff are Japanese," Maruo said "but, everyone speaks English." The American children who are interested pick up useful Japanese words and customs and, of course, the Japanese kids get a chance to practice English. "Among themselves," Maruo says, "our kids have found their own language."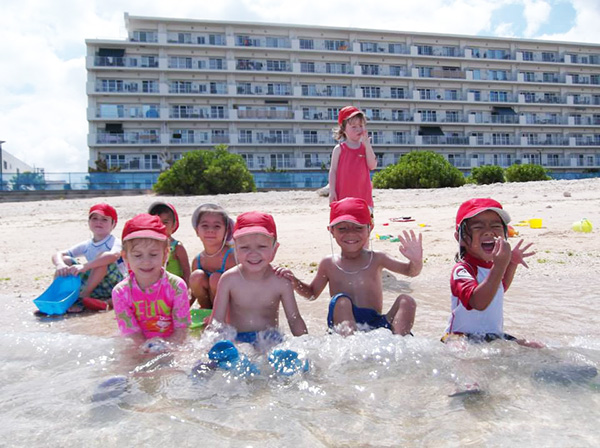 A day of activities
"We spend a lot of time outside," said Maruo. "There are a lot of hidden spots that even parents don't know about, so when weather permits we like to explore the parks and beaches." Of course, it helps that Baby 123, located just a few dozen yards from the Sunabe Seawall, has plenty of both within easy walking distance. "Getting outside keeps kids physically and mentally active," she continues, "and it's so much fun to watch their imaginations soar while they explore this beautiful island." According to Maruo, another benefit to getting outside with Japanese classmates and teaching staff is that it gives American children a chance to learn about their host culture through social interactions as simple as going out to eat. In any one of their regular restaurants, kids can practice asking questions to restaurant staff or using chopsticks.
What does a mixed group of mostly American children eat in the middle of Sunabe? "Okinawa soba," Maruo says without a pause, "and then, curry. American kids, Japanese kids all love it. Those are their two their favorite foods." It turns out that all of the exploration, play and yoga can build a healthy appetite.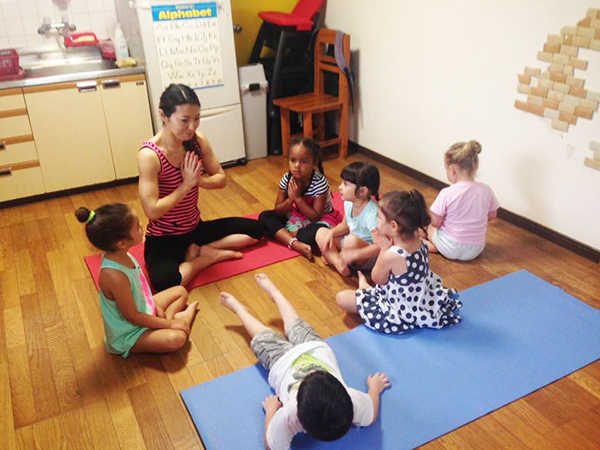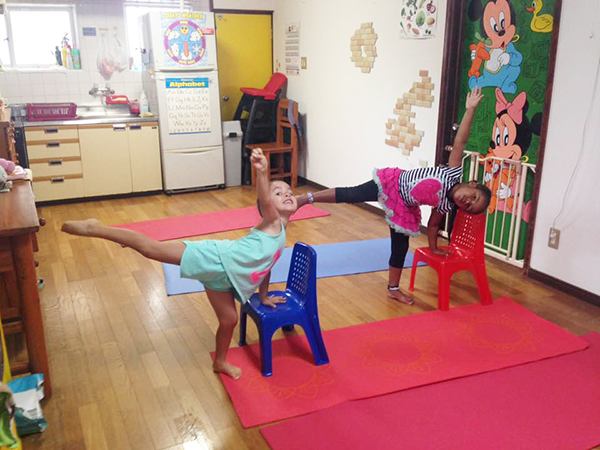 Wait a minute… Yoga?
Another unique opportunity available to Baby 123 kids is their yoga class. Instructor Yukari Sensei – a certified yoga trainer – joins Baby 123 twice every month from her studio in Naha to introduce kids to this exotic and popular activity. "Yukari Sensei has two young children of her own, and she really knows how to get kids moving," Maruo says. "They exercise, gain confidence and of course they have a lot of fun."
On a given day, Baby 123 cares for an average of 22 children between the ages of 6 weeks and 5 years old – although the current facilities and staff can easily handle up to 26 kids. Enrollment begins by giving Miss Takako or her staff a call and making an appointment for a tour of the sunny Sunabe facility.
1F 1-157 Miyagi, Chatan
Tel: 098-926-0826
Hours: Mon-Fri, 07:00-17:30
Closed: Sat, Sun and holidays
Facebook