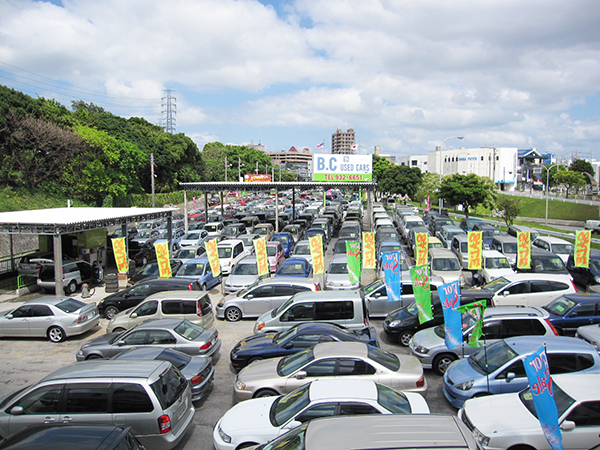 You must have seen them on the rear windshields of cars: small white, blue and black stickers that say "Okinawa B.C." There are quite a few of them on the streets of Okinawa. Not coincidentally, a large percentage of vehicles with "Y" license plates sport these stickers. The reason is simple: That sticker means the vehicle was purchased at B.C Used Cars – which sells more vehicles to U.S. military personnel and their dependents than any other local dealer.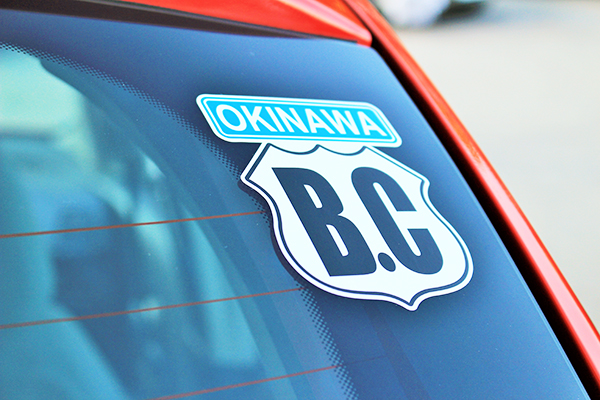 B.C. is the largest used car dealership in Okinawa. Its main Gate 2 location has a commanding view of Okinawa City, where the company began nearly five decades ago.
Although not the first used car dealership on what is now Route 23 (near Kadena Gate 2), B.C. is still one of the originals. Mr. Isao Oshiro named his business after what was, in 1967, known as the B.C. ("Business Center") area near Gate 2. He began by purchasing old or damaged cars at scrapyards, repairing them and then reselling them one at a time to U.S. servicemen and local Okinawans. By 1975, Oshiro had three employees – a mixture of Japanese and Americans – and an inventory of 25 cars for sale in what is now the parking lot of Korinza Shopping Mall.
As the quality of his services improved, Oshiro found himself with a business model that worked: He would keep a mix of Japanese and American employees and not be afraid to take on new services. As these services expanded, so did his reputation – and so did B.C. Used Cars. By 1991, he had opened a garage with five lifters and a staff of dedicated mechanics in nearby Chibana. Oshiro could now offer his customers first rate automotive repair and maintenance services.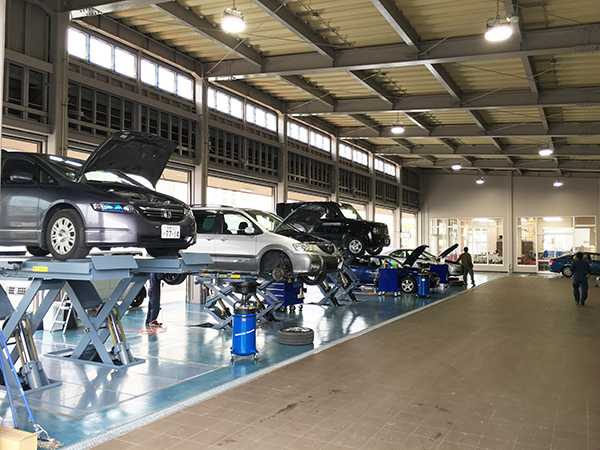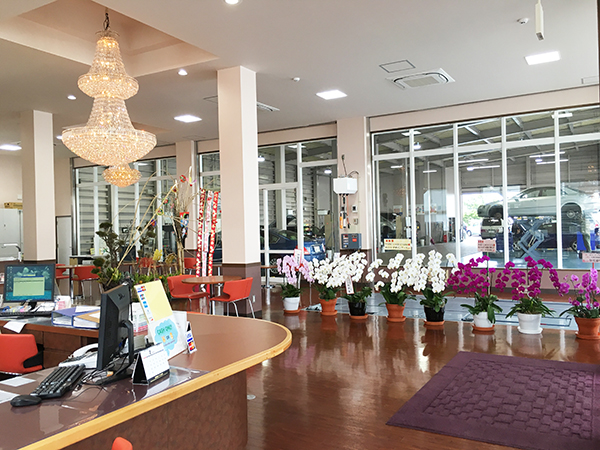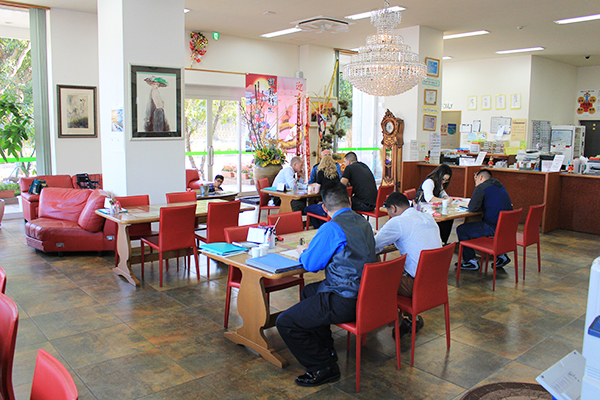 The difference between the B.C. Used Cars of old and that of 2016 is tremendous. There are now 63 full time employees and an inventory of over 400 vehicles. In addition to the main location at Gate 2, there is a second sales lot on Route 58 in Chatan and a brand new service center located just down the street from the old garage in Chibana. With this new facility, B.C.'s service offerings have been given a major upgrade with 12 additional lifters and state-of-the-art diagnostic and repair equipment. Services include everything from routine tire rotations, oil changes and AC repair and replacement to major bodywork and paint.
Despite the differences, the business has remained the same in many respects. For nearly half a century, Oshiro has continued expanding and diversifying his service offerings and has stuck to his belief that continuing to add services will result in more satisfied customers. People can now come to B.C. Used Cars not only for sales, maintenance and repairs but also for vehicle registration paperwork and for one of Okinawa's quickest, best deals on JCI inspections. They can even purchase ACE and AIU insurance – at a great price, of course.
"It's not just about selling cars," says general manager Akira "Jun" Agena. "It has to do with making sure customers are happy having a one-stop-shop. Most customers come to us exclusively because we keep prices for all their services way down." Agena goes on to say that B.C. has just extended its warranty on cars to 24 months. This is a first for Okinawa.
Not surprisingly, most of B.C.'s business comes from customer recommendations. Some of these referrals have surprising sources. "Not too long ago, we sold a car to a gentleman," said Chatan branch manager, Osa Jackson, "who was referred to us by his 82-year-old grandfather – who had been stationed here in the '70s."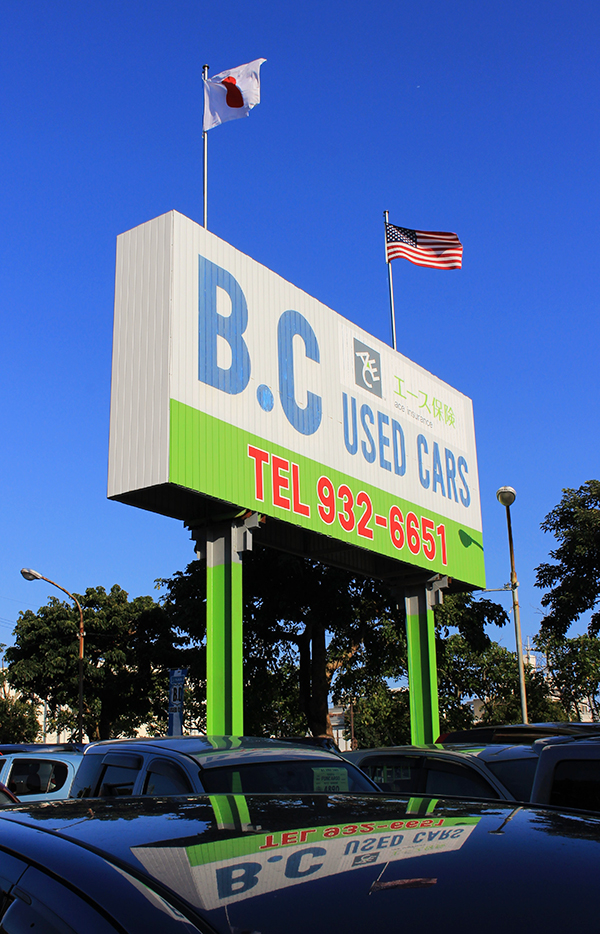 B.C. Used Cars has seen many changes over the past 47 years. From humble beginnings refurbishing American-made vehicles, one at a time, to being the largest used car dealership in Okinawa with three generations of loyal customers, the company continues to improve through continuously adding to its products and services. Based on feedback from customers and staff, Mr. Oshiro has taken risks in stride and changed with the times.
"It's always a risk," Oshiro is fond of saying, "to not take risks."
Main office
4-23-42 Uechi / Okinawa City / Ph: 098-932-6651
Hours: 09:00-18:00 / Open: Daily
Chatan branch
1-1-14 Mihama, Chatan / Ph: 098-936-6366
Hours: 09:00-18:00 / Closed: Sun
New service center
4-49-15 Chibana, Okinawa-City Ph: 098-938-0302
Hours: 09:00-18:00 / Closed: Sun
Main office
4-23-42 Uechi Okinawa City
Tel: 098-932-6651
Hours: 09:00-18:00
Open: Daily
Chatan branch
1-1-14 Mihama, Chatan
Tel: 098-936-6366
Hours: 09:00-18:00
Closed: Sun
New service center
4-49-15 Chibana, Okinawa-City
Tel: 098-938-0302
Hours: 09:00-18:00
Closed: Sun