美ら海公園 花祭り
Churaumi Flower Festival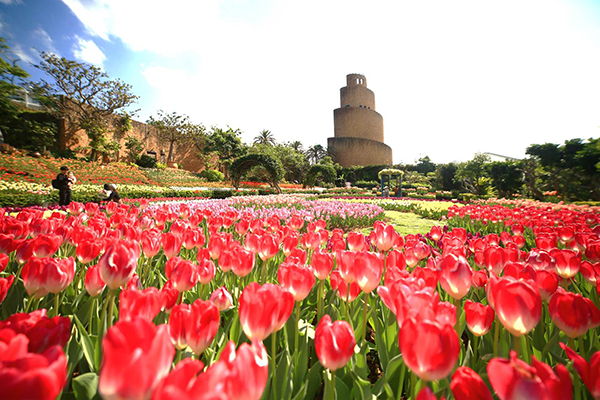 Good times are waiting at the flowerful Ocean Expo Park!
The annual Churaumi Flower Festival at the Ocean Expo Park in Motobu invites visitors with tens of thousands of flowers in full bloom highlighting Okinawa's colorful winter.
And as every year, the festival offers unique colorful photo opportunities with its blooming flower renditions of manta, whale shark, octopus and other cute sea creature characters, 12 Zodiac signs, topiary plants and more.
Altogether about 400,000 flowers of various colors decorate the park.
During the festival, other flower-related and stage events are also happening at the same time.
A special Tulip Fair takes place on the second week of February, featuring 80,000 blooming tulips gracing the Tropical Dream Center in Okinawa's largest tulip spectacle.
Churaumi Flower Festival
Date: Jan. 23 (Sat) – Feb. 28 (Sun)
Time: Expo Park 8:00 – 18:00
Tropical Dream Center open 8:30 – 17:30
Place: Okinawa Expo Park; Main venue Tropical Dream Center
Admission: Free to the park (Entry fee required to Tropical Dream Center; adults ¥760, free for junior high school students and younger)
Tulip Fair
Place: Tropical Dream Center
Date: Feb. 6 (Sat) – Feb. 14 (Sun)
Time: 8:30–17:30
Admission: Tropical Dream Center entry fee only (Adults ¥760, free for junior high school students and younger)