With more than 200,000 visitors annually, the Naha Haarii is the island's biggest such event, held at the Naha Shinko Terminal for three days on May 3-5. Compared to sabani in other areas, the sabani of Naha are colorful and bigger, featuring a dragon figurehead on the bow and its tail on the stern, a reminder of the elegance of the days of the Ryukyu Kingdom. While the capacity of a regular sabani is 11 to 12 people, a large boat called the haryusen (haarii boat), used in the Naha Haarii's final race, or hon baarii (main race), can hold 32 oarsmen, two bell ringers, two helmsmen and six other crewmen, offering a impressive view of teamwork during the race.
Displaying not only the fruits of the tireless practice of each team, the racing venue also hosts a wealth of entertainment including live stage performances featuring local singers and dancers, contests and more with fireworks to end the day.
Date: Wednesday-Thursday, May 3-5, 2017
Place: Naha Wharf (1-16-10 Minatomachi, Naha City)
Time: 10:00-21:00
Admission: Free
For inquiries: (Naha City Tourist Association) 098-862-1442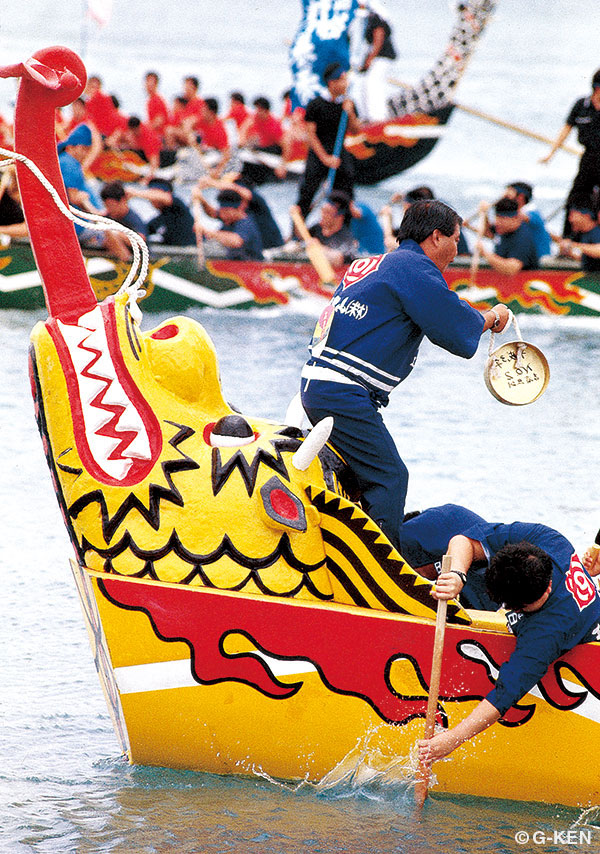 Races are held on the first and third day; you can ride in one of the boats (10 minutes) on the second day, when no races take place. The ugwan (prayer) haarii and the main haarii are featured on the third day. The boat rides on the second day are scheduled from11:00-16:00. You can sign up starting at 10:30.
Everyone — from children and the elderly to tourists and foreigners, people of all ages and nationalities — is excited cheering from the shore.
There are various forms of haarii, including the ugwan haarii, praying for a safe voyage and a good catch, and the open haarii, where numerous groups participate in the races.
Ten percent of participants at this dynamic international race are American military members.