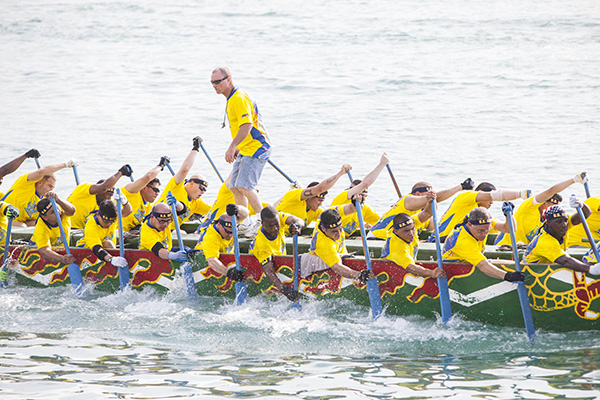 With more than 200,000 visitors annually, the Naha Haarii is the first of the season and the largest. The bigger haryusen are used here, crewed by 32 oarsmen, two helmsmen, two bell ringers and others. Haryusen are more colorful and elaborate than regular sabani, featuring a dragon head on the bow and its tail on the stern. The three-day event features entertainment, including music performances. The main haarii takes place on the third day, while visitors on the second day can enjoy free rides in the boats.

May 3: Jr. high school boat races by teams from schoolsand companies in Naha City
May 4: Free haarii ride experience
Three 32-person haarii will be available for free 20-minute rides. Some 1,000 people signed up last year. Registration is accepted on-site only.
Time: 11:00-12:30; 13:00-16:00
May 5: Hon-baarii (main haarii) and ugan baarii (prayer haarii)
Participants, including local youth associations, companies, all-female groups and US military teams from around Okinawa, will compete with pride.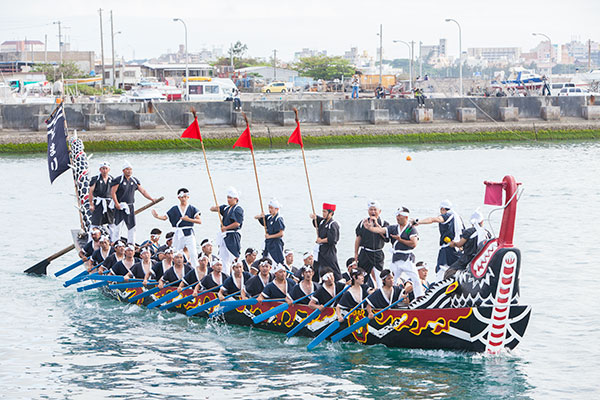 Recommended entertainment schedule
Thursday, May 3, 2018
9:30 Opening ceremony
19:00-20:30  Live: Kiiyama Shoten –  Famous Okinawanpop band
20:40 -21:00 Fireworks: Fantasy of Music and Lights
Friday, May 4, 2018
Don't miss it!!
11:00 Dragon boat ride experience (until 16:00)
11:30- 12:00: Hana yakara - Eisa dance show by children
14:30- 18:30: Local artists shows
18:50-19:20  Live: Manami
19:40 - 20:30  Live: Diamantes
20:40 -21:00  Fireworks: Fantasy of Music and Lights
Saturday, May 5, 2018
16:40-17:10 Ugan-baari & Hon-baari Dragon boat race
19:10-19:40  Live: Chuning Candy-This hot Okinawan dance and vocal group consisting of seven 16 year-old performers shouldn't be missed.
19:50-20:30  Live: Seven Ops
20:40-21:00  Fireworks: Fantasy of Music and Lights