第33回 那覇マラソン
33rd Naha Marathon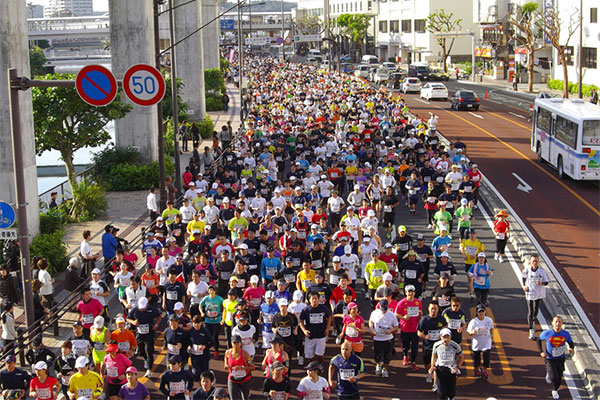 The Naha Marathon is an annual marathon that started in 1985 to commemorate the 25th anniversary of the twinning agreement between the cities of Naha and Honolulu. The course, stretching over five municipalities in the southern part of the island, covers some of the most scenic areas of Okinawa, including old battle sites. The first 10 kilometers of the course are run in the city, followed by a country road through sugarcane fields dotted with private homes. After traversing Peace Memorial Park, where the Battle of Okinawa took place, runners enjoy a beautiful coastline and ocean view in Itoman City. Every year the Naha Marathon draws a great many participants from around the country, and it often reaches capacity as soon as registration begins. Participants are strongly recommended to reserve accommodation as early as possible because the hotels around the Miebashi intersection, where the race starts, tend to be fully booked well in advance.
Date: Sunday, Dec. 3, 2017
Time: 9:00-15:15
Place: Southern Okinawa
Category: Full marathon (49.195 km)
Entry requirements: 16 years old and up
Registration: Starts four months prior to the event on the first Monday in August
Participant capacity: 30,000
>>> Official website
*Registration may close early if the race reaches capacity.