琉球ランタンフェスティバル2018-2019
Ryukyu Lantern Festival 2018-2019
We may not see snowfall in the winters in Okinawa, but across the island, beautiful illuminations twinkle in the evenings to brighten our evenings. Among the various illumination events at resort hotels, shopping areas, and other facilities, there's a very special winter event in Yomitan that features the warm glowing lights of lanterns.
Murasaki Mura is holding their 4th edition of the Ryukyu Lantern Festival, a romantic event featuring thousands of Chinese lanterns adorning the park grounds. 
Located in Yomitan Village, Murasaki Mura is a popular cultural theme park where a typical Ryukyuan townscape from the 14th and 15th centuries is recreated. 
Modeled after a common townscape during the period of the Ryukyu Dynasty, the park was originally created as a set for a major Japanese TV drama series that aired in 1993. The show portrayed the struggles of the people in the Ryukyu Kingdom during the late 16th to the early 17th centuries, as they faced invasion and control by the Satsuma Clan of Japan. You'll feel like you travelled back in time as you stroll along the stone-paved streets and visit the buildings that were carefully recreated.
This year, entertainment is scheduled for EVERY NIGHT of the entire two-and-a-half-month-long festival! You will also find food stands featuring dim sum delicacies including pork buns as well as Okinawa soba and yakitori (Japanese skewered chicken) in the Tenshi-kan area, where they will recreate the world of the Ghibli movie, "Sen to Chihiro no Kamikakushi" (Spirited Away). 
A variety of stage entertainment, including Eisa drum dancing and live musical performances, along with projection mapping and more fun awaits you! 
About 5,000 lanterns, including some featuring work by prominent Okinawan woodblock print artist Naka Bokunen, will be displayed at Murasaki Mura. The Yomitan Akari Festival is scheduled to be held simultaneously at several locations in Yomitan Village, which will also be beautifully lit up by lanterns.
Date: Saturday, Dec. 1, 2018 - Sunday, Mar. 3, 2019
Lantern Lighting 18:00-22:00 (Murasaki Mura is Open for Entry from 9:00)
Place: Murasaki Mura (Yomitan Village)
Admission: 600 yen for adults; 500 yen for junior high and high school students; 400 yen for elementary school students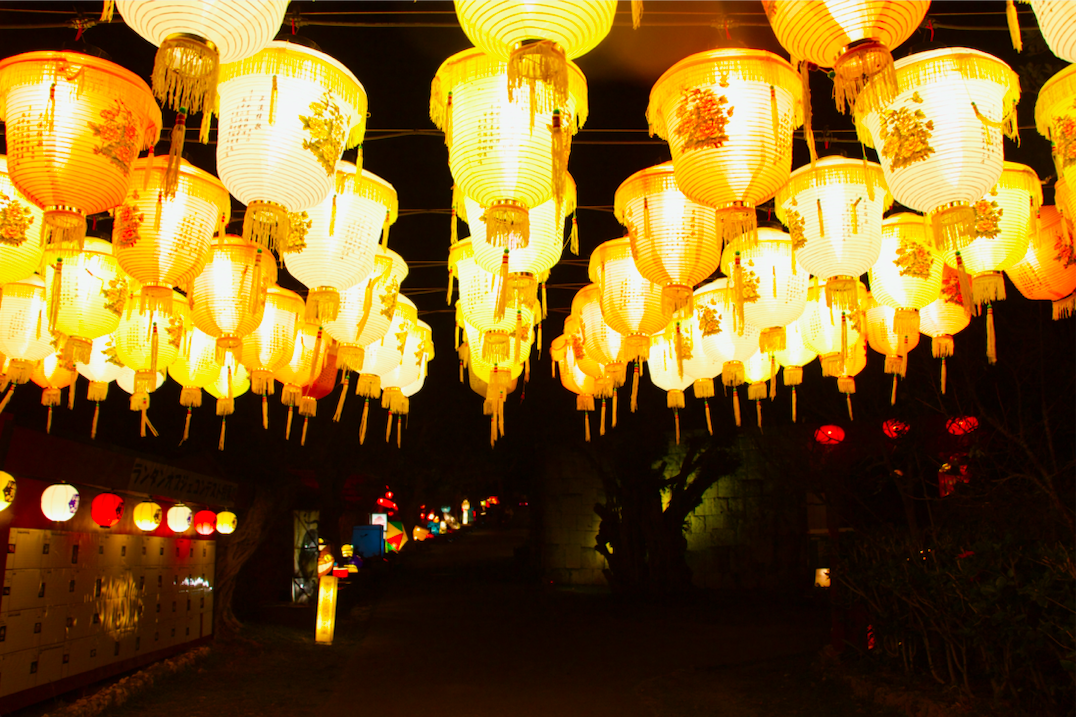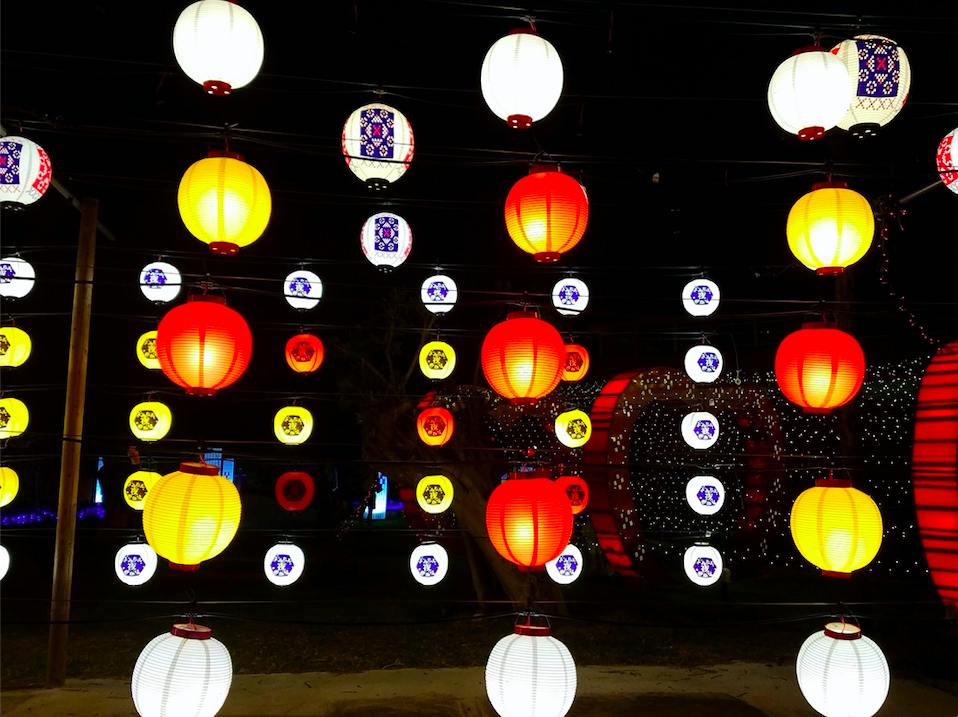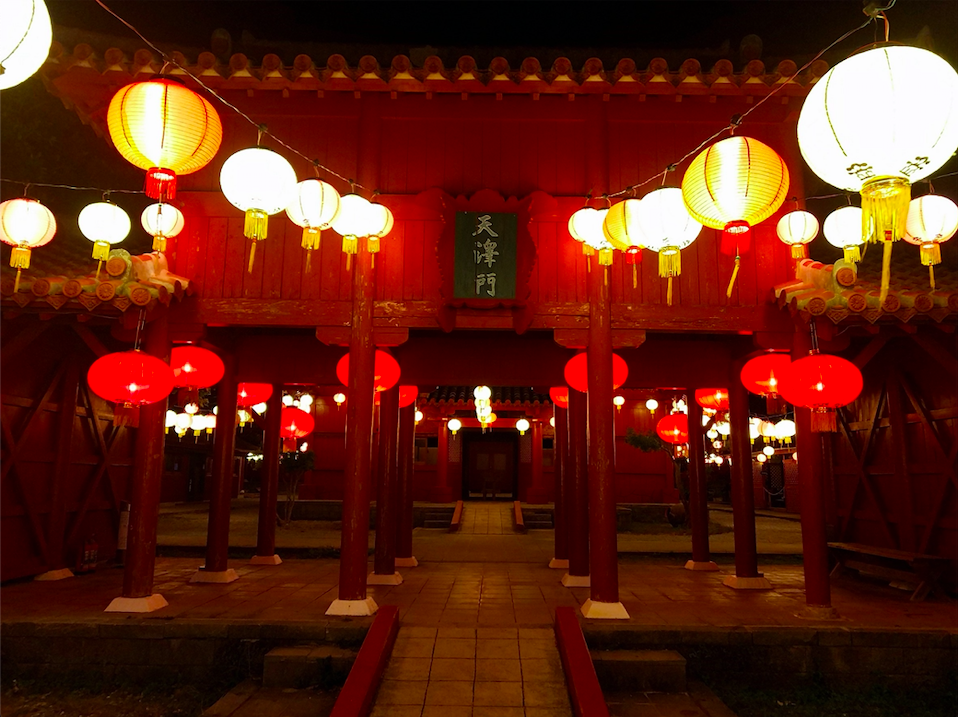 Enjoy Okinawa Soba and Ryukyuan Cuisine Sets at Janatei Restaurant.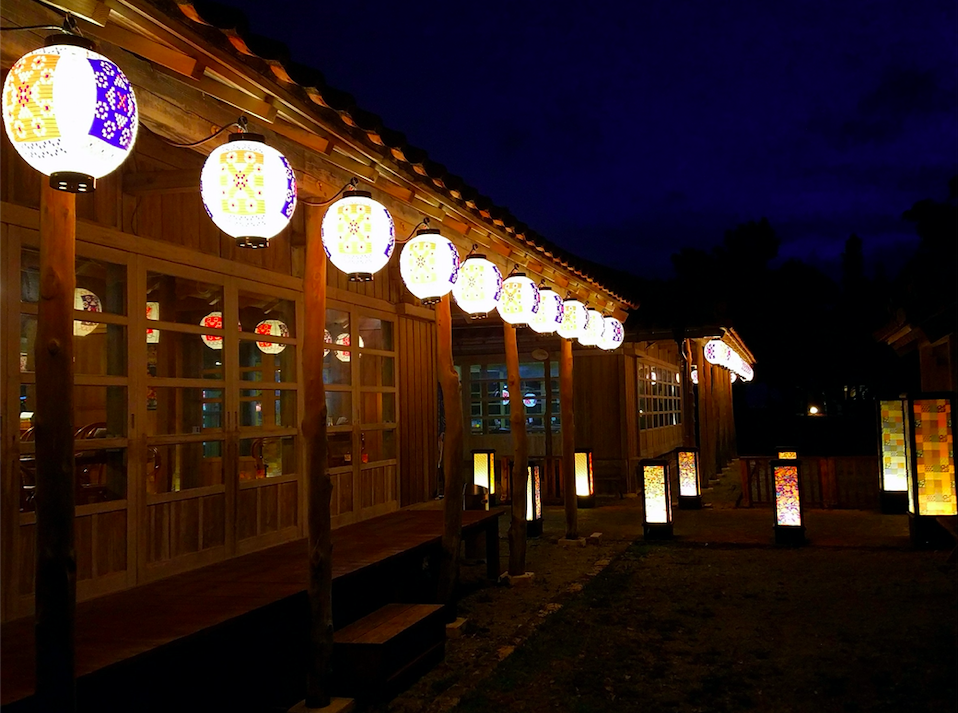 Follow the lanterns along the stone-paved road, and you'll be welcomed by a 10-meter-high Ryukyuan king adorned with lights.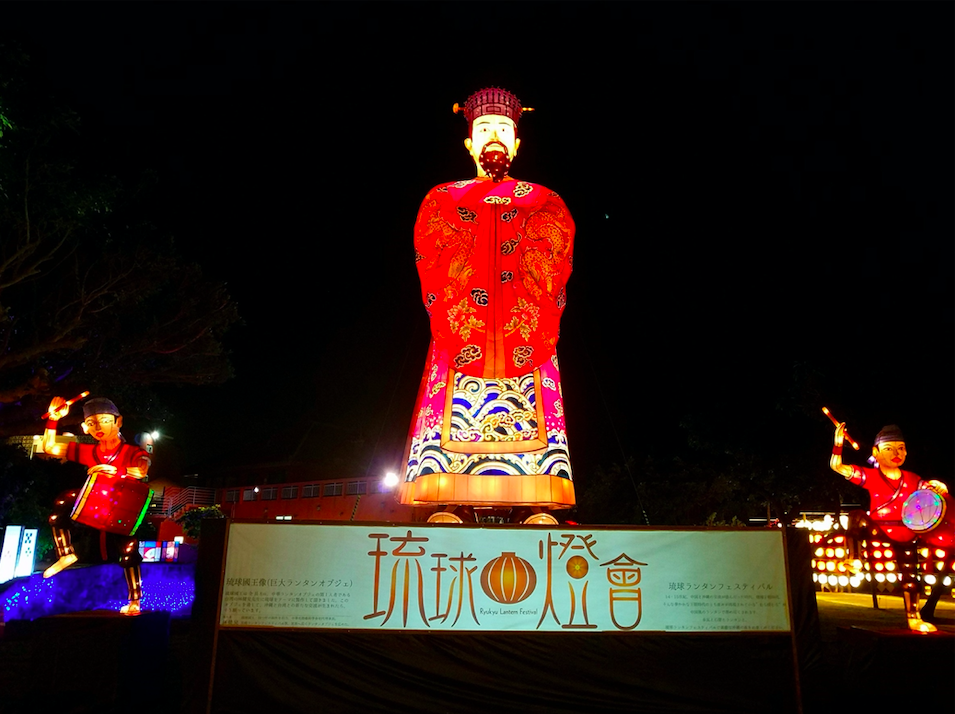 Lighting up the park are various lanterns including Okinawan-themed lanterns such as Sanshin and Yotsudake representing Okinawa's music and dance culture, and crowns worn by Ryukyuan kings.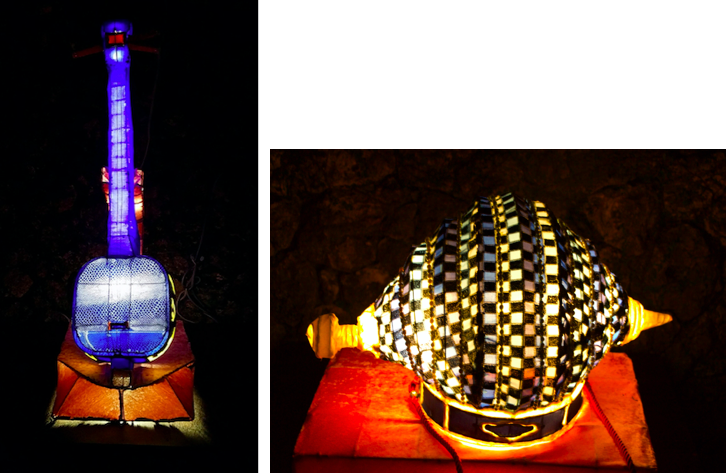 The four and five squares of the Minsa design from the Yaeyama Islands symbolizes eternal love. The heart-shaped illuminations are popular with couples as a photo spot.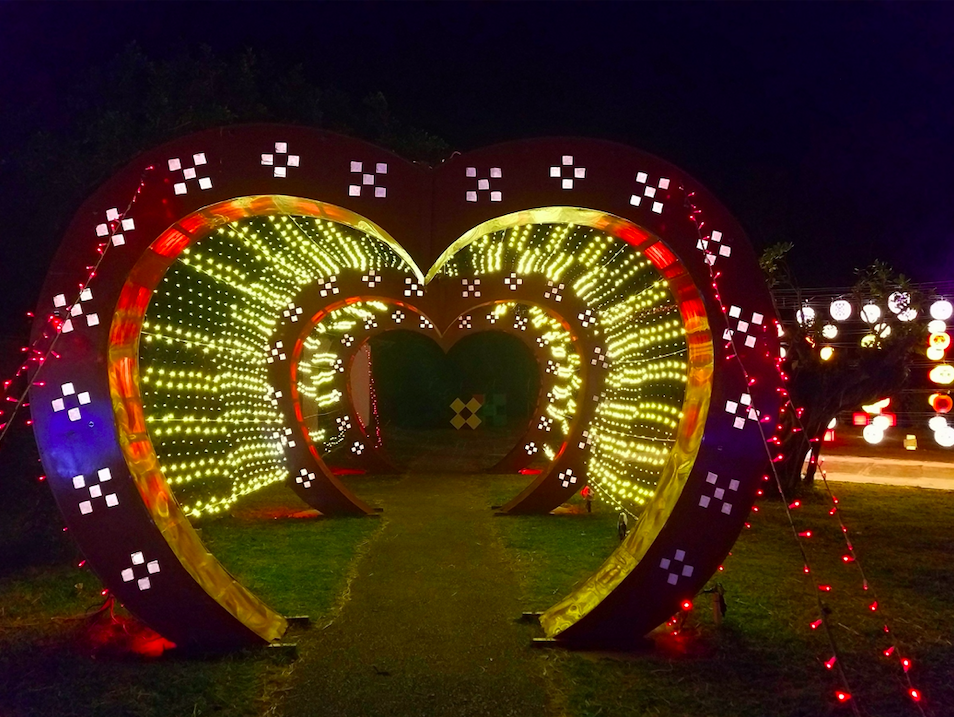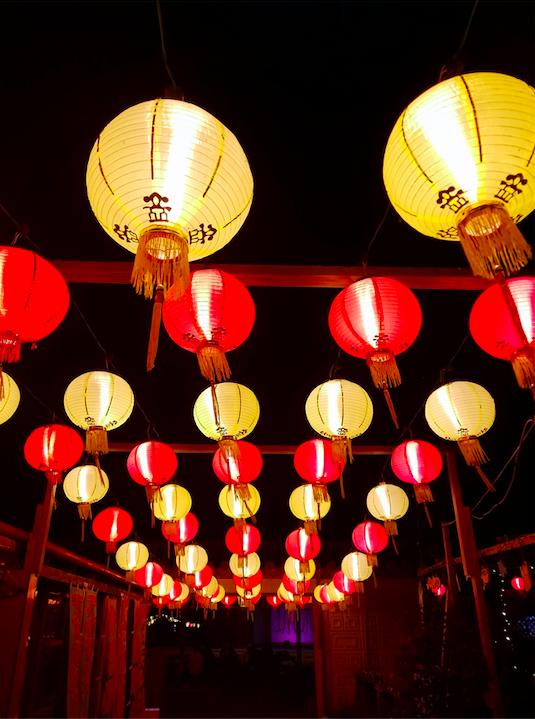 The lanterns adorn the path to the goat hut.