沖縄美ら海水族館
Okinawa Churaumi Aquarium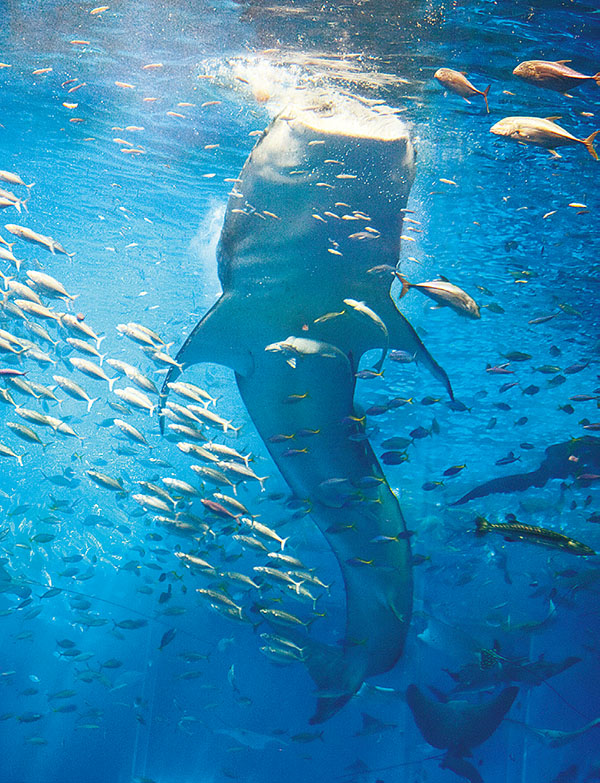 Internationally renowned for their whale sharks — one of which measures 8.7 meters in length — Okinawa Churaumi Aquarium is home to many other colorful and exotic species that can be observed through massive acrylic panels. The word churaumi means "beautiful ocean" in the Okinawan dialect, and the artificial ecosphere along with the facility's other projects, including whale shark breeding and the cultivation of living coral, do not disappoint.
The enormous structure is divided into three distinct sections designed to create a natural ocean environment. Visitors can take a 700-meter virtual dive through the aquarium, from a coral reef lagoon on the top level, past a re-creation of the nutrient-rich Kuroshio (black current) area of the Pacific Ocean and finally to the deep sea section at the bottom.
Although open year-round, a great time to visit the facility is between the months of March and September, when closing time is extended to 20:00. Not only are the exhibits much less crowded by late afternoon, but there is a discount available after 16:00. You may re-enter the aquarium as many times as you like on the same day, just be sure to get the re-entry stamp on your hand.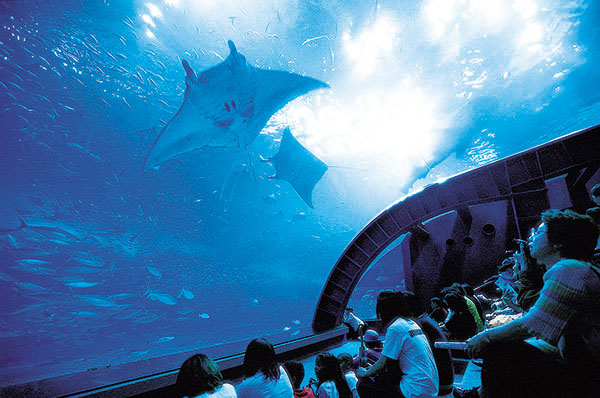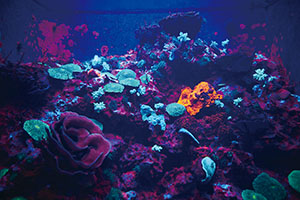 One highlight of this aquarium is the amazing spectacle of whale sharks, giant manta rays and numerous other fish being fed in a show scheduled daily at 15:00 and 17:00. Come and visit for this and many other unforgettable attractions.
Okinawa Churaumi Aquarium
Hours: 8:30-18:30 *Last entry 17:30; Mar-Sep 8:30-20:00 *Last entry 19:00
Admission: Adults ¥1,850, ages 16-18 ¥1,230, ages 6-15 ¥610, under 5 free
Annual passport: Adults ¥3,700, ages 16-18 ¥2,460, ages 6-15 ¥1,220, under 5 free
*Multi-currency exchange machine is available at the aquarium entrance.
The Ocean Planetarium offers an impressive view of marine life glowing in the dark in the Deep Sea section.
Barrier-free accessibility
This world-renowned aquarium is a must-see when you visit Okinawa. Churaumi means "beautiful ocean" in the Okinawan dialect. You can see huge whale sharks measuring 8.5 meters in length along with various other species of fish that can be observed through a massive acrylic panel.