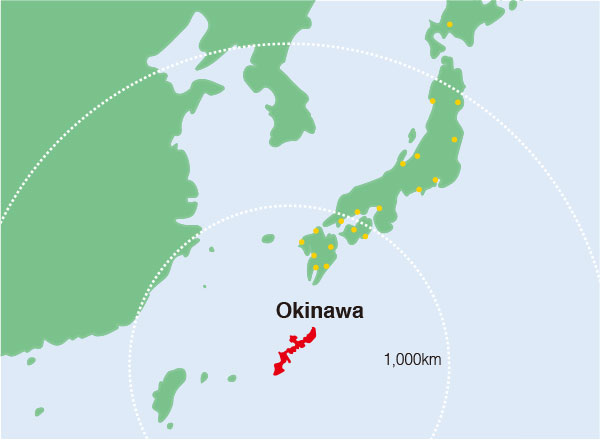 Outline of Okinawa
Okinawa Prefecture consists of 160 islands stretching 400 kilometers north to south and 1,000 kilometers east to west between the Pacific Ocean and the East China Sea, of which 49 are inhabited. The chain is known as the Ryukyu Islands.
Capital: Naha City
Population: 1,445,864 (as of December 1, 2017)
Area: 2,275.91 square kilometers
Number of inhabited islands: 49
Number of foreign tourists: 2,542,200
Number of mainland Japan tourists: 6,854,000
From A to Z on Okinawa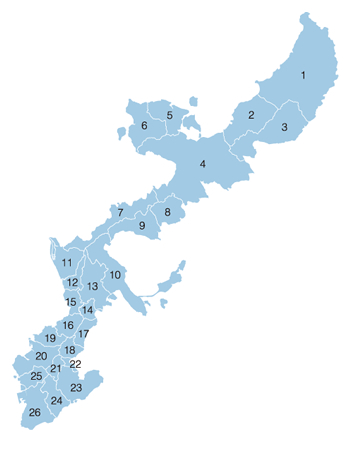 1. Kunigami Village
2. Ogimi Village
3. Higashi Village
4. Nago City
5. Nakijin Village
6. Motobu Town
7. Onna Village
8. Ginoza Village
9. Kin Town
10. Uruma City
11. Yomitan Village
12. Kadena Town
13. Okinawa City
14. Kitanakagusuku Village
15. Chatan Town
16. Ginowan City
17. Nakagusuku Village
18. Nishihara Town
19. Urasoe City
20. Naha City
21. Haebaru Town
22. Yonabaru Town
23. Nanjo City
24. Yaese Town
25. Tomigusuku City
26. Itoman City
Climate
Okinawa belongs to a subtropical climatic region and has an annual average temperature of 23.3 degrees Celsius. A seasonal wind blows from the south in summer and from the north in winter. About 10-15 typhoons hit Okinawa each year during the summer and autumn months. To be prepared for a typhoon you should regularly check typhoon warnings in the paper and on TV and radio. When a typhoon warning is announced, bus service stops and school and public offices are closed.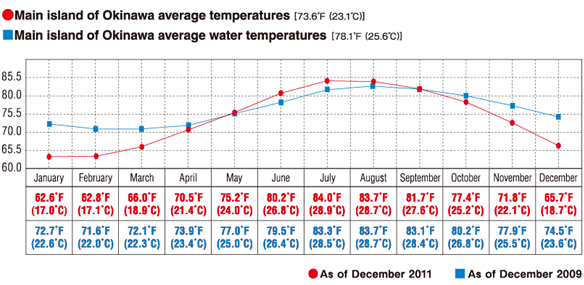 Addendum:
Miyako Islands: average temperature 64.4˚F (18.0˚C); average water temperature 78.8˚F (26.0˚C)
Ishigaki Island: average temperature 65.5˚F (18.6˚C); average water temperature 79.0˚F (26.1˚C)
*Conversion ˚F=˚C×1.8+32, ˚C=(˚F-32)÷1.8
Currency