Experience what Okinawa has to offer: history, culture and nature!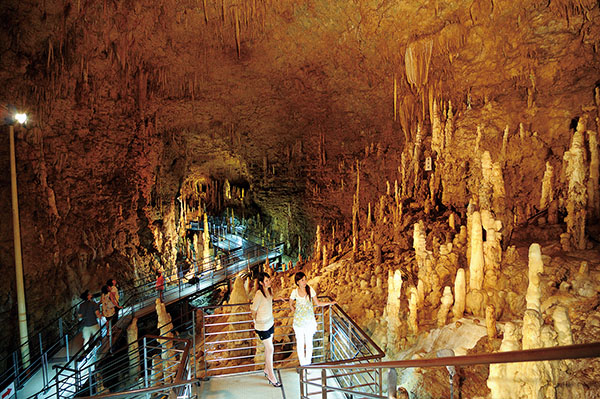 Gyokusendo is a five-kilometer-long limestone cave formed hundreds of thousands of years ago. The stalactites and stalagmites here grow at a rate of 1 millimeter every three years – considerably faster than those found in other prefectures. The secret to their speed is said to be Okinawa's subtropical climate.

Okinawa World is a theme park consisting of three distinct areas: Gyokusendo, a limestone cave considered to be the most beautiful in East Asia; the Habu Museum Park, where an exciting show features the habu, a venomous Okinawan snake; and the Ryukyu Kingdom Castle, which reproduces the townscape and traditional lifestyle of the Shuri castle town of days gone by. Formed over a period of 300,000 years, Gyokusendo is a five-kilometer-long limestone cave, 890 meters of which are currently open to visitors. There are more than 1 million stalactites and stalagmites in the cave, growing at a speed of 1 millimeter every three years. People always marvel at this mysterious underground world created by Mother Nature. With the Tropical Fruit Garden and Nanto Brewery also located on the premises, the park offers young and old a glimpse into Okinawa's culture, nature and history.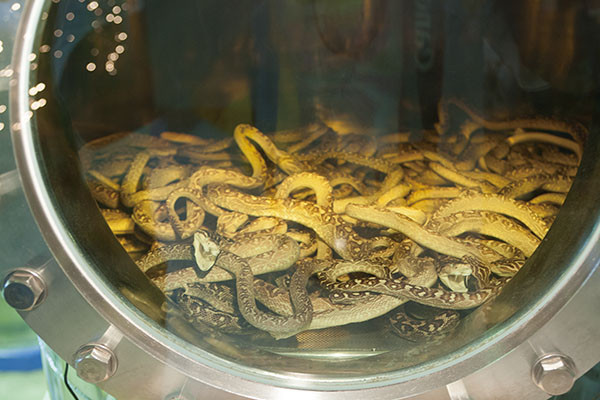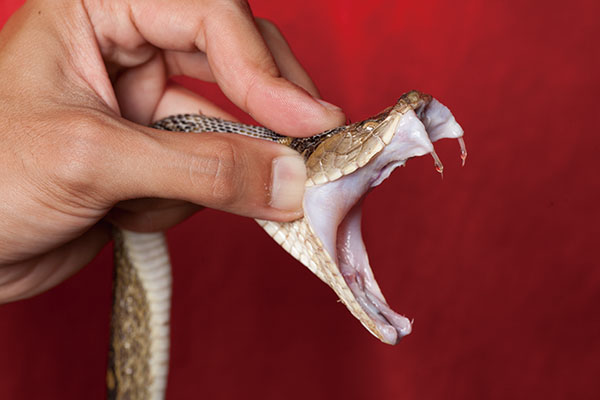 The Habu Museum Park presents habu shows five times a day at 11:00, 12:00,
14:00, 15:30, 16:30 free of charge. *Regular park entrance fee required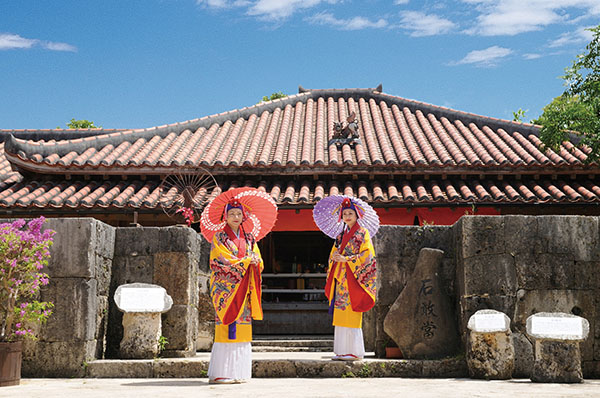 A scenic village of old-time Okinawa consists of private houses more than 100 years old that were relocated here for display. Some of these houses have been designated as part of the Tangible Cultural Properties of Japan by the Japanese government. A number of workshops take place in these houses that allow visitors to experience Okinawa's traditional heritage and local folk crafts.

Including indigo dyeing, Ryukyu glass blowing, bingata weaving and pottery classes, a wide selection of hands-on workshops is offered in the castle town area (from ¥520). Another highlight of the park is the spectacular eisa dance performance, which takes place four times a day.
1336 Maekawa, Tamagusuku, Nanjo City / Tel: 098-949-7421
Hours: 9:00-18:00 *Last entry 17:00 / Open daily
Admission: Open Greeting Pass
(Gyokusendo, Kingdom Village, Habu Museum Park)
Adults ¥1,650, ages 4-15 ¥830
Super Eisa show (30 min): 10:30 / 12:30 / 14:30 / 16:00 daily
Barrier-free accessibility *Except Gyokusendo (Limestone cave)
There are three distinct and interesting areas in the park. First, marvel at the most beautiful limestone cave in East Asia, Gyokusendo. Second, see an indigenous habu snake show at the Habu Museum Park. Third, make bingata textile and indigo dyed fabric inside an Okinawan house at the Ryukyu Kingdom Castle.