'Okinawans use every part of the pig except its squeal'
In Okinawa, just about every part of the pig is used for food except for its squeal. In fact, Okinawan cuisine cannot be discussed without pork, which is an essential ingredient for a number of home cooking dishes. Pork is rich in vitamin B1, which is said to be highly effective in relieving fatigue. In order to get by in hot weather, pork is an indispensable ingredient in the daily lives of Okinawans, whose dietary habits are believed to be associated with their extraordinary longevity. A wide variety of pork dishes can be found in almost every eatery and izakaya on island, and there are also an increasing number of restaurants specializing in aguu, Okinawa's premium pork that has been attracting much attention in recent years.
As mentioned above, just about every part of the pig is used for food in Okinawa including the face, feet, stomach, tongue and ears. Rafute, slowly braised pork belly in a mixture of brown sugar, soy sauce and awamori until fork-tender; salted pork belly locally known as suchika; thin slices of pig's ear called mimiga; and tebichi, or simmered pig's feet, are some of the most widely enjoyed pork dishes in Okinawa. Mirudaru -- sliced pork marinated in black sesame paste, sugar and soy sauce, then steamed -- is one of the dishes that best represent Ryukyuan palace cuisine. In addition, inamudouchi, which is a type of miso soup with pork and vegetables, or belly soup with pork tripe is prepared for special occasions.
Left: Rafte /  Right: Minudaru (the dish placed on the right side)
It's said to be pork that helps the hardworking Okinawans always feel healthy and full of energy. If you are on a diet, you may think pork is not a good choice. However, it's not very wise to avoid eating pork completely: Vitamin B1, which is contained in pork in abundance, helps boost your metabolism and convert fats in your body to fuel to produce energy. Furthermore, vitamin B1 plays a key role in lowing bad cholesterol.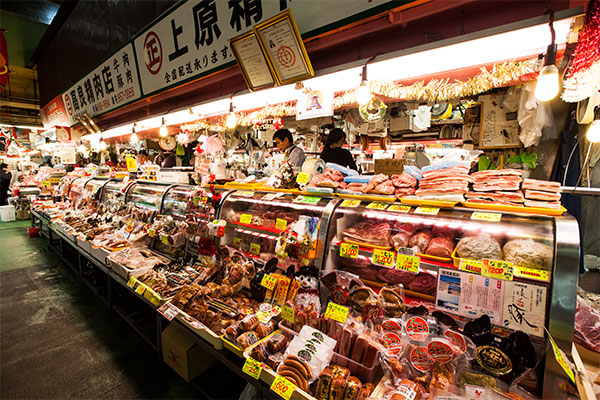 If you drop by the food market on Heiwa Street in Naha or any of the other markets on island, you'll be able to see for yourself all the parts of the animal that are for sale and available for use in meals. You can even purchase pig face, which is used in soup or as decoration on special occasions, as well as the feet, stomach, tongue and ears.