A Ride around Mihama American Village On the Free Shuttle Cart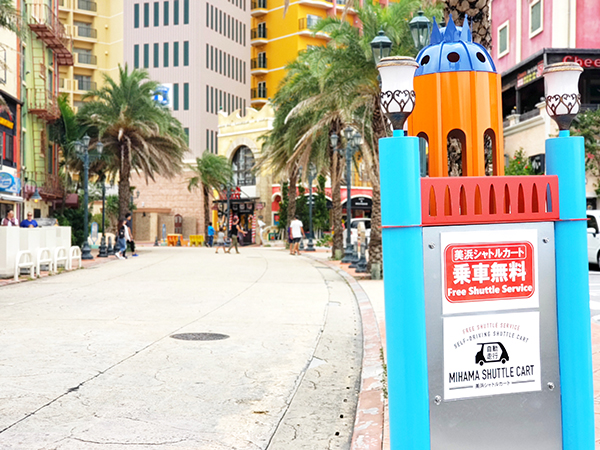 The Mihama area in Chatan has grown dramatically in the last few years, and the newest addition to the area is the Mihama Shuttle Carts that began its test runs recently. These convenient carts are scheduled to be in operation until the end of January next year.
From the Fisharena, the gateway to the beautiful seas in Chatan, to the bustling boardwalk along the shores of Depot Island and to Sunset Beach, these carts offer a great opportunity to see the new and exciting sights of Mihama. The carts stop at the designated stops every 15 minutes or so and connect these areas in about 10 minutes, which is super convenient as it could take about 20 to 30 minutes if you were to walk. The carts are especially helpful if you are with young children or for the elderly members of your group, and allows everyone to thoroughly enjoy the sights around the Mihama area.
If it's your first time in the area, it's a great idea to take a ride on the cart to see the neighborhood and what it offers.
The ride takes you along the curving streets of Mihama that are lined with unique, western-style buildings and makes you feel like you're somewhere in Europe. Hop off at any of the stops to check out shops, take photos by the wall art displayed at various places, and enjoy Mihama however you like!
No Service on Tue. & Wed. from October 1, 2019 – January 28, 2020
Operation Time

July – September: 11:00-21:45
October – January: 11:00-20:45
Shuttle Route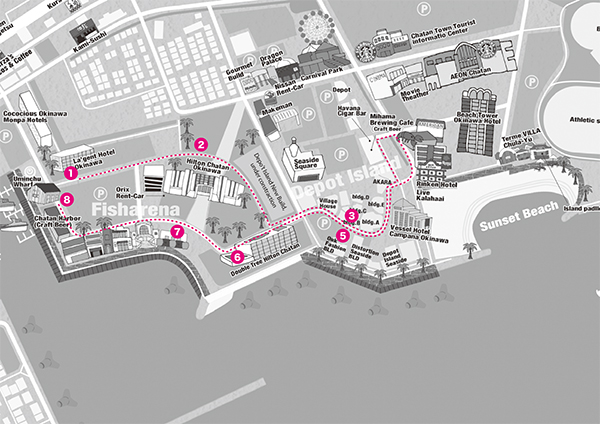 1.La'gent Hotel Okinawa Chatan
2.Hilton Okinawa Chatan Resort, at the Front Entrance
3.Depot Island, near Run Oki Shop
4.Depot Island, in Front of the Parking Lot next to Rcafe
5.Double Tree by Hilton Okinawa Chatan Resort
6.Hilton Okinawa Chatan Resort, on the Ocean Side
7.Uminchu Wharf