Christmas dinner aboard the Moby Dick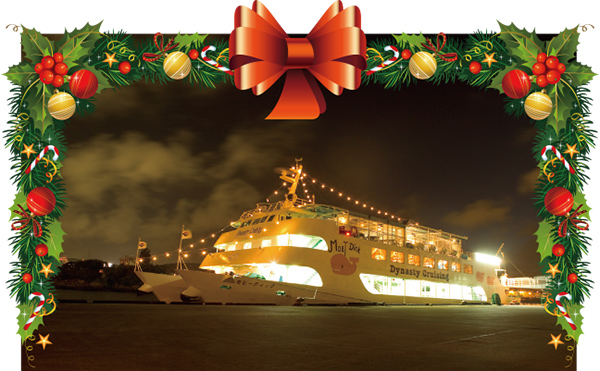 Reservations are now being accepted for the Christmas dinner cruise aboard the Moby Dick -- the only large dining vessel in Okinawa. The Moby Dick departs twice daily, allowing passengers to enjoy a romantic French dinner while taking in the beautiful sunset or the coastal landscape at night.
The Christmas dinner cruise will be offered for three days only, from Dec. 23 to 25. Featured will be special Christmas-themed dishes served in a holiday mood created by sparkling lights and decorations and live Christmas music and entertainment.
Space is getting filled quickly for the holidays. Book early to reserve your table today!
Date: Wednesday-Friday, Dec. 23-25, 2015
Departure/return time: Sunset Cruise 17:00/18:45; Night Cruise 19:45-21:30
Limited time only
Special Christmas dinner
- Assorted hors d'oeuvres (boiled shrimp, marinated salmon with sea grape seaweed, smoked duck, fish terrine, and pumpkin and chicory salad)
- Soup of the day
- Salad
- Seafood pie, truffle flavor
- Beefsteak and foie gras with red wine sauce
- Buche de Noel and assorted fruits
- Rice or homemade bread
- Coffee or tea
Price: ¥9,500 per person (including cruise fare, dinner, tax, service charge and insurance)
http://www.islandlifeconcierge.com/comeaboard/dinner-cruises
Visit the Island Life Concierge website for regular dinner course options
www.islandlifeconcierge.com/comeaboard/dinner-cruises
Reservations and inquiries
Island Life Concierge
Tel: 090-1946-7593
URL: www.islandlifeconcierge.com