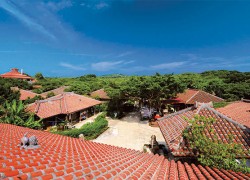 1336 Maekawa, Tamagusuku, Nanjo City / Tel: 098-949-7421
Hours: 9:00-18:00 *Last entry 17:00 / Open daily
Admission: Open Greeting Pass
(Gyokusendo, Kingdom Village, Habu Museum Park)
Adults ¥1,650, ages 4-15 ¥830
Super Eisa show (30 min): 10:30 / 12:30 / 14:30 / 16:00 daily
Barrier-free accessibility *Except Gyokusendo (Limestone cave)
There are three distinct and interesting areas in the park. First, marvel at the most beautiful limestone cave in East Asia, Gyokusendo. Second, see an indigenous habu snake show at the Habu Museum Park. Third, make bingata textile and indigo dyed fabric inside an Okinawan house at the Ryukyu Kingdom Castle.