Modern and graceful lacquerware that has opened up new horizons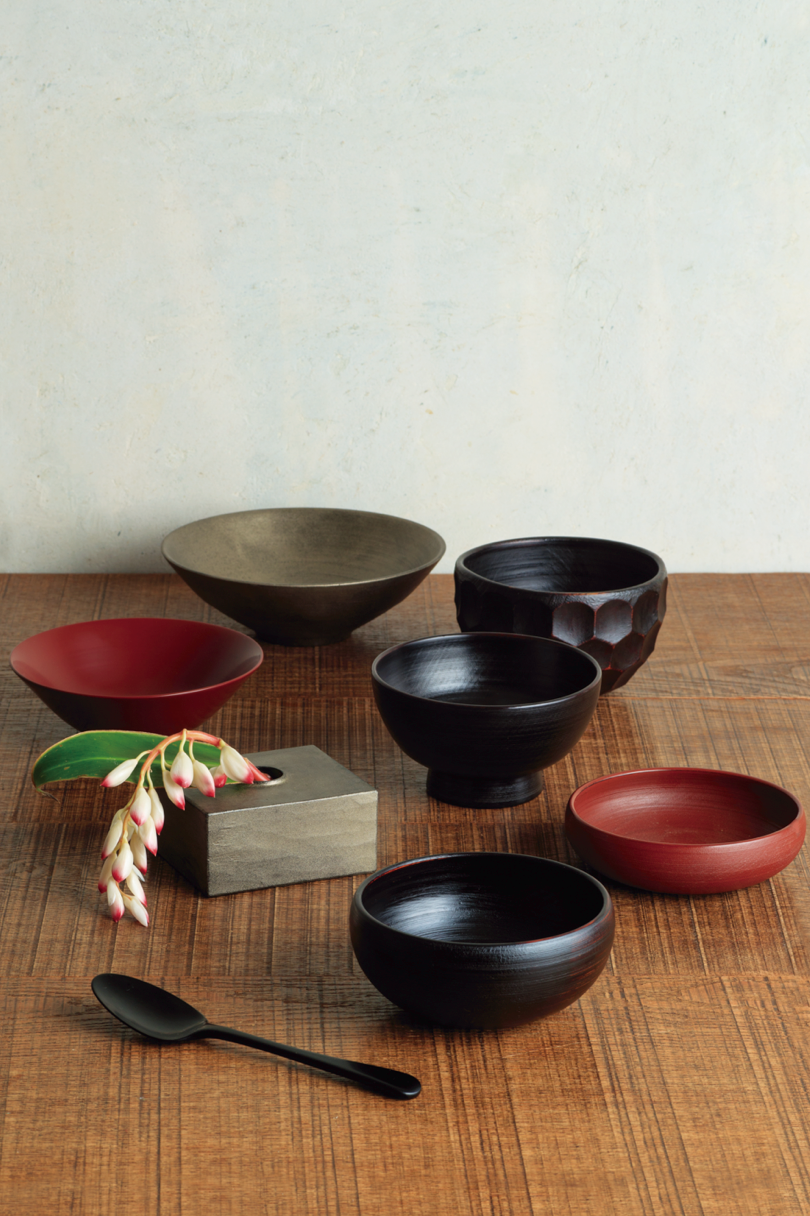 Husband and wife lacquerware artists Hiroyuki and Ai Tokeshi have attracted attention to their innovative new items, as they have shaped their work into a form that is adapted to a modern lifestyle, clearly distinct from the traditional Okinawan craft of Ryukyuan lacquerware. Having set up a workshop in Nago in northern Okinawa, the couple continues to create items that are perfect for everyday use, ranging from plates and bowls to cutlery, using woods found in Okinawa, such as deigo (tiger's claw, or Indian coral tree), and carefully working by hand while reading the grain of the base wood. Glimpses of the perfectly coordinated work by the husband, who is a kijishi (wood turner), and the wife, a lacquer artist, can be seen in the details of their pieces.
The lacquer coating on their work is kept to the minimum necessary because they value the texture of the wood. They also take into consideration the intended use of an item. For example, they thoughtfully keep the middle of a plate recessed so that when it is used for salad, the dressing won't spill out. If you hold a bowl in your hand and try to drink from it, the bowl is gentle to your lips, and even if something hot is poured into it, the bowl does not get hot, yet keeps the contents warm, and won't crack easily if you were to drop it. The quality is so excellent that it will gradually develop a beautiful luster over time, only requiring washing and wiping. Completely unlike the traditional Ryukyuan lacquerware that looks glittery as a result of the vermillion color and use of the tsuikin technique, the items created by Mokushikko Tokeshi have given rise to a new concept in lacquerware that has been expanding every year.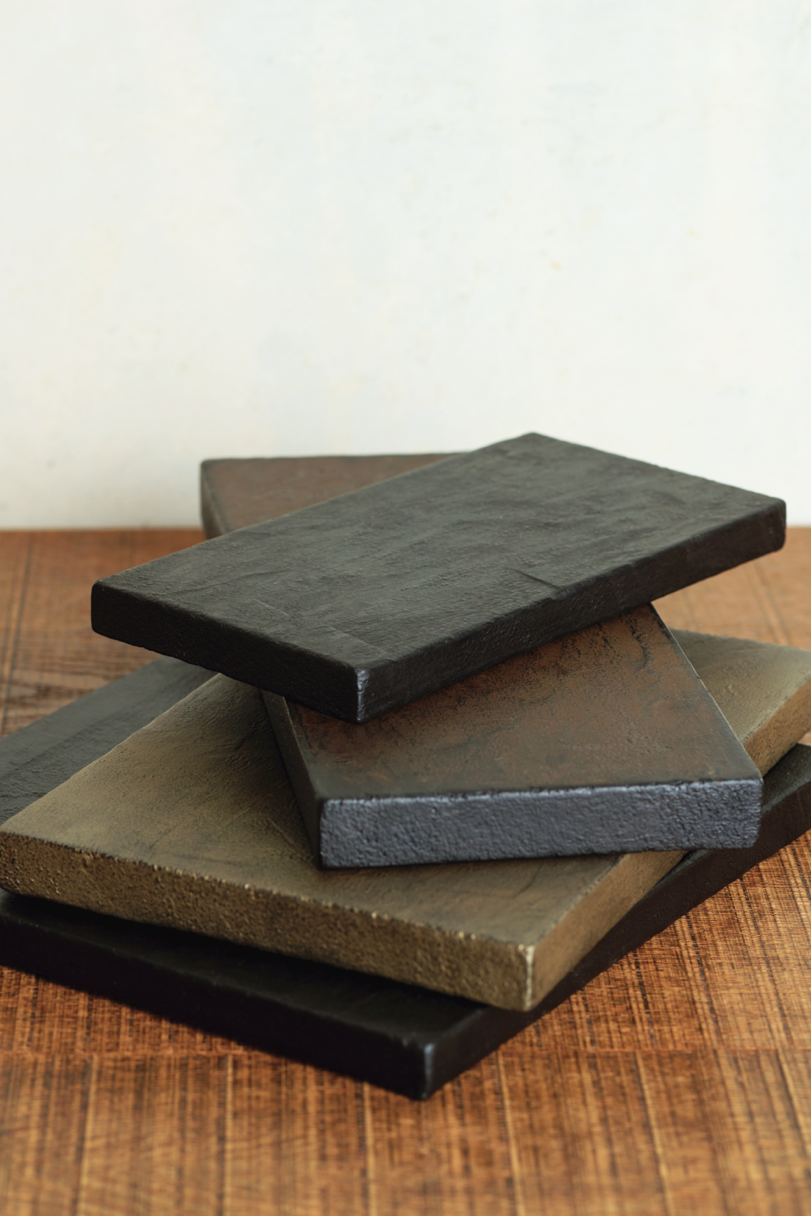 Part of a popular series of lacquerware with a matte finish and beautiful color tone, this is a wooden plate perfect for serving such items as sushi, sashimi, salad and assorted cheese.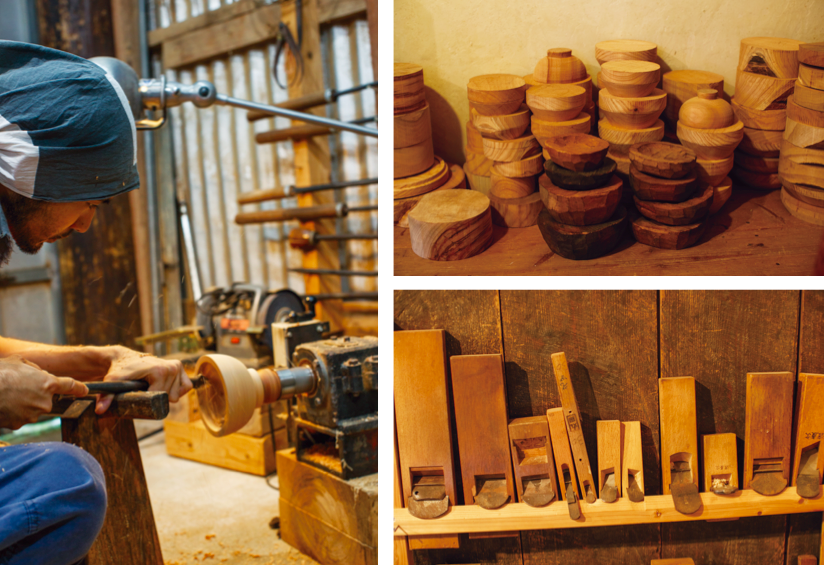 Hiroyuki, who has a thorough understanding of the nature of wood, which is affected by climatic factors such as humidity, carves wood by the millimeter.
Hiroyuki Tokeshi says: "Although I cannot say that Okinawan woods are easy to handle, it is interesting to make vessels based on the properties and shapes of the wood, and there is a joy in being able to use trees that are around you. I create vessels looking at the characteristics of the wood and finish them by applying lacquer so that they can be comfortably used for a long time."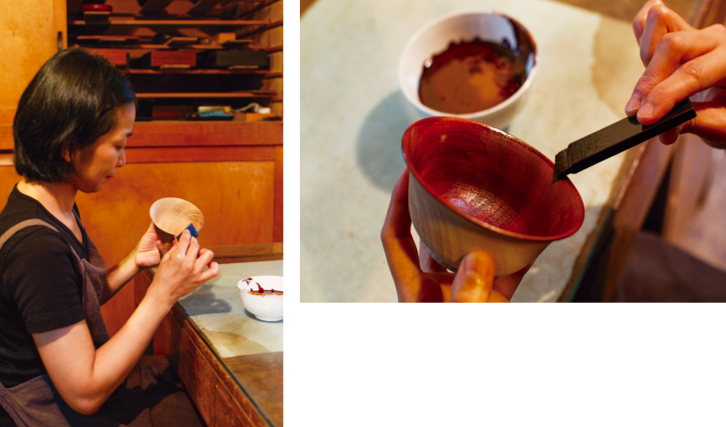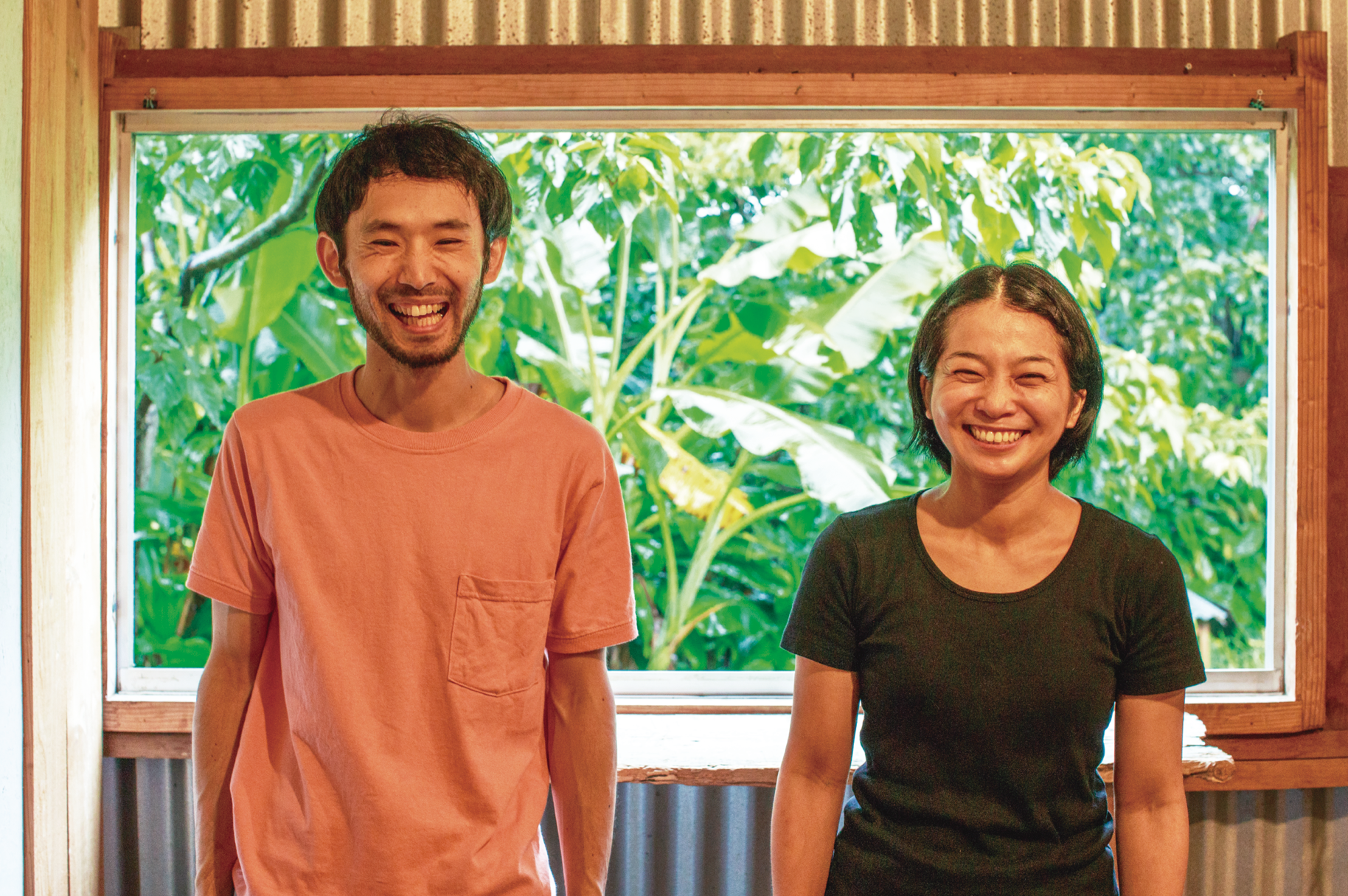 Lacquerware artist (woodwork): Hiroyuki Tokeshi
Lacquerware artist (painting): Ai Tokeshi
The couple working at their home studio in Nago.Collaboration between Hiroyuki Tokeshi, who creates a shape by working the wood, and his wife Ai, who applies lacquer to the piece. The couple worked as apprentices in Wajima, Ishikawa Prefecture, known as the center of lacquerware in Japan, completed their apprenticeship in 2007 and started out on their own in Okinawa in 2010.
Mokushikko Tokeshi
http://www.tokeshi.jp