宮古島ロックフェスティバル 2014
Miyako Island Rock Festival 2014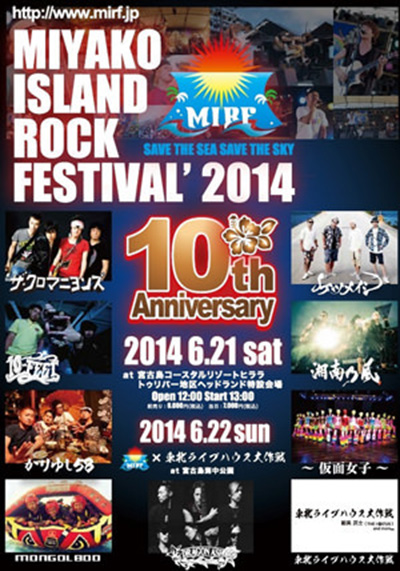 Event name: Miyako Island Rock Festival 2014
Date: Saturday, June 21, 2014
Time: Opens at 12:00, starts 13:00
Place: Miyako Island Coastal Resort Hirara
Admission: Adults: 6,000 yen for advance tickets, 7,000 yen for same-day tickets
Students: 4,000 yen, free for children under 12 (free for up to 3 children under 12 per adult)
*Festival seating
*If tickets are sold out in advance, same-day tickets are not available.
For more information: (Miyako Island Rock Festival Office) 0980-73-6069
E-mail:info@mirf.jp.
Popular bands and hip artists such as Ketsumeishi, Mongol 800, The Cro-Magnons, Kariyushi 58 and 10-Feet will perform at the annual rock festival on Miyako Island. The rock festival is a special welcome to the start of the summer season.