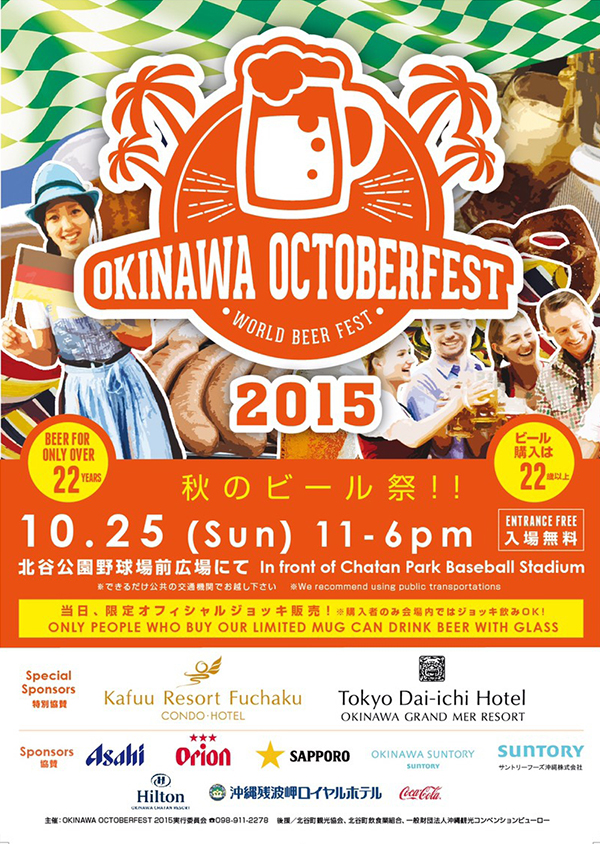 Prost (cheers)! Okinawa Oktoberfest
Oktoberfest, the world's largest and most famous beer festival, has been celebrated every autumn in Munich, Germany, for 200 years.
During the two-week life of the festival, about 6.5 million visitors from all over the world come to participate. The many beer halls lined with booths are filled daily with thousands of people who dance and sing while drinking beer from large one-liter beer steins called masskrugs.
Okinawa Octoberfest gets into the spirit with a wide range of brews, encompassing beers from major breweries, craft beers, imported beers and specialty beers from well-known restaurants.
Additional information:
Visitors must be 22 years old or over to purchase beer
Use of public transportation is recommended
Glasses are available for purchase; outside glasses and mugs are not allowed
Beer vendors:
Asahi Breweries, Ltd.
Okinawa Suntory Co., Ltd.
Orion Breweries, Ltd.
Sapporo Breweries, Ltd.
Okinawa Ishigaki Jima Beer
Okinawa Brewing Company, LLC.
Koza Brewing Okinawa
Nanto Brewery (Nihede Beer)
Helios Distillery Co., Ltd.
Miyakojima Micro Brewery
Beer Para Dining
Craft Beer House Baku
Craft beer pub Beer Rize
I`s Public Ale House
The Smuggler`s IRISH PUB
Food vendors:
Kaki Koya
Kato Shokudo
Charcoal Grill Tsuki to Ki
Bar Adachi-ya
Vegetable shop Hajime
Asian Food Fuuten
Atelier Cafe Bar Seihei
Boulangerie Epi de Ble
Double Decker
Gordie's
Horizon Curry Works
Tacos Café Taco Loco
The Cheese Guy
The Scarpetters
Timeless Chocolate
Date: Sunday, Oct. 25
Time: 11:00-18:00
Place: Chatan Park
Admission: Free