'Celebrating the 200th Anniversary of Basil Hall's Visit to Okinawa'
'Ryukyu (the Great Loo-Choo Island) as Seen by Foreign Visitors'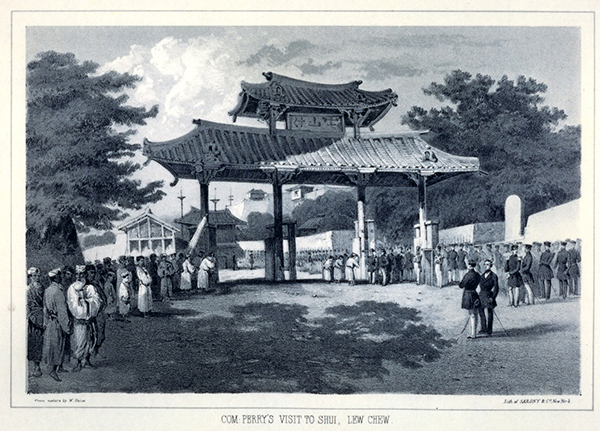 Painting depicting Commodore Matthew Perry's visit to Shurijo Castle.
Ryukyu warriors (Ryukyu shizoku)
Basil Hall, captain of British naval ship the Lyra, visited the island of Okinawa, then known as Great Loo-Choo Island, in 1816 during a voyage to explore the coasts of China, Korea and Okinawa and wrote an illustrated account of the journey. His appreciation of the friendly Okinawan people is well described in the book, which became quite popular in its day.
His book was translated into various languages, leading to the creation of a new perception of Ryukyu in Western countries. Many other foreign ships subsequently dropped anchor in Okinawa, including a visit by Commodore Matthew Perry of the United States Navy in 1853.
You will be able to understand how the visitors viewed Okinawa through various surviving accounts, journals and paintings of the voyage on display in the exhibit.
Date: Friday, Oct. 7-Wednesday, Dec. 14, 2016
Time: 8:30-19:00 for Oct. and Nov.; 8:30-18:00 for Dec.
Place: Exhibition Hall at Kugani Udun, Shurijo Castle Park
Admission for the paid area: 820 yen for adults; 620 for high school students; 310 yen for junior high school and elementary school students; free for ages 5 and under