Night Aquarium offers different take on undersea world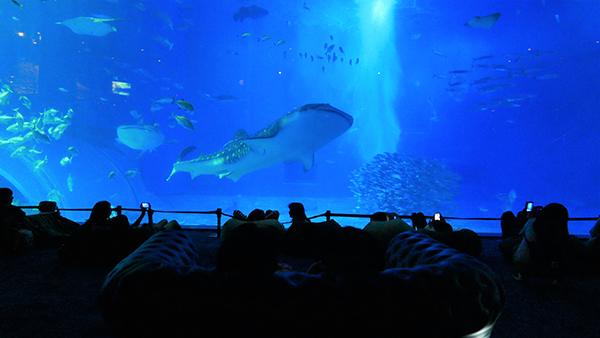 How many of you have wondered if fish sleep, or what do they do during nighttime in general? After all, almost all of them don't have eyelids to close. So do they sleep at all and is they do when.
These are among the questions, to which answers can be found at Okinawa Churaumi Aquarium during the extended hours called Night Aquarium running through the end of February from 6 to 21 p.m. daily, except on 2/8, 2/14, 2/21 & 2/22 when the facility closes at 18:30. The last entry is one hour before closing on all days.
The aquarium introduced the idea of offering the public a novelty way of watching the undersea world at the nighttime back in 2018 and it proved to be a hit right away. The institution has since continued to run a night program a couple of times year.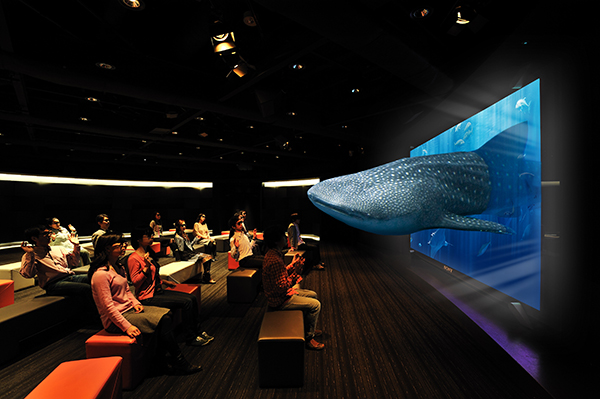 The experience aims to be more relaxed and leisurely than perhaps during their normal daytime hours. During the evening hours, comfortable sofas are placed in front of the facility's main "Kuroshio" tank for the visitors to sit and relax while watching the fish. The cafeteria has prepared special snacks, such as shark nuggets and cups of art latte for visitors to enjoy and special original "Night Aquarium" T-shirts are for sale. Aquarium officials stress that all specials are available in limited quantities only and sold each day as long as supplies last. The same goes for the original Churaumi collectible trading cards that are presented to the visitors.
The Churaumi theater also presents special 10-minute 3D video shows featuring whale sharks and manta rays filmed in their natural habitat. The entry to the theater is limited to 40 persons per show because of limited seating capacity. Entry to the theater is free.
And while visiting the aquarium, take a look at a special winter season illumination of the Expo Park that is shining in its impressive glory.Admission after 4 p.m. during the Night Aquarium is ¥1,310 for adults, ¥870 for high school students and ¥430 for junior high and elementary school children. Children 6 and younger get in free.
And the answer to the question of fish sleeping is yes, but they do it more like just slowing down, and take their naps at any time, night or day.