海洋博公園 盆栽展
Ocean Expo Park Bonsai Exhibition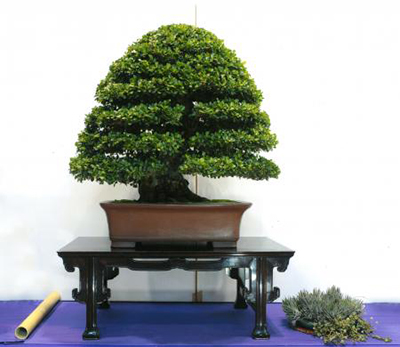 "Bonsai," a quintessential Japanese gardening technique, also known as "living art," aims to produce miniature versions of living trees that resemble the full-grown as closely as possible and arranged in artistic settings.
Bonsai takes years of careful pruning and training to grow. Unlike gardening, growing bonsai does not aim to produce anything to harvest or produce practical gains. Its purpose is to achieve an artistic and eye-pleasing miniature tree grown in a container over a long time. Bonsai is also expected to give a viewer an object that helps them to contemplate life itself and give the grower a satisfaction of achievement over a long time.
Some 40 bonsai by local growers using Okinawan plants are this weekend on display at the Haisai Plaza (Information Center) of Okinawa Expo Park in Motobu.
The bonsai at the exhibition are also for sale on the spot.
Date: Apr. 16th (Fri) -18th (Sun), 2021
Time: 8:30-19:00 (until 16:00 on Sunday)
Place: Okinawa Expo Park, Motobu
Admission: Free