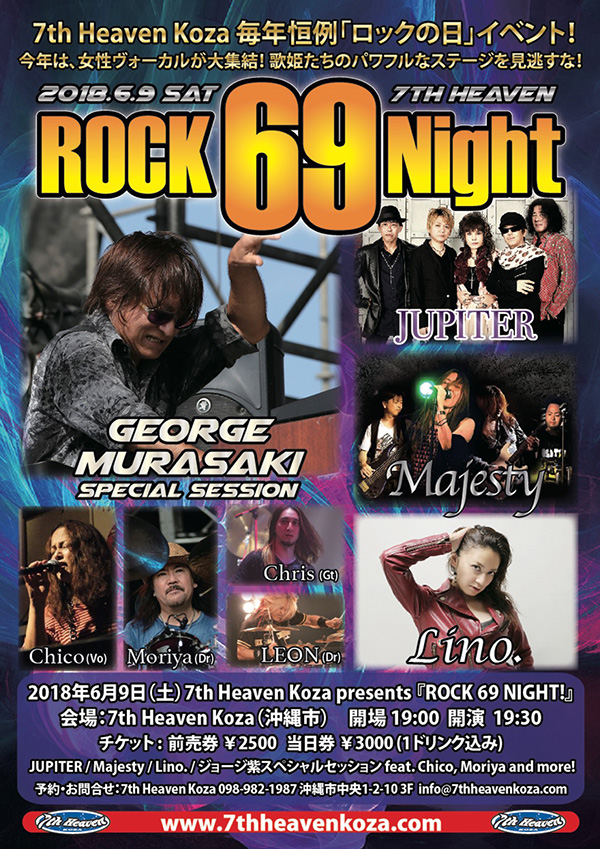 7th Heaven Koza presents Rock Day event 『ROCK 69 NIGHT』
This year many female artists will be in. Don't miss the show by all the powerful Divas stage!!
The Rock Day Event at MURASAKI's live house, 7th Heaven Koza, will feature bands with powerhouse female rock vocalists like Jupiter and Majesty. The up-and-coming Lino, another powerful female singer, and Chiko, with a voice so beautiful that she'll be strumming your heartstrings, will also be there to add to the excitement. You also wouldn't want to miss the later half of the event when George Murasaki, the amazing female singers, and the bands will all get together to display their chemistry.
Date: Saturday, June 9, 2018
Time: 19:00
Place: 7th Heaven Koza
Admission: advance 2500 yen ; door 3000 yen (1 drink)
Music: JUPITER , Majesty, Lino. , George Murasaki Special session feat. Chico, Moriya and more
For more information: 7th Heaven Koza 098-982-1987, 3F 1-2-10 Okinawa-city, Cyuo