Shurijo Castle Festival (Ryukyu Dynasty Parade and Ryukyu Dynasty Festival in Shuri)
The Ryukyu Kingdom's biggest and most important ceremony comes alive
Shurijo Castle Festival (Ryukyu Dynasty Parade and Ryukyu Dynasty Festival in Shuri)
This event is a can't-miss opportunity to experience the grandeur, history and romance of the Ryukyu Kingdom up close and personal.
The city of Naha is transformed into the Ryukyu Kingdom's old capital during the annual Shurijo Castle Festival. The highlight of the festival is the Ryukyu Dynasty Parade, which takes place on Kokusai Street on the third day. It is truly a splendid sight to watch the king and queen and Chinese envoys in elegant, colorful costumes, with approximately 1,000 people participating.
The Ryukyu Dynasty Festival in Shuri, which is held as part of the Shurijo Castle Festival on Nov. 3, features a traditional procession with nearly 3,000 participants departing from Shurijo Castle and parading around the Shuri area while offering a variety of performances, including shishimai (lion dance) and hatagashira gaaee (banner performances).
Event name: Shurijo Castle Festival (Ryukyu Dynasty Parade)
Date: Friday, Oct. 27-Saturday, Nov. 3, 2018
Place: Shurijo Castle Park and Kokusai Street (Naha City)
Admission: required for paid area only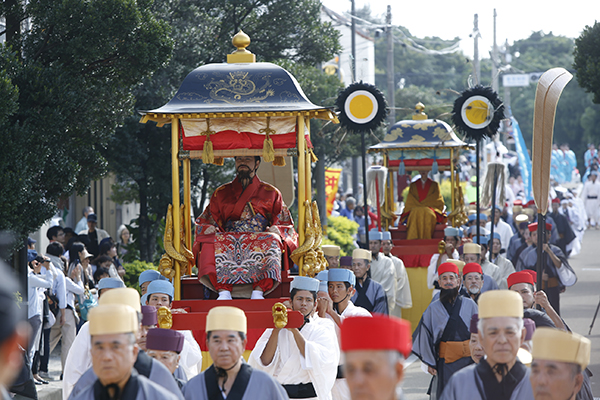 The Koshiki Gyoretsu, held on the mid-day of the festival, revives the royal ritual of the king's visit to nearby temples during the welcoming of the new year in those days.
Ryukyu Dynasty Parade
Date: Sunday, Oct. 28, 2018
Time: 12:30-14:30
Place: Kokusai Street (Naha City) (Street closed: 12:00-15:00)
This is a great opportunity to get a glimpse into the history and elegance of the Ryukyu Kingdom. The parade features approximately 700 participants, including the king, queen and sapposhi (Chinese envoys) in colorful costumes as well as groups presenting traditional performances.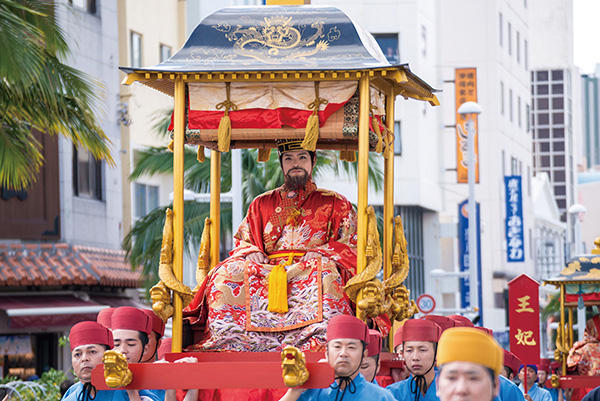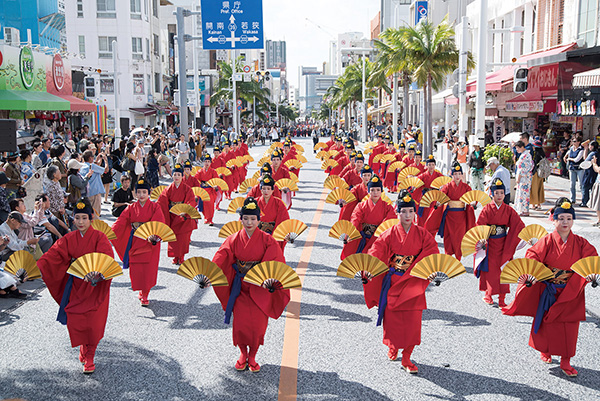 Ryukyu Dynasty Festival in Shuri
Koshiki Gyoretsu (Traditional Procession)
Date: Saturday, Nov. 3, 2018
Time: 12:50-15:30
Place: From Houshinmon Gate to Shureimon Gate and then to Ryutan Street
Admission: Varies depending on area of castle
The Koshiki Gyoretsu is a re-enactment of the procession of the king to pay the year's first visit to the three temples located near Shurijo Castle. This visit was made on Jan. 3 of every year to pray for peace and order throughout the Ryukyus and also for a rich harvest.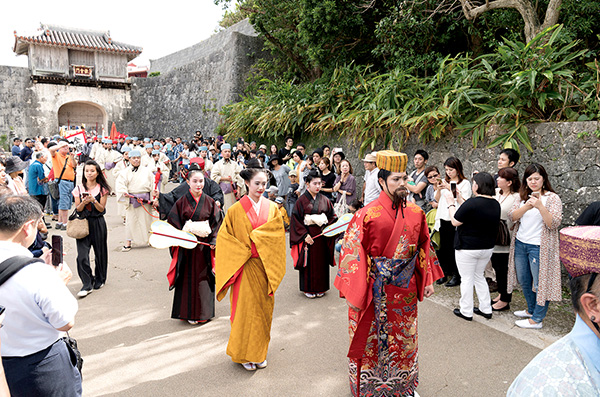 Bankoku Shinryo no Tomoshibi (Candlelight)
Date: Saturday-Sunday, Oct. 27-28, 2018
Time: 17:00-21:00
Place: Shurijo Castle Park