Start off your holiday season at Sheraton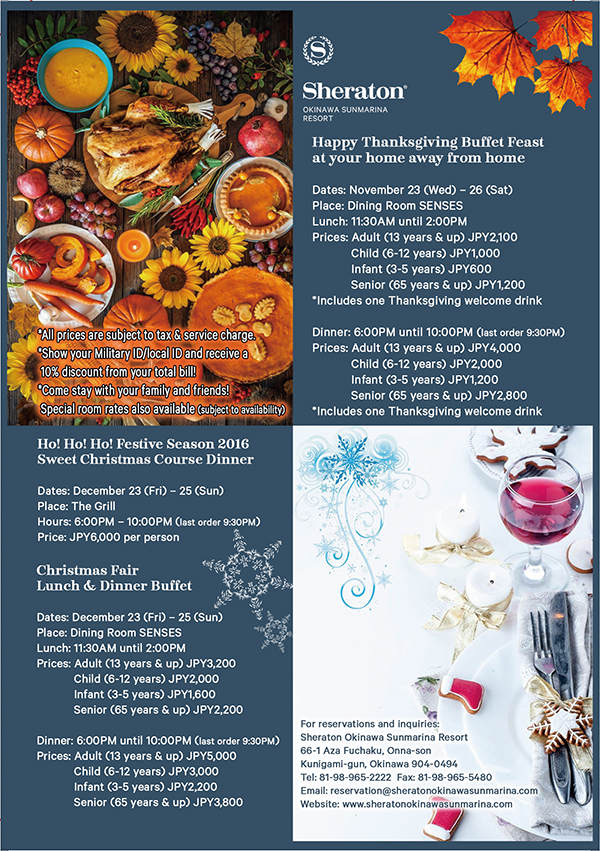 Sheraton Okinawa Sunmarina Resort kicks off the holiday season this month with Thanksgiving.
No in-laws in Okinawa to help out in your kitchen? Let the staff at Sheraton's Dining Room SENSES be your hosts at their Happy Thanksgiving Buffet Feast. Between Nov. 23 and 26 you can have a hearty lunch or dinner of all your turkey day favorites. The price includes a Thanksgiving welcome drink, and a military ID will get you a 10 percent discount on your total bill.
Why not make a long weekend of it?
Special room rates will be available at Sheraton for holiday weekends. Live a little! Be a VIP in Japan's only Sheraton property in the subtropics. Call for more information.
Date: Wednesday, Nov. 23-Saturday, Nov. 26, 2016
Place Sheraton Okinawa Sunmarina Resort
Time: Lunch 11:30-14:00; dinner 18:00-22:00
Lunch prices: 2,100 yen for ages 13 and over;1,000 yen for ages 6-12; 600 yen for ages 3-5; 1,200 yen for ages 65 and over
Dinner prices: 4,000 yen for ages 13 and over; 2,000 yen for ages 6-12; 1,200 yen for ages 3-5; 2,800 yen for ages 65 and over