第5回恩納村美ら海花火大会
The 5th Onna Village Churaumi Fireworks Festival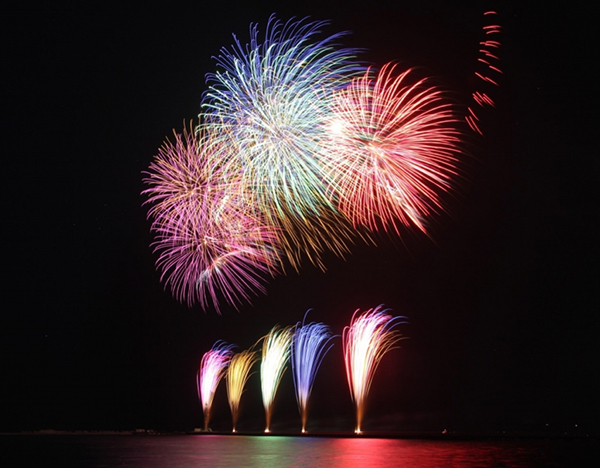 Onna Village in Okinawa offers spectacular sights where the locals enjoy and has been one of the favorite destination for visitors. It continues to garner attention from both locals and visitors with various events and new establishments opening its doors, like the Hyatt Regency Seragaki Island which opened last year. This summer, another great hotel opened in this hot resort town, the Halekulani Okinawa, the second hotel run by the famous Hawaiian hotel brand.
One of the most popular events at Onna Village is the fireworks festival which offers not just spectacular fireworks display, but also Eisa drum dancing performed by the village's Eisa group, hula dancing, and live music. These performances are held from 17:00 to 20:30, and from 20:30, the exciting fireworks begin! The display will feature 5,000 fireworks that will brilliantly color the night sky, and will surely take your breath away!
Date: Saturday, Oct. 5, 2019
*In case of inclement weather, the event will be postponed to Saturday, Oct. 19
Start Time: 20:30
Place: Onna Village Community Square
Admission: Free
This spectacular display will feature more than 5,000 fireworks.
Shuttle bus service from the event's temporary parking lots.
Temporary Parking Lots: Akama Comprehensive Athletic Park & Seragaki Fishing Port.