Explore Makishi Public Market
Naha's Makishi district is a place where you can get a glimpse of the days when Okinawa was known as the Ryukyu Kingdom, which flourished by trading with various countries around Asia. You can find interesting marketplaces all around the district, some of which are located in the Sakae-cho area, which thrived as Naha's downtown in the old days.
The Naha Public Market (Makishi Kosetsu-ichiba), Naha's central produce, meat, fish and general merchandise market, is an excellent place for visitors to go to learn about everyday life in Okinawa. On the first floor you can buy all kinds of Okinawan foodstuffs, from pork, including pig's face, feet and stomach, to many kinds of colorful fish and shellfish, from unique vegetables like goya (bittermelon) and hechima (sponge gourd) to tropical fruits that are delivered directly from the farm. To whet your appetite, the small alleys around the market feature stand-up-style shops, selling delicacies such as fresh tempura (deep-fried fish and vegetables), steamed cakes and goya juice.
You can have your colorful tropical fish, lobster and shellfish purchased on the first floor cooked per your request at the eateries located on the second floor. If you are interested in tasting specialty marine products and deli foods, ask for free samples, even if you are not intending to purchase anything, as sellers are more than willing to give out samples of their products. Communicating with local people in the marketplace is a great way to experience the Okinawan spirit called ''ichariba chode,'' meaning that once we meet, we are like brothers and sisters.
A number of eateries stand side by side on the second floor of Makishi Public Market. Here you can sample almost all kinds of Okinawan dishes at reasonable prices. The floor is food court-style, and you can order a variety of dishes from different restaurants.
Naha's biggest and most popular market is the Makishi Public Market, where the first floor is filled with various marine products, including lobsters and fresh fish, meat and every possible ingredient, while the second floor is the dining area with many restaurants and eateries.
You can pick your favorite seafood, such as lobster, green turban snails or parrotfish, on the first floor and then have it cooked however you like at any eatery on the second floor for a fee (about 500 yen for up to three items)
Irabu is several times more venomous than the indigenous habu snake and is known for its vigor. Smoked irabu, considered the most functional food with restorative effects since the days of the Ryukyu Kingdom, is expensive and can only be found in large-scale markets nowadays.
---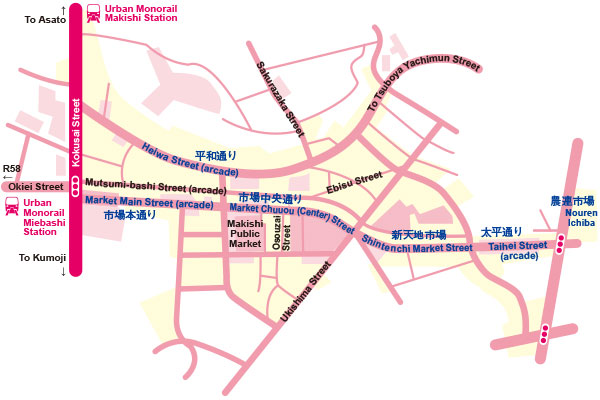 Ichiba Chuodori Street(市場中央通り)