Dining at Makishi Public Market
A variety of eateries are located on the second floor of the Makishi Public Market. If you have difficulty deciding where to eat, go straight to Honen, a family owned restaurant with a very friendly atmosphere. Enjoy delicious dishes served with warm, Okinawan-style hospitality.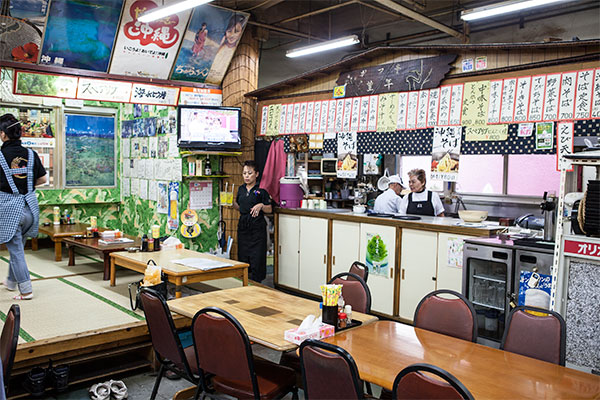 Honen is a family owned and operated restaurant that has been in business for 30 years. The menu features some 80 kinds of Okinawan home cooking, and hearty, reasonably priced set meals are available from 550 yen. Dining at one of the market's eateries while observing cheerful and friendly Okinawan workers will provide you with a unique and memorable experience.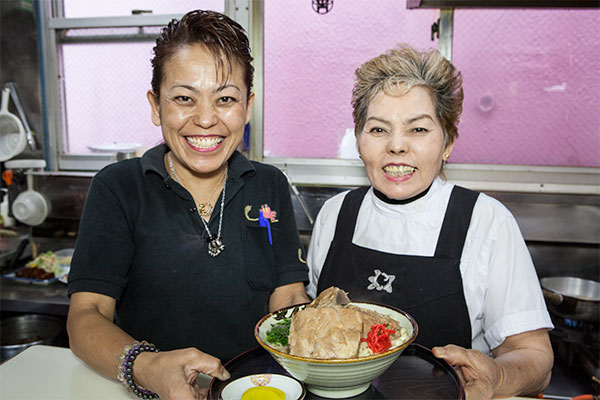 Soki soba (800 yen), Okinawa soba with stewed pork rib, is the most popular item at the restaurant.
The Higa family, the owners of the restaurant. With perfect mother-daughter teamwork, the restaurant fills the stomachs of a great number of customers each day. It's often used for filming scenes for TV programs and movies.
Honen
Makishi Public Market 2F, 2-10-1 Matsuo, Naha City
Tel: 098-862-9164
Hours: 11:00-20:00
Closed: Wed
*Go up the escalator and turn 180 degrees; you will find Honen near the elevator.