ブセナ海中公園
Busena Marine Park

Experience Okinawa's fascinating underwater world without getting wet!
A glass-bottom boat and the only underwater observatory on the main island
Home to myriad tropical fish and amazing coral reefs, the fascinating underwater world of Okinawa captures the hearts and minds of divers from all over the world.
If you are looking to enjoy Okinawa's underwater world first hand, but you're not really a diver or a snorkeler, or you're on a very tight schedule or traveling with kids and can't afford to dive or snorkel yourself, then you've got to visit Busena Marine Park. Busena Marine Park is a place where you can enjoy the spectacular waters of Okinawa without changing into a bathing suit. From the underwater observatory with 24 windows giving a 360-degree view, you can watch the underwater world four meters below sea level. Another attraction of this marine park is a whale-shaped glass-bottom boat (capacity: 36 people; duration: 20 minutes). The world of vividly colorful tropical fish and coral reefs are almost within reach from this boat.
During the peak summer season, there may be a long line of people waiting to enter the observatory or to ride on the glass-bottom boat. But don't worry, even the waiting time can be fun! While in line you can also enjoy the fun of feeding fish from the glass-bottom boat's deck or from the pier while waiting to get on the boat. A bag of fish food can be purchased. As you toss the food into the water, a large number of tropical fish will swarm around it, adding extra excitement to your Busena Marine Park experience.
A place where you can enjoy a glass-bottom boat ride and the only underwater observatory on the main island of Okinawa, Busena Marine Park provides everyone the opportunity to experience a close-up encounter with wondrous aquatic life.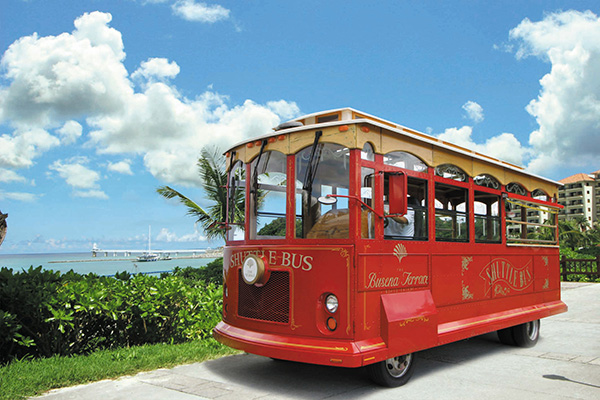 A free shuttle runs around the park every 20 minutes, and it comes in handy for everyone, especially families with small children. The shuttle connects the beach house with the ticket booth, the pier for boarding the glass-bottom boat and the underwater observatory. The park is also a great place for a stroll; e.g., it's only a 10-15 minute walk from the pier to the observatory.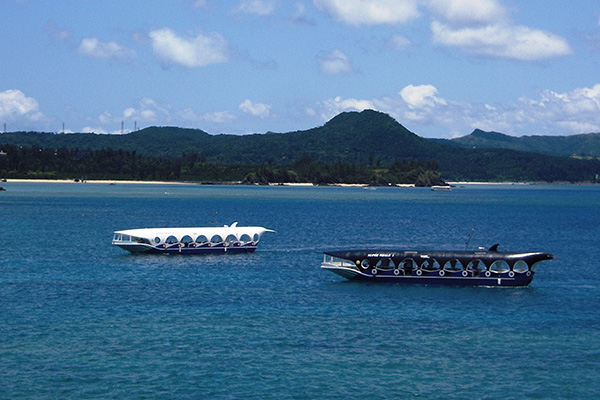 Ride in a whale-shaped glass-bottom boat and enjoy a spectacular underwater world.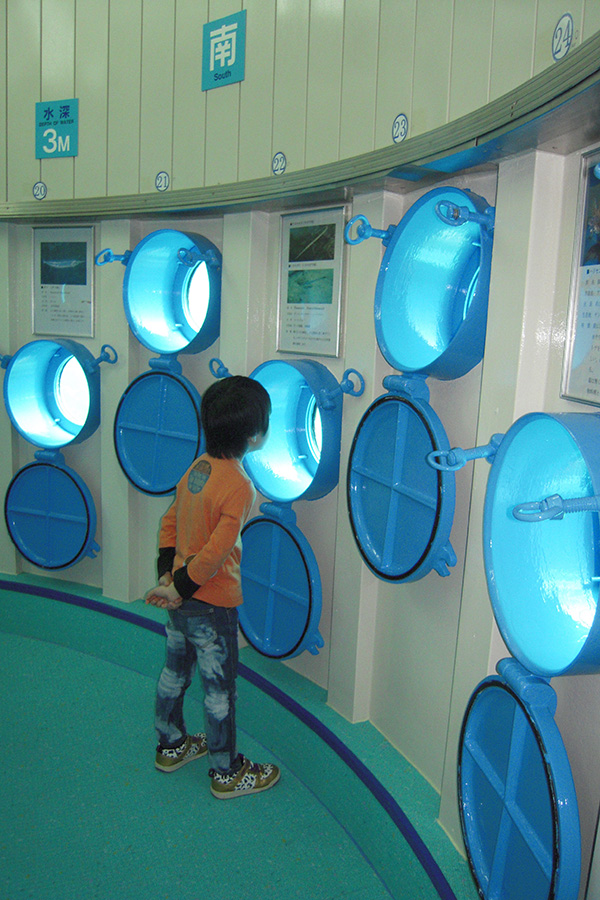 Located at a depth of four meters, this underwater observatory gives you a 360 degree view of beautiful coral reefs and colorful tropical fish, including the popular clownfish species.
Underwater observatory and glass bottom boat
1744-4 Kise, Nago City
Tel: 0980-52-3379
Open daily
Hours: April-October 9:00-18:00; November-March 9:00-17:30
*Entrance permitted up to 30 minutes before closing time.
Combination admission (underwater observatory & glass-bottom boat):
Adults ¥2,060, ages 16-22 ¥1,650, under 16 ¥1,030 *Glass-bottom boat departs every 20 minutes from 9:10.
Underwater observatory:
1,030 yen for adults, 820 yen for ages 16-18 and university and college students, 520 yen for ages 4-15
Glass-bottom boat:
1,540 yen for adults, 1,230 yen for ages 16-18 and university and college students, 770 yen for ages 4-15