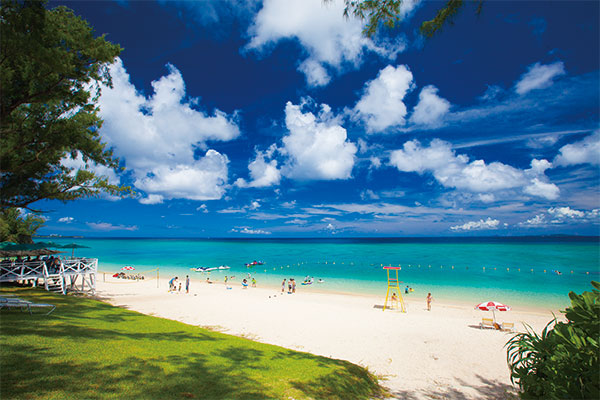 This is a hidden gem with a tranquil atmosphere and the feeling of a private beach. The beach is surrounded by lush lawn and wild pine trees, giving it the look of a typical, pristine Okinawan beach. Including jet skiing and heart-pounding tube rides, a wide variety of water activities for thrill-seekers are on offer.
Swimming season: April-October
Hours: 9:00-18:00
Admission: 300 yen *Admission includes changing room.
Facilities and services: Changing rooms, shower facilities (300 yen), lifeguard, food concession
Parking: 300 yen/day
Pets: OK
Snorkeling: Not allowed
Camping: OK (weekends only)
Rentals: Beach and swimming gear
Marine activities: Available
Banana boat rides (15 min, adults 1,500 yen; children 1,000 yen), tube rides (15 min, adults 2,000 yen; children 1,500 yen), jet ski (15 min, adults 2,500 yen; children 2,000 yen)
BBQ: OK (April-October)
Bring your own BBQ grill and food: OK *Charcoal grills are not allowed.
BBQ packages with food: 2,300 yen/person
*Minimum of four people required.
*Advance reservation must be made at least two days prior to the requested date.
*English-speaking staff not available.
Tel: 098-967-8802
Admission: 300 yen (Free for children under 5.)