ナビービーチ
Onna Seaside Civil Park, Nabee Beach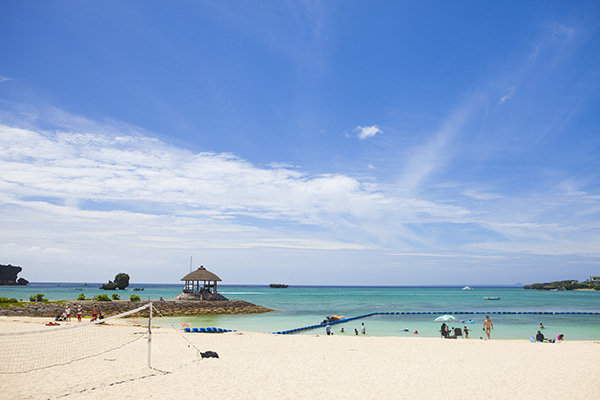 This is a free public beach situated in Onna Village -- one of Okinawa's premier resort areas. With its vast expanse of pure white sand and beautiful shallow water with a sandy bottom, the beach is an oasis for local families, providing relaxation and recreation. Surrounded by coral reefs teeming with numerous colorful tropical fish, this is a popular spot for diving. The beach offers a wide variety of activities: glass-bottom boat rides (adults: 2,000 yen; children: 1,500 yen), boat snorkeling, a sea kayaking and snorkeling combo adventure, an offshore fishing tour and more.
Swimming season: April-October
Hours: 10:00-19:00
Admission: Free
Facilities and services: Changing rooms, shower facilities (100 yen), coin-operated lockers (200 yen), lifeguard, shop, food concession, restaurant
Parking: Free
Pets: Not allowed
Snorkeling: OK *All snorkelers are required to wear a life jacket.
Camping: Not allowed
Rentals: Beach gear
Marine activities: Available *English-speaking staff available.
Boat snorkeling (90 min, adults 3,000 yen; children 2,500 yen), banana boat rides (15 min, adults 2,000 yen; children 1,500 yen), sea kayaking (90 min, adults 3,000 yen; children 3,500 yen)
BBQ: OK (all year)
Bring your own BBQ grill and food: OK (food only)
BBQ package with food: BBQ grill rental: 4,000 yen; BBQ food set: 1,500 yen
*Advance reservation must be made at least three days prior to the requested date.
*English-speaking staff available.
Onna Seaside Civil Park, Nabee Beach
419-4 Onna, Onna Village
Tel: 098-966-8839