リザンシーパークビーチ
Rizzan Sea-Park Beach (Rizzan Sea-Park Hotel Tancha-Bay)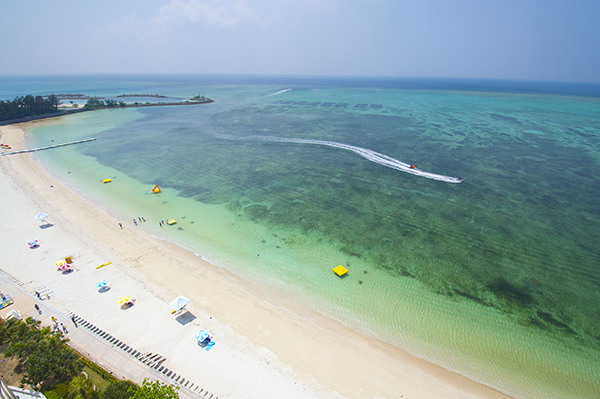 This is a natural white sand beach stretching approximately 800 meters. Rainbow Pool, located adjacent to the beach, is lit up beautifully at night in radiant rainbow colors, creating a mysterious atmosphere and making it an ideal place to relax and unwind while enjoying the pleasant sea breeze.
Swimming season: April-October
Hours: April 24-June 28, Sept. 16-Oct. 31: 9:00-18:00; June 19-Aug. 16: 9:00-19:30; Aug. 17-31: 9:00-19:00; Sept. 1-15: 9:00-18:30
Admission: 1,200 yen for age 13 and over, 700 yen for ages 4-12
Parking: Free for the first 2 hours *200 yen/hour thereafter
Pets: Not allowed
Snorkeling: OK *Life jacket required (400 yen for life jacket rental)
Marine activities: Available *English-speaking staff not available.
Rizzan Sea-Park Beach (Rizzan Sea-Park Hotel Tancha-Bay)
1496 Tancha, Onna Village
Tel: 098-964-6611
Admission: Free