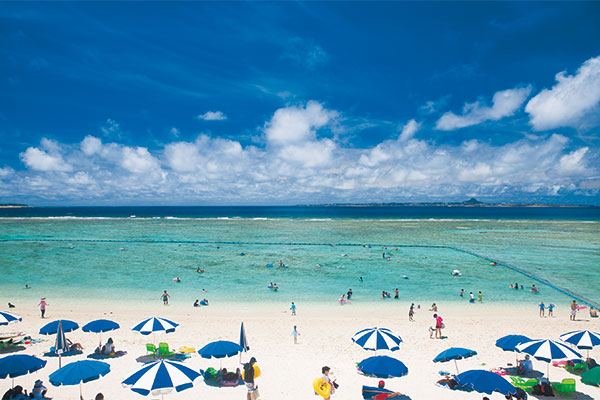 This is an 800-meter-long natural sand beach with shallow, crystal-clear water, located on Sesoko Island -- a small island connected to Okinawa's main island by a bridge. About 500 meters offshore lies an expanse of beautiful coral reef, which is accessible on foot at low tide. Ie and Minna islands are clearly visible from the beach. Although this is the most popular beach on Sesoko Island among tourists and families with children, there are many other pristine natural beaches around the island, and they are recommended for those looking to immerse themselves in a more magnificent natural setting.
Swimming season: mid-April through mid-October
Hours: 9:00-17:00; July-September: 9:00-18:00
Admission: Free
Facilities and services: Changing rooms, shower facilities (500 yen), coin-operated lockers (200 yen), lifeguard, food concession
Parking: 1,000 yen/day
Pets: OK *Not allowed in the swimming area.
Snorkeling: OK
Camping: Not allowed
Rentals: Beach and swimming gear
Marine activities: Available *English-speaking staff not available.
Banana boat snorkeling (60min, 5,500yen/person), banana boat rides (10 min, 1,800 yen/person), U-shaped tube rides (10 min, 2,000 yen/person)
*Participants must be 6 years of age or older.
5750 Sesoko, Motobu Town
Tel: 0980-47-7000