Authentic palace cuisine with heartfelt hospitality
During the reign of the Ryukyu monarchs, when the kingdom flourished through trade with surrounding Asian countries, elaborate feasts were hosted nightly for visiting envoys of the respective nations.
With about 300 envoys in Okinawa for three to five months at a time, it is said that the native pig population was decimated. Okinawan rulers, keen to please Chinese envoys coming from a gastronomic culture thousands of years old, ordered extensive culinary research and established the tradition of Ryukyuan palace cuisine. As with the tea ceremony culture of mainland Japan, Okinawa's palace cuisine conveys an attitude of respectful hospitality.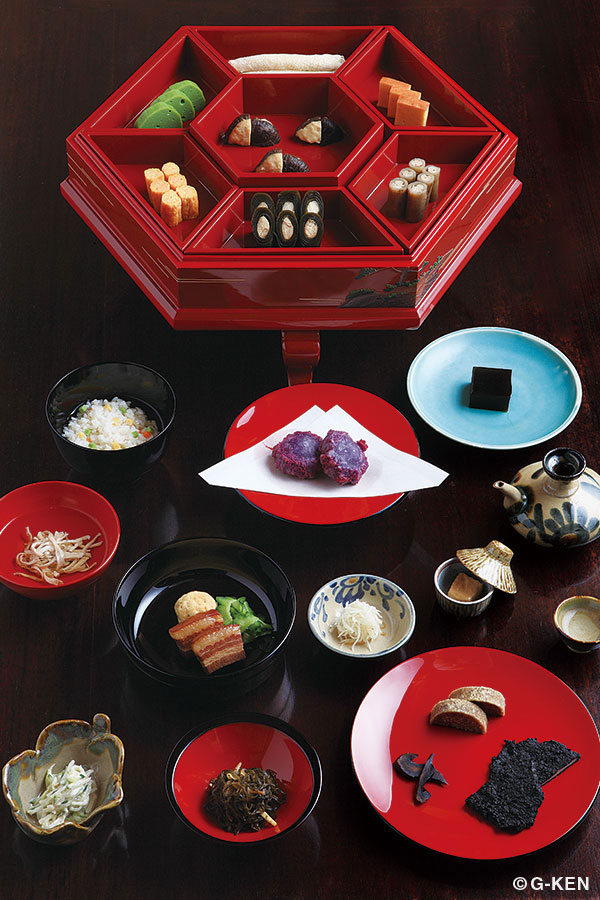 Tundaabun
Hors d'oeuvres-style accompaniment to awamori, served between the second and third dishes of the meal. As trade flourished during the Ryukyu Kingdom period, Chinese envoys of the Ming followed by the Qing dynasty would be welcomed with tundaabun.
Popo (top)
Pork stir fried in white miso, wrapped in thin wheat flour skins.
Castella fishcake (top right)
Popular local fish gurukun (fusilier fish), made into a paste, blended with eggs, then baked.
Steamed fishcake (top left)
Gurukun fish, made into a paste, mixed with extract of mustard leaves, then steamed.
Urachiti shiitake (center)
Shiitake mushrooms steamed with fish paste.
Fried fishcake (bottom right)
Gurukun fish, made into a paste, mixed with carrot strips and then deep fried.
Meat-stuffed burdock root (bottom left)
Burdock root stuffed with pork, carrot and shiitake mushrooms, then simmered in stock.
Konbu roll (bottom)
Swordfish wrapped in konbu seaweed and simmered.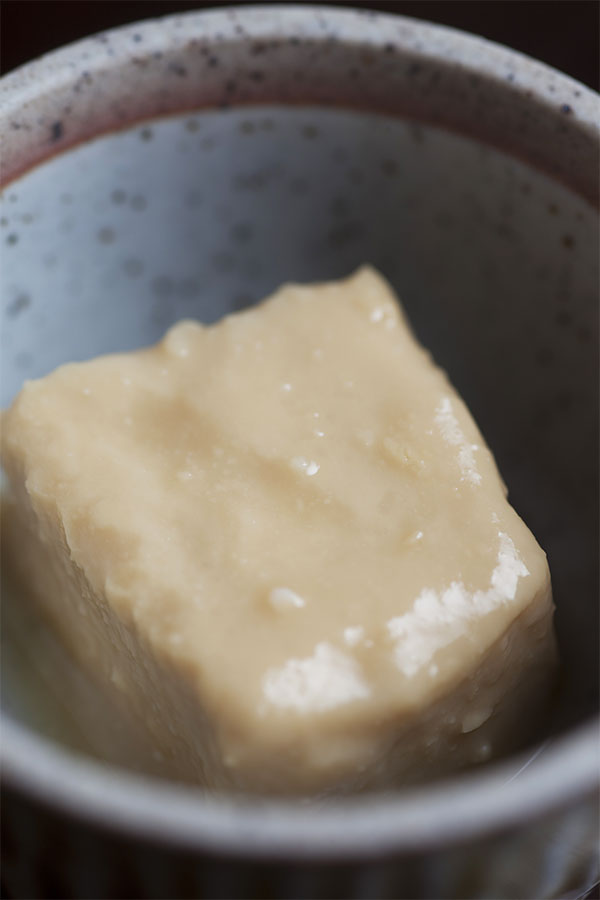 Tofu-yo
House-style diced, dried island tofu pickled in red rice malt.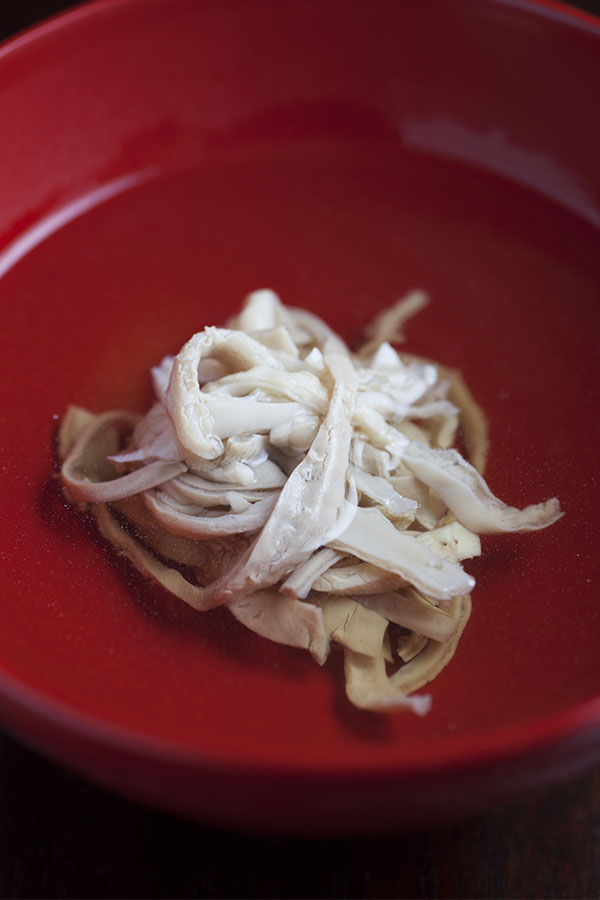 Belly soup
Palace cuisine's archetypical clear soup containing pork tripe.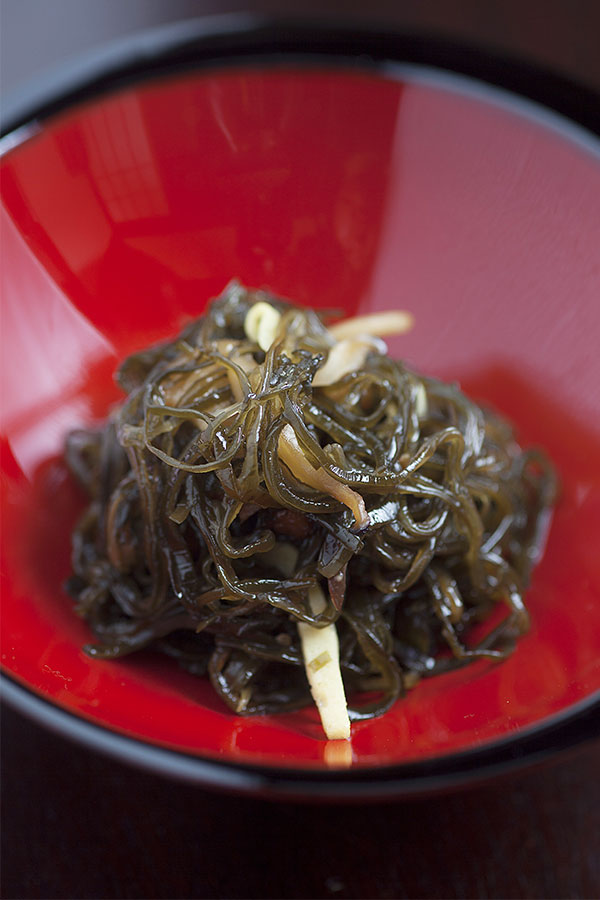 Konbu irichi
Pan fried then simmered thinly sliced konbu seaweed, pork belly and shiitake mushrooms. This dish always appears in celebratory meals.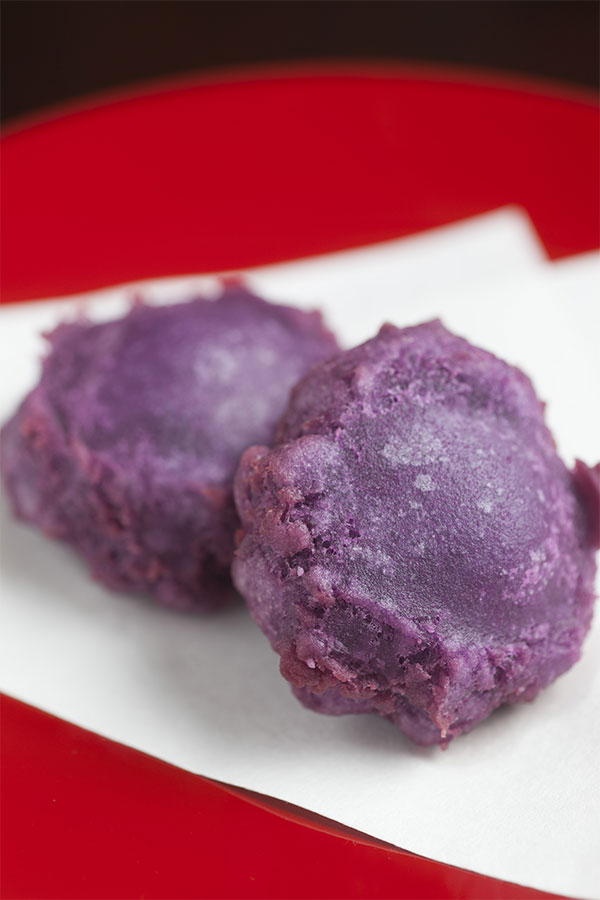 Purple sweet potato fritters
Freshly cooked purple sweet potato is lightly salted, mashed and flattened in the hand, then briskly deep fried.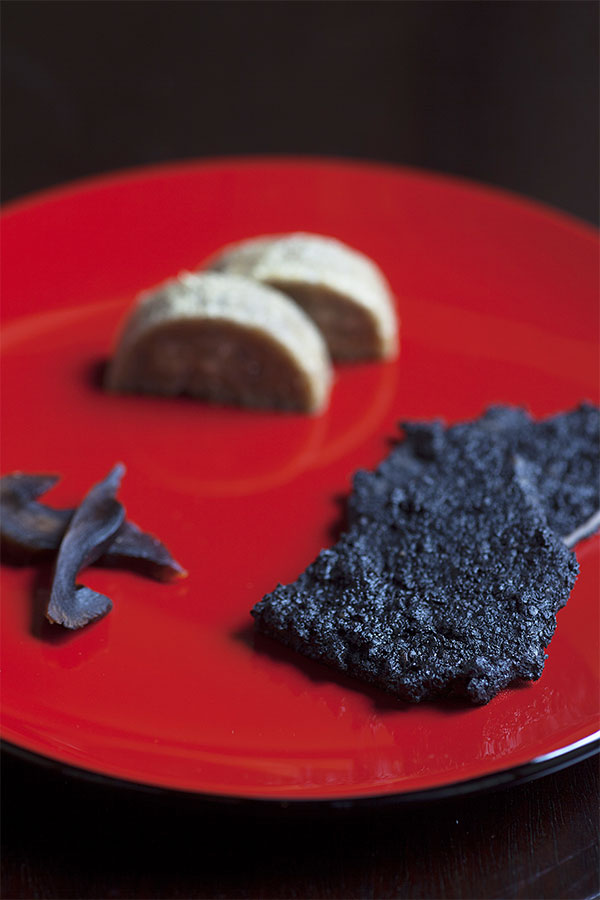 Minudaru (front)
Thinly sliced pork loin marinated in black sesame paste, sugar and soy sauce, then steamed.
Taimo fritters (back)
Taimo (taro) are steamed and then deep fried.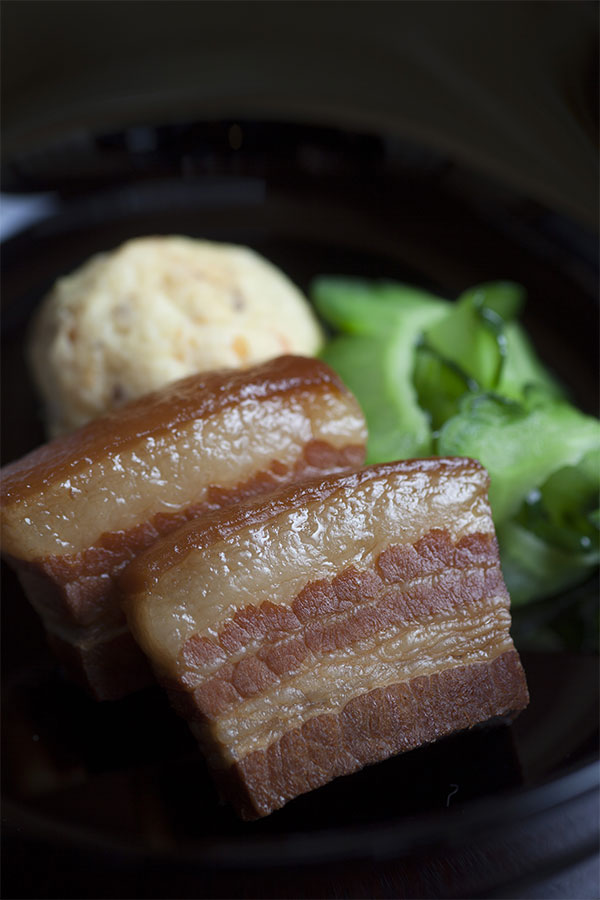 Rafute
Pork meat simmered in a mixture of soy sauce, awamori and sugar for at least half a day. With the fat cooked off, this typical Okinawan dish is a must-try.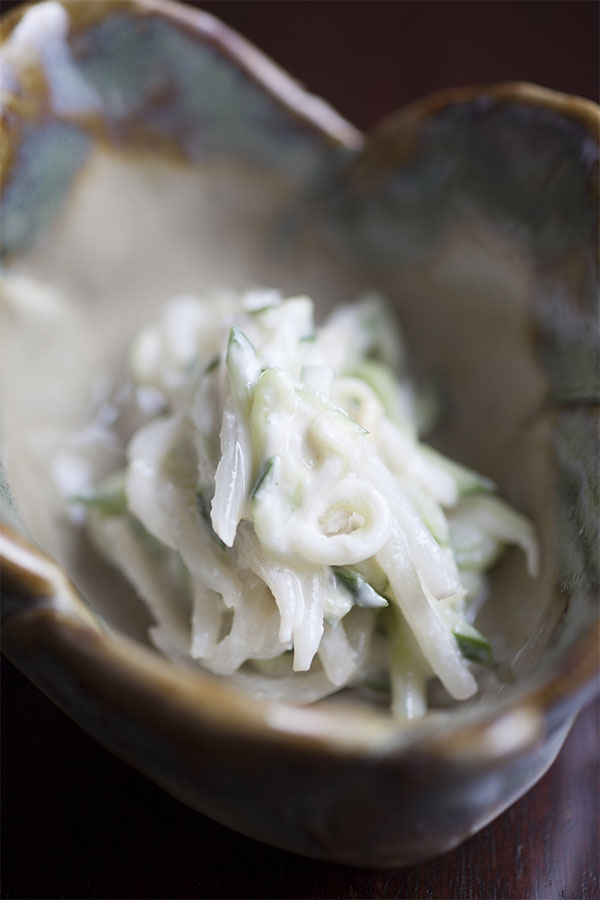 Mimiga
Pig's ear simmered in brine, desalted, then served with cucumber and bean sprouts in a peanut sauce.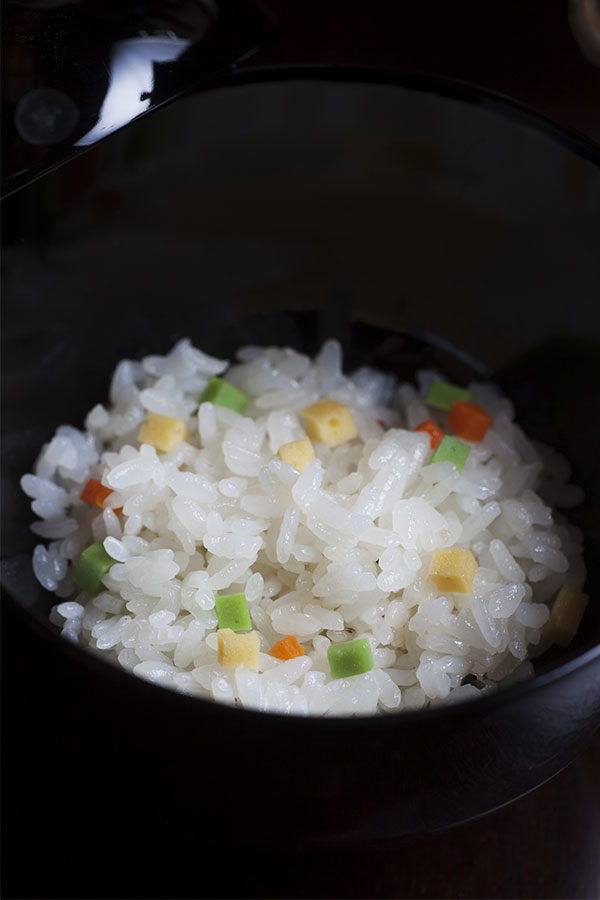 Tonfan juushi
Chopped pork and vegetable mixed rice served with a clear soup.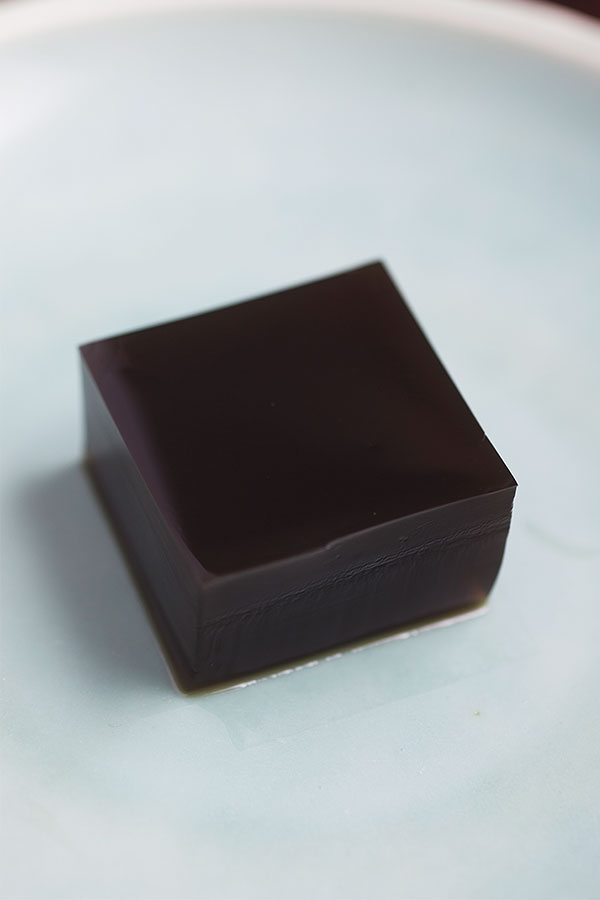 Dessert
Brown sugar agar jelly.
---
Dining at a royal court cuisine specialty restaurant.
The Mie restaurant was established in Naha's Kumoji area in 1957. This is not a recent project set up to cater to tour groups: Mie, set in a traditional two-storey building with a red-tiled roof, is rich with the character and atmosphere of bygone days. Carefully selected ingredients are painstakingly prepared, and the resulting fare is as delightful to the eye as it is to the palate. It is said that when the Chinese envoy (who would normally bring his own personal chef with him from China) first tasted Ryukyuan palace cuisine, he was deeply moved. Palace cuisine, rarely witnessed or consumed in modern-day Okinawa, is readily available at Mie restaurant.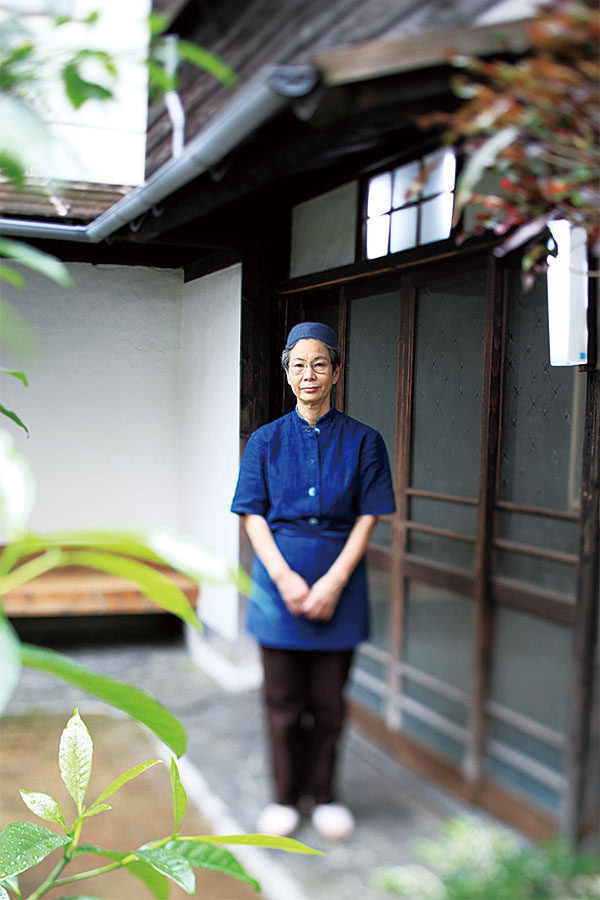 "I'm thrilled not only to prepare traditional Okinawan cuisine but also to know that I'm preserving that tradition," says second generation restaurateur Tokuko Konamiguro, who puts a tremendous amount to effort into preparing the menu each day.
Ryukyu cuisine Mie
1-8-8 Kumoji, Naha City.
Tel: 098-867-1356
Hours: 11:30-15:00; 18:00-22:00
Closed: Sun, New Year's holidays and Obon holidays