Longevity island: the delicious blessings of Okinawan nature
Cultivated in fields with strong southern island sunlight, Okinawan vegetables tend to grow large in size, and in addition they are considered safer than produce from mainland Japan due to the higher levels of contamination found there stemming from the Fukushima nuclear disaster. Although some have a particularly bitter taste that you may not be familiar with, Okinawan vegetables offer a variety of health benefits, which make them worth eating.
Many years ago, Okinawa's hot, humid climate and natural disasters such as typhoons and droughts resulted in a high mortality rate. Long before the advent of modern pharmaceuticals, Okinawans had introduced kusuimun (meaning medicinal foods in the Okinawan dialect) into their everyday diet by choosing ingredients according to the season and their own physical condition. Even today, the idea of kusuimun is deeply ingrained in people's lives and is believed to be one reason for Okinawan longevity. Considered key elements to longevity, fruits and vegetables grown on the island of Okinawa are increasing in popularity by the day.
---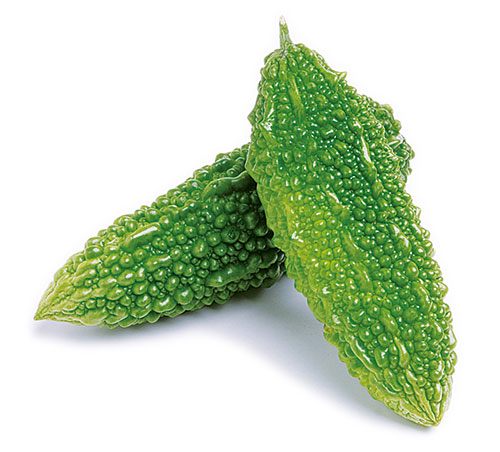 Goya (nigauri, bittermelon)
Goya is a vine plant of the cucurbit family that produces a dark green, bumpy gourd commonly eaten in Okinawa. Goya contains a protein similar to bovine insulin. Its skin, which contains twice as much vitamin C as lemon, is bitter. Goya retains its vitamins even after cooking and is used in goya champuru (stir-fry). Its vitamin C serves as an anti-aging agent for the skin, prevents colds and burns body fat. Goya stimulates digestion, which can be helpful for people with sluggish digestion, dyspepsia, constipation and diabetes.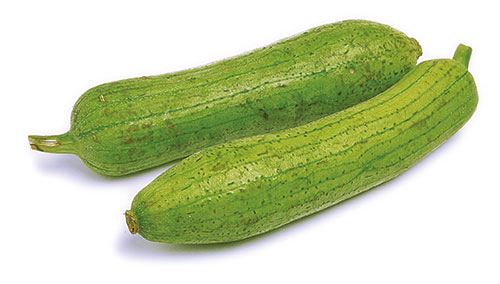 Nabera (hechima, loofah)
Nabera is a cucumber-like gourd that is commonly eaten like goya in Okinawa. Rich in vitamins and minerals, nabera contains loofah saponin, niter, pectin, protein and sugar and is best eaten two weeks after it blossoms. It is often used in stir-fries and soups and is effective as a diuretic as well as in stopping coughing and swelling. In mainland Japan it is used as a body scrub and skin salve for rough or chapped skin, sunburn and chilblains.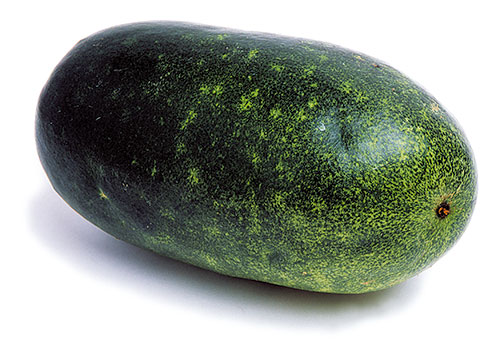 Shibui (togan, white gourd)
Originally cultivated in Asia, shibui is a vine plant of the cucumber family, growing as large as 11 pounds. Harvested in summer, shibui is rich in vitamin C. Its simple flavor goes well with soups containing beef, pork and fish. In kampo (Chinese medicine), shibui cools the body and reduces fever. Its seed is used as a diuretic.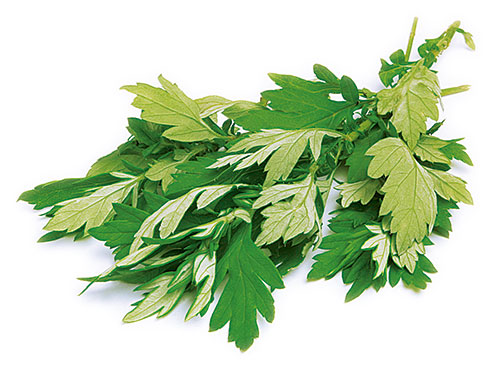 Fuchiba (yomogi, mugwort leaf)
Mugwort leaf, widely viewed as an all-round medicine, is called fuchiba in Okinawa. Rich in calcium, potassium and iron, it is effective in lowering body temperature, soothing neuralgic pain, decreasing blood pressure and cleansing the blood. Fuchiba also increases interferon, which helps to prevent cancer. History indicates that people used it as an herb and in herbal medicine, and also as an anthelminthic. Its bitter flavor goes well with jushi (Okinawan risotto) and soba.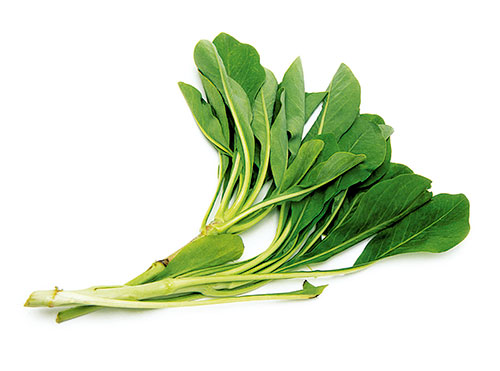 Umjanabaa (nigana)
Umjanabaa has a bitter taste but is full of vitamins, calcium and carotene, which are effective in alleviating stomach ailments, colds, heart disease and fever. It grows wild on the coast and cliffs of Okinawa and is often prepared with peanut sauce and mixed with Okinawan tofu after being shredded, helping to ease the hot Okinawan summer.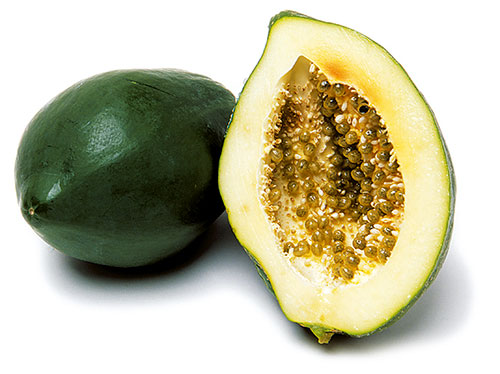 Papaya
Green, or unripe, papaya is a popular food in Okinawa. Green papaya is high in nutrients and is considered a longevity vegetable. The enzyme papain contained in papaya aids in the digestion of protein and carbohydrates and helps in the burning of body fat. Papaya also contains vitamin C and has an antioxidative effect, helping people with constipation and          metabolic changes along with relieving fatigue. Papaya is beneficial for antibacterial activity, prevention of obesity and dieting.

Taanmu (taimo, taro)
Taanmu is a type of taro grown on Okinawa that is cultivated in paddies. An indispensable ingredient in traditional Okinawan dishes, taanmu is rich in fiber, vitamins A, B and C, potassium, calcium and iron. Prepared in a variety of ways, from steaming to frying, this plant is considered to be a symbol of fertility because many small taanmu are attached to the mother tuberous root. It is an integral part of celebrations such as New Year's Day.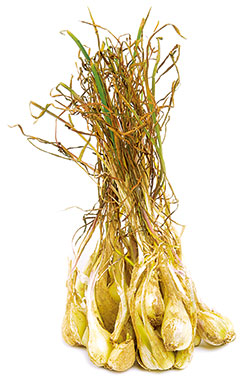 Shima rakkyo (Okinawan shallots)
With a unique spicy flavor and crispy texture, shima rakkyo is the perfect accompaniment and number-one appetizer for awamori. These Okinawan shallots are rubbed slightly with salt and then deep-fried. They are a little smaller than mainland shallots and are effective in killing bacteria and cleansing the blood. The fragrance of shima rakkyo contains a component called allicin, which helps relieve fatigue.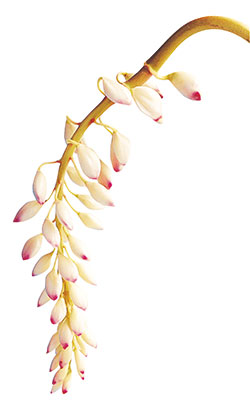 Gettou
A member of the ginger family widely cultivated in subtropical areas, gettou can be seen all over Okinawa. The leaves have a strong, peculiar odor and are effective as a cleansing agent and insect repellent. In addition, it is effective as a cure for stomach ailments, regulating intestinal functions and much more. It includes minerals like polyphenol, dietary fiber, calcium, magnesium and iron. You can use it as aromatherapy to put you to sleep.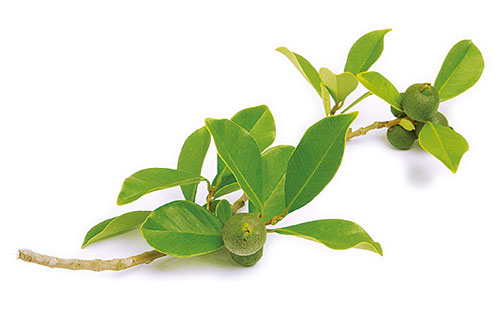 Shiikwaasaa (hirami lemon)
Shiikwaasaa is a citrus fruit that grows in northern Okinawa. Highly nutritious with a flavonoid constituent that eases rheumatism and has a growth-inhibiting effect on cancer, the unripe fruit is extremely sour and is used as a condiment. It also contains vitamin C, vitamin B1 and citric acid. It's good for dieting and also helps to contain blood pressure and blood sugar levels.
---
Farmers markets
There are a number of farmers markets in various areas of Okinawa. These are the best places to buy the freshest fruits, vegetables and cut flowers at reasonable prices. Some farmers markets also offer fresh meat and fish. Okinawa has six farmers markets managed by Japan Agricultural Cooperatives (JA). At weekend markets you can often find free food samples prepared with local products.
Farmers markets
Hours: 9:00-19:00
Farmers market Yanbaru Haisai! Yanbaru Ichiba
JA Yomitan Yunta Ichiba
Chubu farmers market Champuru Ichiba
Ginowan Hagoromo Ichiba
Farmers market Itoman Umanchu Ichiba
JA Okinawa Shokusai-kan Toyosaki Nanairobatake