Types of eating establishments
Shokudo
Shokudo are casual restaurants perfect for families looking to get a hearty meal at an affordable price. Shokudo are a very popular choice among local Okinawans for a quick and tasty lunch or dinner. Although most shokudo in Okinawa don't have an English menu, some of the most typical items are Okinawa soba, reasonably priced set meals called teishoku and local specialties such as nitsuke, a simmered dish with pork, vegetables and kombu seaweed. There are a variety of shokudo, including long-established places run by elderly couples, those famous for their generous portions and more. These are simple places you can visit with friends to enjoy tasty Okinawan home cooking for the price of 400-800 yen.
Teishoku, also called ozen at some places, usually come with a main dish, side dish, rice and soup. Meals with more food items are available at slightly higher prices.
---
Okinawa soba/ramen shops
In Okinawa there are a countless number of places that are similar to shokudo but which specialize in Okinawa soba, including small Okinawa soba restaurants catering mainly to locals, chain eateries and modern establishments featuring a stylish atmosphere. Every Okinawan has his or her own favorite bowl of Okinawa soba according personal preference.
Ramen is a very popular noodle and soup dish in Japan. Due to Okinawa soba's unparalleled popularity, there used to be only a small number of ramen shops in Okinawa compared to other parts of the country. However, the ramen scene in Okinawa has recently been livened up with a number of ramen chains based in mainland Japan launching new locations on the island. Each ramen shop has its own variation of broth, noodles and toppings; you'll be sure to find the perfect bowl of ramen that suits your taste buds.
Many Okinawa soba/ramen shops operated under a system whereby customers purchase food tickets at a vending machine and hand them to their waiter to place an order.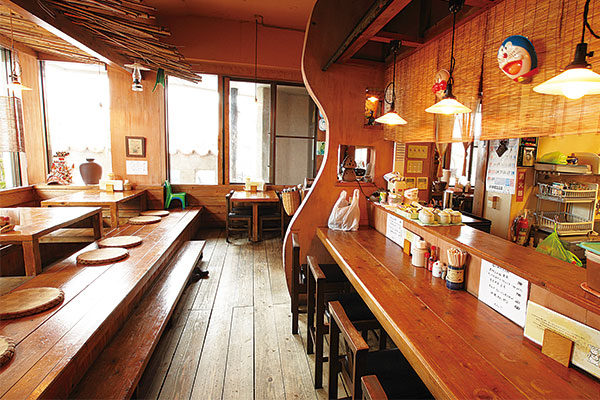 ---
Izakaya
With alcohol well integrated into the culture of Okinawa, izakaya -- Japanese-style pubs/restaurants -- are very popular places among the locals to enjoy an evening of eating and drinking at relatively reasonable prices. Izakaya are usually open from dusk till dawn. Most izakaya have a menu featuring an extensive selection of alcoholic beverages and a wide variety of Okinawan and Japanese dishes, including specialties of the day prepared with fresh seasonal ingredients. Some izakaya offer special promotions, such as happy hour, during which you can enjoy a stein of beer for a few hundred yen or a glass of awamori at half the regular price.
There are many types of izakaya, including some emphasizing value for money and others focused on serving carefully selected awamori and dishes prepared with top-quality ingredients. There are also unique izakaya located in renovated traditional Okinawan houses with a rustic atmosphere, those boasting a sophisticated modern interior and minyo (folk song) izakaya featuring stage performances such eisa, shishi-mai (lion dance) and folk music, as well as places staffed by waiters dressed in traditional Ryukyuan costumes. Many izakaya offer otoshi (appetizers) selected in advance by the restaurant. At izakaya, the bill is totaled by group, and later members split the cost equally. So if you want to get an individual bill, mentioning it in advance is a good idea.
Otoshi: An otoshi is a small appetizer dish priced at around 200-300 yen per person. This is a mandatory service and is usually considered a table charge.
---
'Location' cafés
In recent years "location" cafés with their scenic view and relaxing atmosphere have become increasingly popular in Okinawa. Including some surrounded by evergreen forests and others facing the azure ocean, there are a variety of location cafés where you can relax and unwind while enjoying a splendid view of Okinawa's natural environment.
Location cafés can be found all over Okinawa, but the coastal areas of central Okinawa -- Chatan Town and Yomitan and Onna villages in particular -- are dotted with a great many of them. Miyako and Ishigaki islands also offer a number of cafés with amazing ocean views. The menu varies by place. Some offer Okinawa soba and local specialties, while others feature Western fare, such as pizza and sandwiches as well as homemade sweets. There are also healthy-themed cafés serving lunch meals of dishes prepared using abundant vegetables and mixed grain rice.
"Yama" cafés (literally meaning mountain cafés): Cafés surrounded by a lush landscape, usually located in the mountains or perched atop a hill.
"Umi" cafés (literally meaning ocean cafés): Beachfront cafés and cafés located on hills overlooking the ocean.
---
Resort hotel restaurants
Most of the restaurants at resort hotels offer lunch and dinner buffets featuring a large variety of dishes from Okinawan, Japanese, Western and Chinese cuisines. Dinner buffets often include expensive dishes, such as sushi and lobster and crab dishes. Prices vary by restaurant, with the cost of a lunch buffet starting from 1,500 yen and that for a dinner buffet ranging between 3,000-5,000 yen. With attentive service and the magical and relaxing atmosphere unique to resort hotels, these are perfect choices for people looking to enjoy a quality dining experience. In addition, most resort hotels boast multiple dining and drinking options, including specialty restaurants focusing on a particular type of cooking and stylish bars. You can also enjoy dining while taking in a panoramic view of the ocean at some of the restaurants located at oceanfront resorts.
---
Yakiniku restaurants
Yakiniku, Japanese BBQ, is an extremely popular food in Japan, especially among families, and there are said to be almost as many yakiniku restaurants as sushi restaurants scattered all over the country. At yakiniku restaurants, customers order plates of meat and vegetables from the menu and cook the ingredients on the grill built in their table by themselves. For people who put a high value on food quality, the yakiniku places specializing in gourmet meats, such as Okinawa's premium pork, aguu, and Ishigaki beef, are highly recommended. On the other hand, all-you-can-eat yakiniku restaurants are ideal choices for those looking to sample many different types of meat and a variety of side dishes at wallet-friendly prices. There are some yakiniku restaurants offering all-you-can-eat deals only during lunch hours and an a la carte menu for dinner. Most of these places have a specific time limit. (Standard time limit is two hours.)