Natural cheese handmade in Okinawa brought to you by The Cheese Guy
Owner: John Davis
According to John Davis, The Cheese Guy, many people believe that cheese can only be made in a cold place like Hokkaido. "Not so!" he says. "Okinawa is hot and humid, a perfect place for making cheese!" 
John runs The Cheese Shop in JA Atoll, Nanjo City, and produces handmade cheeses from Okinawan ingredients. 
Asked why he left England for Japan in 1976, John said: "It was an adventure. I wanted to go somewhere I'd never been." He lived in Tokyo, moved to Hokkaido and came to Okinawa to retire in 2006. John is very happy in Japan and enjoys Japanese food, but he missed good natural cheese. The obvious solution was to make his own.
But how? 
A few hours surfing the Internet left John feeling that it couldn't be difficult. He managed to find the basic ingredients and put together bits and pieces from hardware stores to make his cheesemaking equipment. Then followed months of experiment and training. People began asking for cheese, and John realized that cheesemaking would be a fun thing to do. "Much better than retirement!"
John needed raw milk but didn't know where to get it. Then he found a dairy farmer in Nanjo City who wanted to make cheese but didn't know how. The perfect solution! John built his cheese factory on the dairy farm where he would have access to fresh, flavorful milk. 
Nowadays, John employs five people and produces 50 varieties of cheese, from mozzarella to exotic cheeses using Okinawan herbs. Recently he and his staff created an entirely new kind of cheese, using kuro koji – a yeast used for making awamori – as a fermenting agent. 
Most of John's clients are hotels, from The Ritz-Carlton in the north to Yuinchi in the south. Retail customers purchase John's cheese at The Cheese Shop or online. "Cheese is truly amazing," John says. "The possibilities are endless." 
Remembering the thick, creamy yogurt he enjoyed as a child in England, John added this to his product line. Every visitor to the shop gets a taste.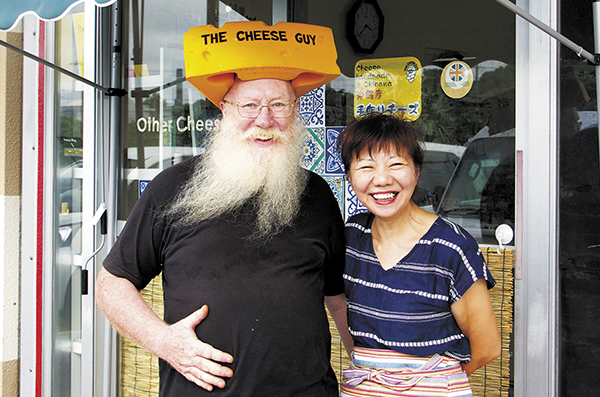 John's cheeses are handcrafted using fresh whole milk from the Oyadomari Dairy in Nanjo City. Selections range from traditional cheeses such as Stilton and cheddar to exotic cheeses made with local herbs, such as sakuna, fuchiba (mugwort) and black carrot. John has soft cheeses, fresh cheeses and blue cheeses, mild and really strong. Something for everybody. And, of course, his rich, creamy yogurt.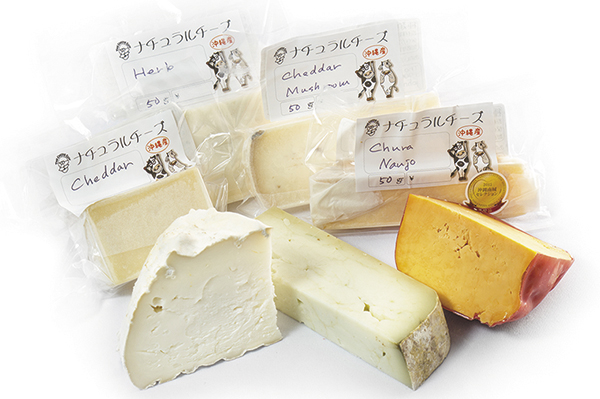 Two of John's cheeses were chosen for the 2015 Nanjo City Selection prize and another two in 2017. John's fame is spreading, and customers come from far and wide to sample the famous cheese at his shop.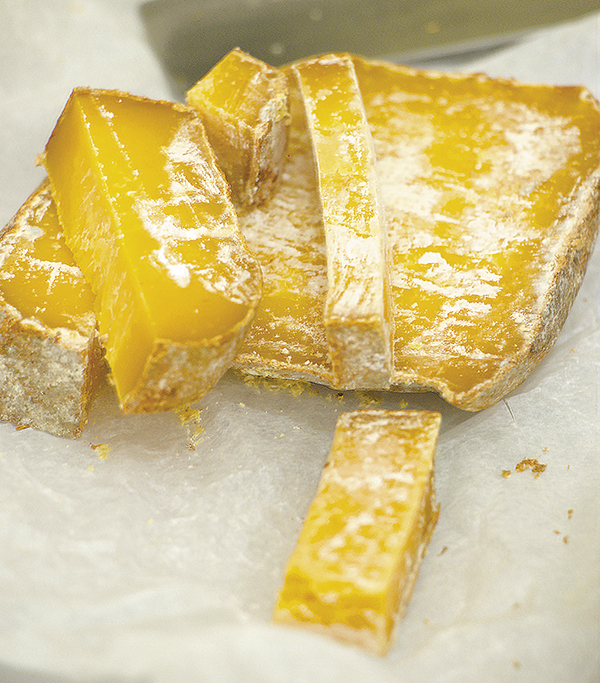 Cheese is sold by weight at between ¥2 and ¥8 per gram.