Okinawan Meat Festa at Kanucha Resort
The mountains and the sea combine in northern Okinawa Island in this expansive resort – a virtual wonderland – with its diverse accommodations and lavish selection of facilities and leisure activities. Room choices run from executive twin rooms to luxurious suites to airy beachside cottages with views of the East China Sea or the lush greens of the mountains. There are even pet-friendly rooms for those who don't want the smallest family members to miss out.
As one would expect of a large resort in this area, there are plenty of outdoor and indoor activities, including everything from karaoke to a beautiful golf course to a wide selection of exciting marine sports and activities.
Other niceties include the fully equipped Kanucha Spa offering full spa services in one of the most beautiful and relaxing settings in Okinawa, fitness club, three swimming pools and full wedding and banquet services.
Two early summer celebrations
From April 1 to May 31, Kanucha Resort in cooperation with the locally based Motobu Farm and Ganaha Farm presents the Okinawan Meat Festa, an international celebration of premium Okinawan meats, including Motobu beef and aguu pork. Special menus will be available at four on-site restaurants: Kuuwa Kuuwa (BBQ), Kanucha (Japanese), Ryukyu (Chinese) and Paradis (Italian).
From April 1 to June 30, the resort will also hold the Kanucha Thanks Fair, which offers special packages and promotions at restaurants, the spa and recreational facilities. This is a great opportunity to show appreciation to that special someone, especially for Mother's Day or Father's Day.
Restaurant hours:
BBQ restaurant Kuuwa Kuuwa 17:30-21:30 (last order 21:00)
Japanese restaurant Kanucha 18:00-22:00 (last order 21:30)
Chinese restaurant Ryukyu 17:00-22:00 (last order 21:30)
Italian restaurant Paradis 18:00-22:00 (last order 21:30)

Motobu beef and aguu pork BBQ assortment (Kuuwa Kuuwa)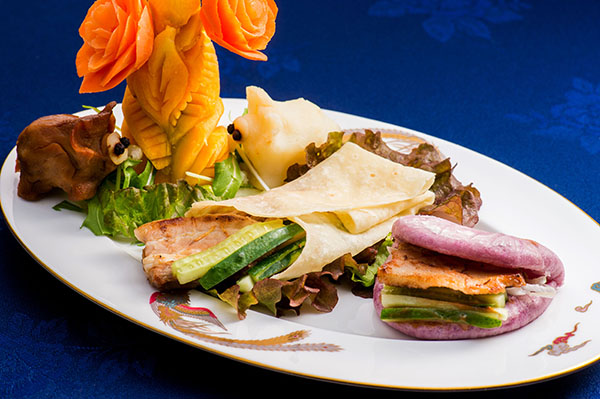 Grilled aguu pork loin (Paradis)