Chatan's first farmers market opens at Uminchu Wharf
Located right next to Mihama American Village, Chatan Fisharena is a quickly developing coastal commercial area with new shops constantly opening and more construction projects in progress.
One of the new faces is the farmers market, which opened its doors in December 2015 in the Uminchu Wharf building located adjacent to the berth. The market is becoming a very popular place to shop for fresh fruits and vegetables at reasonable prices. In addition local specialties, such as Chatan no Shio (Chatan Sea Salt), Chatan Coffee, Aguu Pork Ramen, and various seaweed products that make for ideal souvenirs are also available. The all-you-can-stuff-in-a-bag promotion held every weekend is a must try!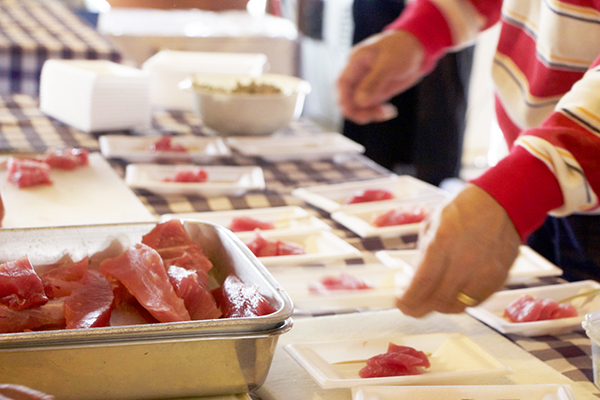 A variety of fun events are scheduled at Uminchu Wharf on weekends. Visitors are offered free samples of fresh sliced tuna when a tuna filleting performance takes place at Umihana, a seafood restaurant operated by the Chatan Town Fisheries Cooperative Association.