SAME 2015 Energy Workshop and 5th Annual Golf Tournament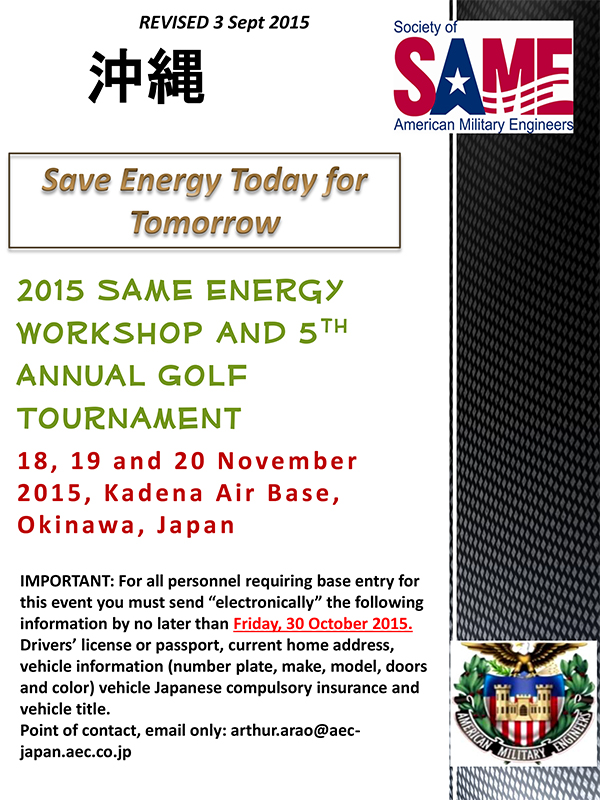 SAME, the Society of American Military Engineers, Japan Post, will be holding its 2015 Energy Workshop and 5th Annual Golf Tournament on Nov. 18-20. The workshop will be held at the Kadena Air Base Officers' Club and will feature guest speakers from the military, private sector, local academic institutions, the Okinawa prefectural government and others. A panel of guest speakers will make presentations on topics including renewable energy in Japan, the energy industry and the latest associated technologies. The event will finish on Nov. 20 with the annual golf tournament to be held at Kadena Banyan Tree Golf Club. The golf tournament is SAME's sole fundraising event of the year and awards scholarships to deserving students wishing to pursue STEM (Science, Technology, Engineering and Math)-related fields of study.
All base entry documents must be received by Oct. 30.
Registration and payment must be made by Friday, Nov. 6.
For more information or to register for the event, please visit: http://posts.same.org/okinawa/default.asp
Or, contact "Art" Arao
Tel: 090-9784-7016 or email: arthur.arao@aec-japan.co.jp
Date: Wednesday, Nov. 18-Friday, Nov. 20
Workshop: Kadena Air Base Officers' Club
Time: 07:00-16:30, Wednesday-Thursday
Golf tournament: Kadena Banyan Tree Golf Club
Time: 06:30 check-in Friday