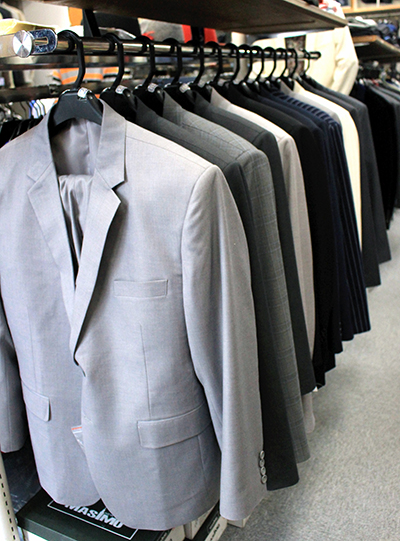 For those of us who were not born in Okinawa, life can be a series of discoveries that, for better or worse, add spice to life on this small Asian island. On Gate 2 Street in Okinawa City there is one pleasant surprise in the form of Bombay Tailors. Enter the store, and you will be greeted by two and three-piece suits on display. Near the front of the store is a rack with finished suits, each with an embroidered patch sewn into the inner lining bearing the name of its new owner. In front of a full-length mirror to one side of the entrance, you might see Mr. Nash Khiani consulting with a client.
With the care and assurance that comes from over 40 years of experience, Khiani will determine in English or Japanese the style of suit a customer desires and what kind of fit they prefer. A customer who does not see something he likes in any of the displays will be referred to the many photos lining the walls from various men's fashion magazines. After a style is chosen, customers are patiently guided through selections of fabrics, colors and patterns before having their measurements taken from head to foot.
In the States, stores specializing in handmade clothing are generally places that regular folk might feel discouraged from entering -- too expensive. Bombay Tailors, with its walls lined with bolts of precious navy, charcoal and black wool and silk blended European fabrics and its hand-tailored wares, seems no exception, but herein lies a surprise.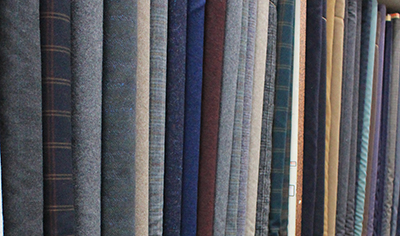 Bombay Tailors uses beautiful imported European fabrics.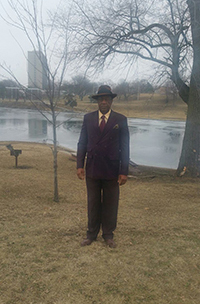 Loyal customer, LH Dawn of Kansas City
How much?
"Generally, a two-piece suit will cost $375," Khiani says. "A three-piece, $475." Compared to the prices of mass-produced items at department stores, there is not much difference – except, perhaps in quality – and in this regard, a handmade garment will win every time. In addition to 100 percent handmade offerings, the store also features shelves and racks crisscrossing the floor that showcase off-the-rack jackets, trousers and shirts which Bombay Tailors will customize at a nominal cost.
Most of Bombay Tailors' customers make their way to him by referral and, according to Khiani, most come back. In fact, a sizable portion of his book of business is made up of people who have moved back to the U.S. "I keep all of their measurements on file," Khiani says, "so all they need to do is tell me what style, color and material they want, place their orders and then pay for shipping."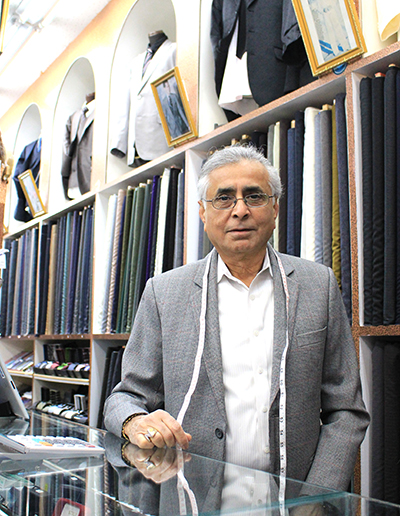 Khiani first opened his shop here 30 years ago at a time when the few tailor shops on Gate 2 Street did not include suits among their offerings. "I was told that suits would never sell here," he says, "but I took a chance and worked hard." Needless to say, his suits do sell, but he still works hard: Bombay Tailors is open seven days a week, and Mr. Khiani is there for every one of them.
1-5-1 Uechi Okinawa-City
Tel: 098-933-5737
Hours: 11:30-20:30
Open daily