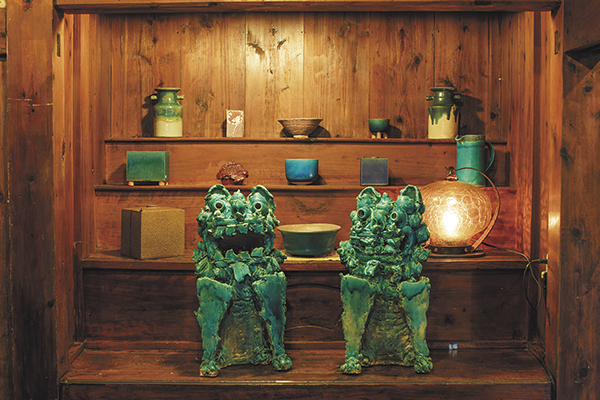 Harmony between Okinawa's natural bounty and beautiful pottery created from Okinawan clay
Jissei Omine's tableware and Touyadokoro Fuan's cuisine
This is a relatively unknown but well-established restaurant in Yaese Town in southern Okinawa in a traditional old Ryukyuan home where customers can view a large selection of works by Okinawan ceramic artist Jissei Omine. Restaurant owner Dan Kinjo first encountered Omine's tableware in an antique shop. He was so impressed that he started collecting it, not just randomly, but by carefully selecting pieces with a discerning eye. In addition to selling Omine's works here, Kinjo wants to convey to his customers the attractiveness of these ceramics by offering a full course meal of modern Okinawan cuisine served on them. Diners can purchase the tableware they used at a 20 percent discount. Between lunch and dinner (from 14:00 to 17:00), customers are able to enjoy tea from Omine's cups or admire his works.
108 Tomoyose, Yaese Town
Hours: Possible to reserve the restaurant for two hours from 11:30 or 14:00, or for two-and-a-half hours from 18:00 or 19:00
*Reservations required (Japanese only)
*The restaurant does not serve anyone under the age of 18 or adults accompanied by children.
*The course meal and tableware are explained in Japanese only.
URL: http://shitsurai.ti-da.net/