Healthy dessert rich in minerals: Swiss roll with specialty carrots
Made with sweet carrots from Tsuken Island, the Tsuken Ninjin Roll (Swiss roll with Tsuken Island carrot) is not only delicious but a popular gift with its elegant packaging and furoshiki (Japanese wrapping cloth).
Tsuken Island carrots rarely appear in the market. Valued for their quality and flavor, most carrots are used in restaurants and hotels inside and outside of Okinawa.
Tsuken Island carrots are organically grown and held to a high standard, resulting in a number of unsalable carrots that taste good but are not attractively shaped. These carrots are put to good use, however, as a major ingredient in carrot powder, one of the islands specialty products.
With a liberal amount of carrot powder in both the sponge cake and the cream as well as a carrot paste inside, the Swiss roll is rich in flavor and minerals.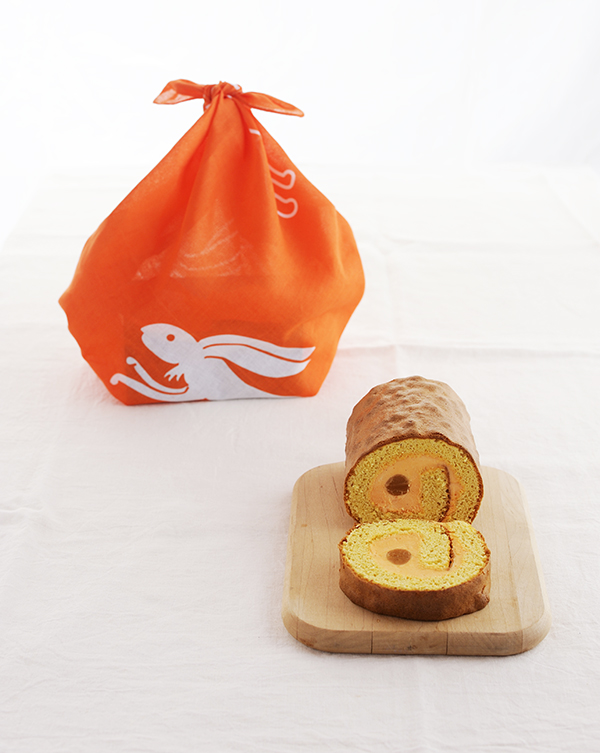 Tsuken Ninjin Roll with furoshiki (Japanese wrapping cloth), 1,080 yen (tax included)
With a short shelf life due to the absence of preservatives, this healthy desert made with rice flour is delicious and worth tasting.
Petit Four, Esu branch
542-9 Esu, Uruma City
Tel: 098-973-5784
Hours: 9:00-21:00
Open daily
Other locations
Petit Four, Ishikawa branch
1-22-20 Higashiyama, Ishikawa Uruma City
Tel: 098-965-4702
Petit Four, Midorimachi branch
6-1-20 Midorimachi, Uruma City
Tel: 098-972-3575