Valentine's Day Dinner Cruise
For those wanting to give someone special a memorable Valentine's Day experience, a delicious dinner aboard the Moby Dick, available from Island Life Concierge, is the way to go. The Moby Dick dinner cruise vessel (maximum capacity: 280) departs twice daily for the Sunset Dinner Cruise and the Night Dinner Cruise. The dinner cruises are perfect for romantic anniversaries and other special occasions as well as for festive gatherings with family and friends. A variety of French dinner courses are available to choose from. (Prices start from 4,200 yen per person. Check out the Island Life Concierge website for more information.) In addition, live entertainment will enrich your dining experience on the cruise. Free anniversary/birthday services, including a free framed photograph and more, are available. The dinner cruises depart from Naha Wharf, and they are approximately 105 minutes long. The Sunset Dinner Cruise departs at 17:00, and the Night Dinner Cruise at 19:45. If you would like to enjoy wine or beer, a vehicle charter service also available from Island Life Concierge is recommended. The Valentine's Day cruises are fully booked by the end of January due to their popularity. You are strongly recommended to make reservations as early as possible.
islandlife Concierge
Visit the Island Life Concierge website for more information about dinner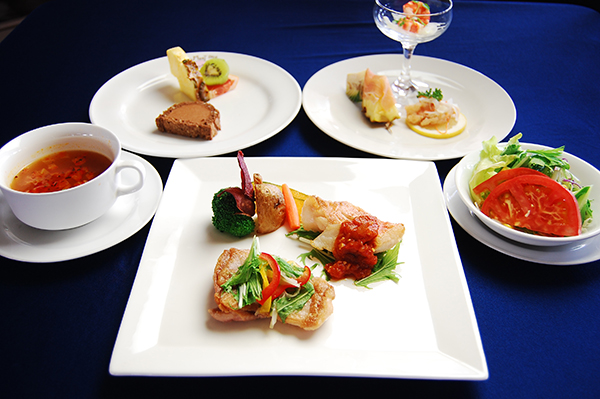 Children's Meal (for 6-12 years old; 3,700 yen) is the optimal choice for your young companions.
The popular Orchid Course (6,900 yen) comes with amuse-bouche, hors d'oeuvres (3 pieces), soup, salad, rice or homemade bread, seafood meunière, beef rib steak, dessert and tea or coffee.