In search of peace and harmony of mind at Wayn-Zen Onna Hotel
Our reporter Christine Bruce took part in a one-day session at Wayn-Zen spiritual health resort. She also was given a comprehensive tour of the facility. She found the program very well organized and useful. "We set out to return home in a much more relaxed and grounded state of mind than when we arrived that morning," was her conclusion of the experience. Following is her report on the program and the facility.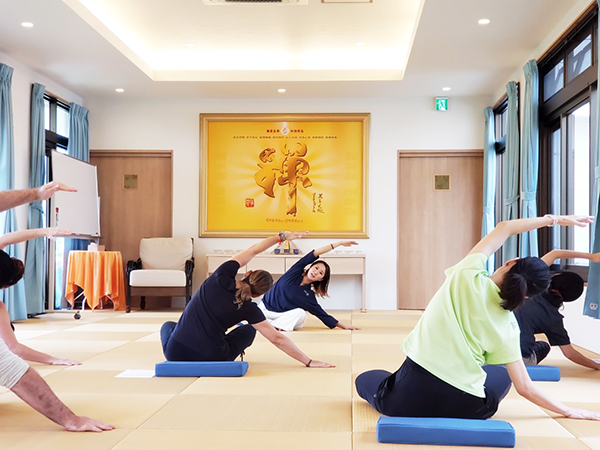 I had the privilege of attending a day program on a rainy Saturday at Wayn-Zen Hotel in Onna, Okinawa, Japan. Wayn-Zen is advertised as a spiritual health resort as well as a meditation training center.
"Way" means way or TAO and "N" means natural/nature. Wayn-Zen loosely translated is "a way back to nature." The organization states that Wayn-Zen provides a link to the "source field" to help people experience purification and healing of the mind and body.
The facility is located in a quaint little village in Onna on a hill above the ocean. Arriving at the facility the first thing you notice is a large expanse of beautiful green lawn with a white and blue ramp leading up to a mid-western style main building. Pairs of dark brown round wicker chairs line the outer edge of the main building so that patrons can sit and relax as they enjoy the outdoors. The buildings on the property are white with mint green rooftops with the gold Wayn-Zen logo above the entrance.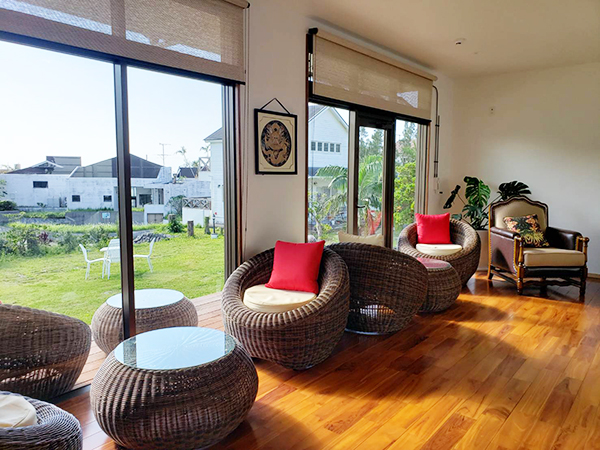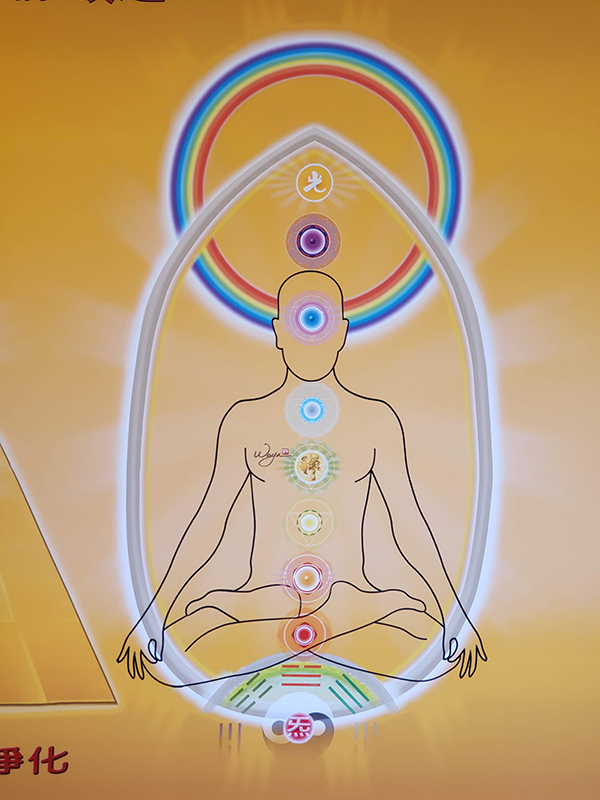 We were greeted by the general manager, Shelly Shi, who comes from China and speaks several languages including Chinese, Japanese, and English. She led us to a lobby with round wicker chairs and matching glass top wicker tables.
As we settled in the staff brought us chamomile tea in small clear glass teacups to sip as we waited for the rest of our group to arrive. Ms. Shi told us that her organization has many Wayn-Zen facilities all over the world. including in Beijing and Shandong in China, one in Taipei, Taiwan, another in Sabah, Malaysia, one in San Francisco, USA and the one here in Okinawa that is their first in Japan and recently opened in May 2019.
She explained our program for the day and took us on a tour of the facility. Besides day programs there are overnight plans, which includes a room. There are 27 rooms and they are either dormitory Japanese or western-style and they also have private western-style rooms. Each room has a small seating area with a tea set and incense. There is no WiFi, television, or refrigerator in the rooms in an effort to help people disconnect from their electronics and reconnect with themselves and nature.
There is air conditioning, of course, it is Okinawa after all and the summers here demand AC. There are a separate small toilet room and a small shower/bathroom stocked with soap, shampoo, and other necessities, and both are shared with other rooms.
The rooms we saw also had a second-floor area with a tatami room with a couple of cushions and a low-lying table with another tea set and incense. On the third floor is another room with a tatami floor that is to be used for meditation.
On the first floor just off the lobby is a large tatami room with evenly spaced blue pillows. This room is used to do Wayn-Zen meditation and yoga. The front wall has a large gold and yellow picture of the Wayn-Zen logo and the back wall has two large pictures, one representing the chakras and the other showing the earth and heavens and the merging of the two.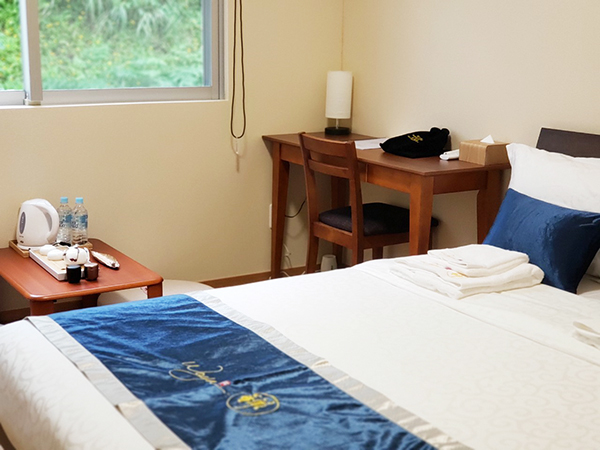 Our day started with a Chinese tea ceremony in the dining room. The tea that was served had been fermented for a year and Ms. Shi explained that it will make multiple cups of tea and proceeded to show us by pouring tea over and over into our dainty white porcelain teacups and pouring more hot water on the tea and then repeating the procedure. We started with black tea which was quite good and then moved on to the red tea, which tasted like honey without the sweetness. She assured us that the only thing added to the water was tea leaves, despite its honey-like taste. I was allowed to try doing the tea ceremony myself and although I didn't exhibit half the grace that Ms. Shi did when she showed us how to do the ceremonial pouring of tea, I made it through without dropping anything.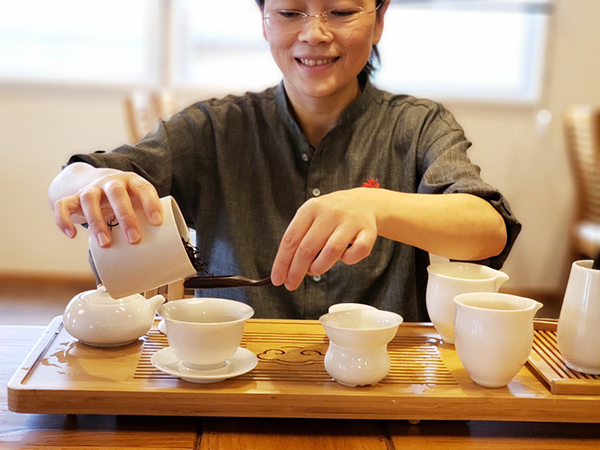 Next, we moved to the meditation and yoga room where we engaged in some yoga that was quite different from typical Indian yoga and seemed to be a cross between Tai Chi, yoga, and some relaxing movements paired with breathing exercises.
After this, we were taken back to the dining room in the back of the facility, a simple and sleek, very Zen-like area, with light wood tables, wooden benches, and chairs and paper lantern lights. There is also a beautiful porch just off the dining room with chairs to relax. We were each served a beautifully plated and delicious vegetarian lunch made with fresh Okinawan vegetables and herbs. For those who need more than veggies, there is also a meat option.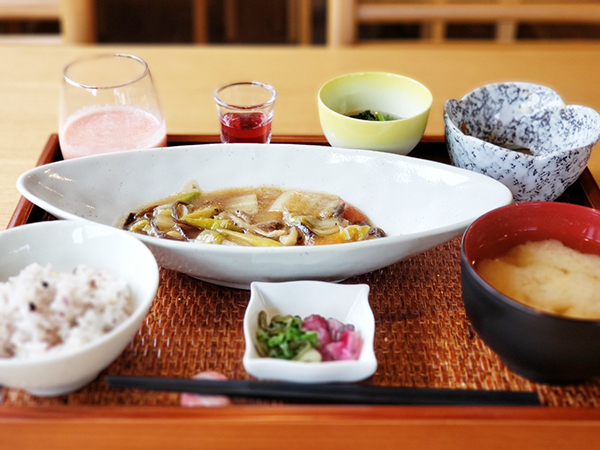 The meal started with "Pre-meal vinegar", a ruby red liquid in a clear shot glass that tasted sweet and vinegar-like but was much tastier than expected. Next was "Soak of Spinach" a small bowl of spinach in broth that was perfectly cooked and had a lovely flavor. A tiny plate of "Shiba pickles" added a sour-sweet kick to the meal. The "Stewed Squash" was my favorite and consisted of warm chunks of pumpkin cooked to a soft texture and soaked in a brown sugar glaze. There was a "tomato smoothie" made with honey, as well as "Miso soup with root vegetable" with incredibly fresh tasting tofu and delicious thin slices of root vegetables. The main dish was "Chop suey" which came with "15-grain rice" that was white and pink and brown with different textures and a simple yet excellent flavor that paired perfectly with the dishes. It was the perfect amount of food. After the meal, we were all given chamomile tea and had time to sit and chat with the group for a bit.
Our group was then taken up a very long flight of concrete stairs on the side of a hill through a beautiful tropical jungle-like setting to a large dark brown wooden open-sided structure with a roof that overlooked the ocean and the majority of Onna. The staff told us this is where they often do yoga or meditation when the weather is good and we could imagine the serenity that must overtake those who get to practice in that beautiful setting. At the back of the structure is a pyramid, approximately 5 feet tall with the WAYNE-ZEN logo on it. There was lighting around the pyramid, in the roof of the building, and along the stairs up to the structure so that you could find your way up and back down again after sunset.
When we were safely back down the stairs and in the main building we went back to the large meditation/yoga tatami room for breathing and meditation. The breathing was a style I'd never experienced with the inward breath, a hold, then a loud "PHUH" explosive exhale. After several rounds of this, we did a breath that culminated in an exhale that sounded like "Shhhhhhhhh" for several repetitions. At this point the WAYNE-ZEN meditation was explained to us and we were told that leg position is not that important (you are not required to stay cross-legged) and they stressed that the most important thing in the meditation is to keep your back straight for the first 15 minutes and after this we could adopt whatever position was comfortable including lying down with the head on the meditation pillow and falling asleep. Now, this is my kind of meditation!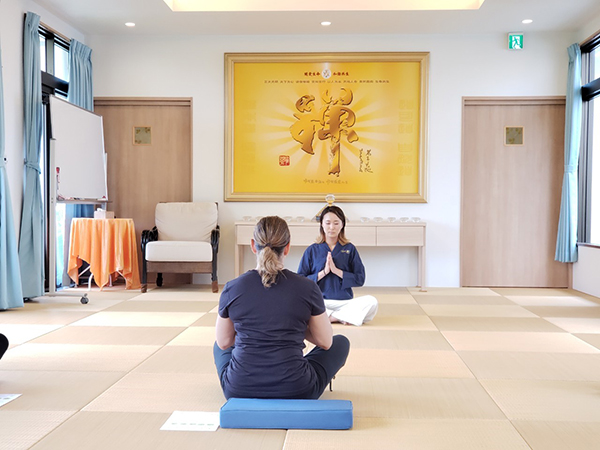 The mediation lasted for about 90 minutes and although I was bound and determined to stay seated and not lie down, within 20 minutes I was peacefully lying on the ground and enjoying the relaxed feel of meditation without the limits of having to sit in an uncomfortable pose. My mind felt peaceful and was no longer racing, and when the singing bowl was rung at the end of the session to bring us back and wake us from our meditation, I felt refreshed and relaxed.
At the end of our visit, the staff graciously thanked us for visiting and wished us well as we set out to return home in a much more relaxed and grounded state of mind than when we arrived that morning. If you are looking for a day or even three days or more to unplug and relax, Wayn-Zen is a beautiful and peaceful place to heal and reconnect with your mind, body, and nature.
Spiritual Health Resort Wayn-Zen Onna Hotel
Tel: 098-967-7666
1765-13 Nakama, Onna Village, Okinawa 904-0401
https://www.wayn-zen.ryukyu/en