Make your own Ryukyu glassware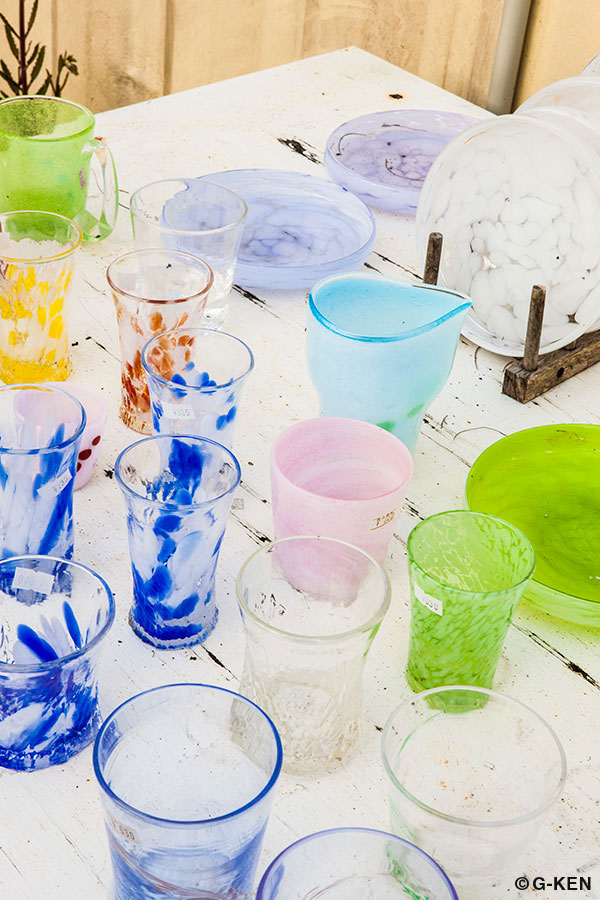 There are two kinds of techniques in Ryukyu glassware production: free blowing, in which molten glass is gathered on the tip of a blowpipe and blown from the other end of the pipe to inflate the glass, and mold blowing, which involves a mold into which molten glass is poured and blown. Workshop courses include clear glass, patterned glass and bubble glass, which involves a technique that causes random air bubbles in the glass. The workshop takes about five minutes, and the handmade crafts are ready for pickup on the following day. These workshops also arrange for shipment. Each workshop displays a variety of unique Ryukyu glassware, which is also available for purchase.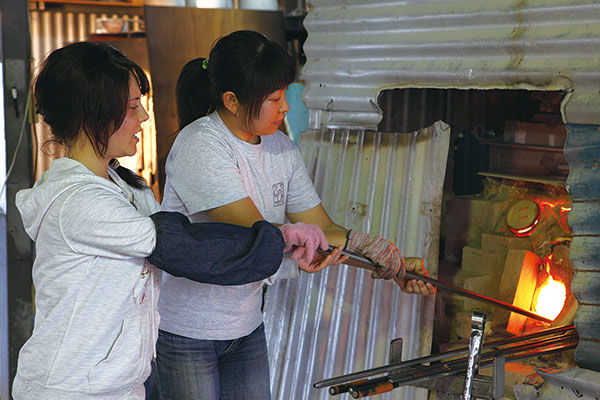 Gather molten glass on the tip of a blowpipe, constantly rotating the blowpipe. Shape it in a cup-shaped mold.
▼ ▼ ▼ ▼ ▼ ▼ ▼
Inflate the molten glass (free blowing, mold blowing).
▼ ▼ ▼ ▼ ▼ ▼ ▼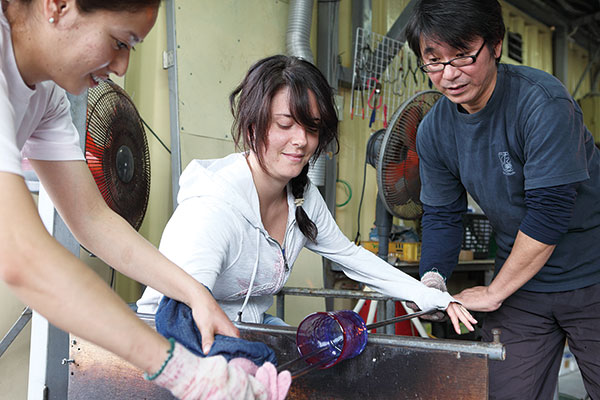 Widen the opening of the glass and fix the overall shape.
▼ ▼ ▼ ▼ ▼ ▼ ▼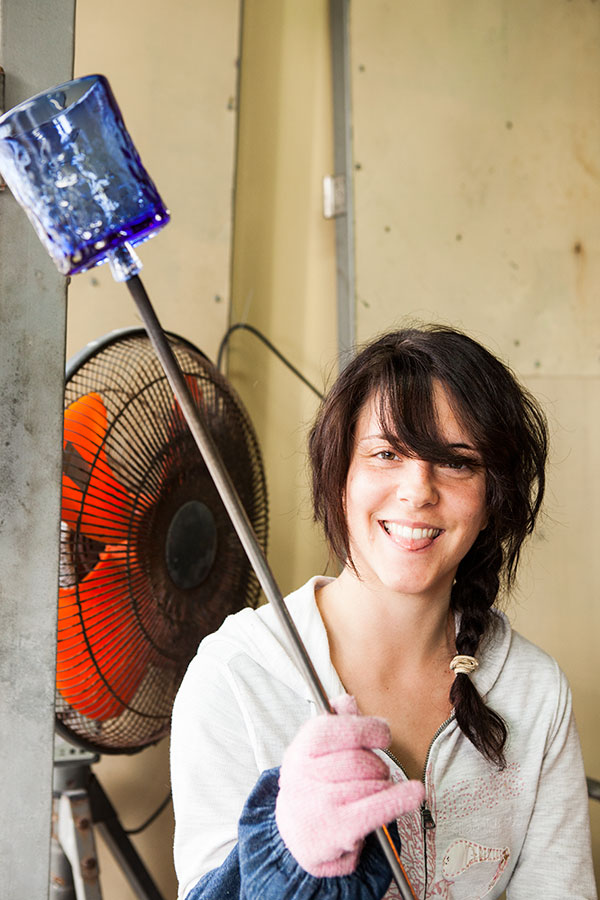 Your handmade glassware is the only one like it in the world!
---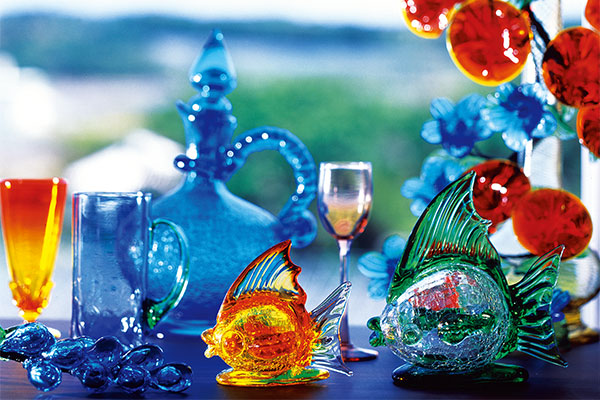 Ryukyu Glass Craft has the largest Ryukyu glass workshop on island. In the facility, a gallery, hands-on workshop and restaurants are on the premises, and numerous glassworks are exhibited for purchase. In summer, even the coolest place in the workshop, farthest from the 1,300℃ kiln, reaches 40 ℃. Ryukyu glassware pieces are produced every day with great care by experienced glass artisans in the highly charged atmosphere. The glass-making workshop starts at 1,620 yen.
Glass blowing (5 minutes, from 1,620 yen); glass dishes (10 minutes, from 2,700 yen); accessories (40 minutes, from 1,620 yen); door nameplates (30 minutes, from 8,000 yen); photo frames (40 minutes, 1,080 yen); glass flowers (10 minutes, from 1,080 yen) and more.
---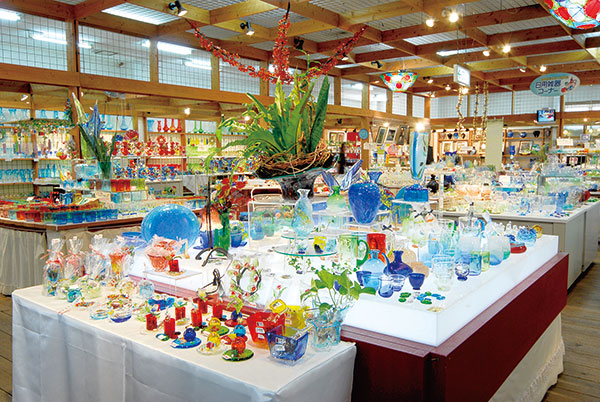 At the Glass House in the Forest in the northern city of Nago, you can watch professional glass artisans at work. You can even try your hand at glassblowing with the help of one of the artists. Don't forget to take a look at the shop, which stocks over 200 types of colorful Ryukyu glassware, including awamori bottles, vases and tableware. The products, directly from the workshop, are sold at discounted prices. Glass House in the Forest is conveniently located on Route 84, which is lined with various sightseeing attractions in northern Okinawa, a 30-minute drive from the Okinawa Churaumi Aquarium.
Glass blowing (5 minutes, 1,545 yen); glass beads (75 minutes, 1,440-1,840 yen); gel candles (60 minutes, 1,080 yen); kaleidoscopes (15 minutes, 648 yen) and more.
---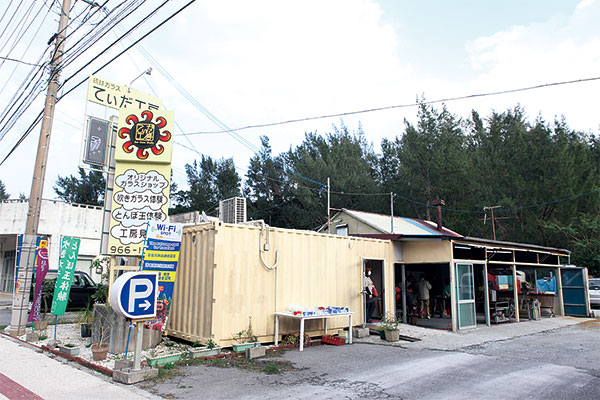 Available are various glassware products that come in unique designs and patterns, such as animal-print glasses with stripes in animal-inspired colors and typhoon glasses symbolizing the eye of a typhoon. Tida Studio offers an excellent range of hands-on workshops, and all workshops are designed to create a satisfying experience for customers.
Glass blowing (10 minutes, from 1,785 yen); glass beads (20 minutes, from 1,575 yen).
---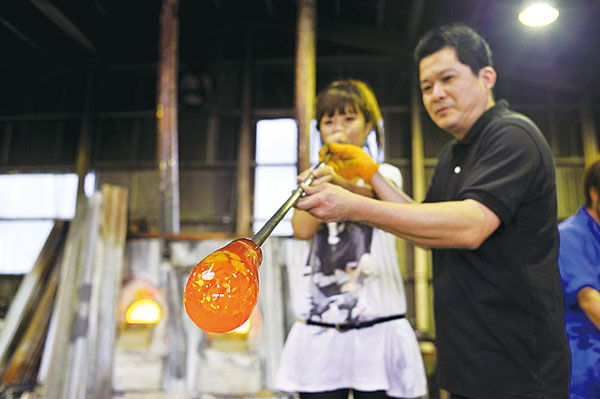 A Ryukyu glassware workshop and gallery shop situated in the resort hotel area of Onna Village, across from the Moon Beach Hotel. Various glassware products, from large platters and vases to accessories and table decorations, are on offer at the gallery shop. Their shops are also located at the Kadena Michi-no-eki (roadside station) and on Kokusai Street.
Glass blowing (10 minutes and up, from 3,150 yen); glass beads (10 minutes, 1,575 yen)