泡盛フェス
Awamori Fest serves fun Saturday on Depot Island Boardwalk
Visitors to Depot Island Boardwalk will have plenty of fun to look forward to this Saturday as six Okinawan awamori distillers join forces with six local businesses to organize an Awamori Fest on the famous seaside promenade.
The festival starts at 15:00 and runs through 19:00. The six companies from Mihama are Cherish the Sea café and bar, Beefy's steak house, China Kitchen. Koshien Stadium Okinawa, Irish Pub Howdy and Hakata Yakiniku Tenjin. The companies pair with Chatan Choro, Zuisen, Kumeshima's Kumesen, Chuko, Taragawa, and Seifuku awamori distillers for the event.
Each pair will set up a table where they will serve drinks based on awamori and food that they select specifically to match the drinks. On the day of the event, visitors can purchase sets of five tickets with a face value of ¥300 each, totaling ¥1,500 per set, cash only, please. The tickets can then be used to purchase drinks and food at the event.
The breweries and restaurants organize the event as a way to teach visitors new ways to enjoy awamori.
Besides food and drinks, there also will be live entertainment. After the end of the festival, the regular Depot Island fireworks shoot off at 20:00 over the ocean in front of the Boardwalk.
Earlier on the same day, the Chatan Morning Marche event takes place at the same venue from 8:00 to 11:00.
In case of inclement weather, both events will be postponed to Saturday, Dec. 5.
The next event at the boardwalk will be a wine festival on Saturday, Dec. 11, from 15:00 to 19:00 followed by women ceramic artists' Yachimun Market on Dec. 26 (Sat) & 27 (Sun), also from 15:00 to 19:00 on both days.
Organizers urge participants to drink responsibly and not drink and drive. Taxis and daiko are readily available in the area. To prevent the spread of the COVID-19 infection, all staff at the event wear face masks at all times. Everyone visiting should also wear face masks while not eating and remember social distancing. Plenty of hand-sanitizing liquid is ready for visitors at the venue. Organizers will also measure everyone's body temperature upon arrival. People who look young should prepare to show an ID when asked.
Event: Awamori Fest
Date: Saturday Nov, 28
Time: 15:00-19:00
Place: Depot Island Boardwalk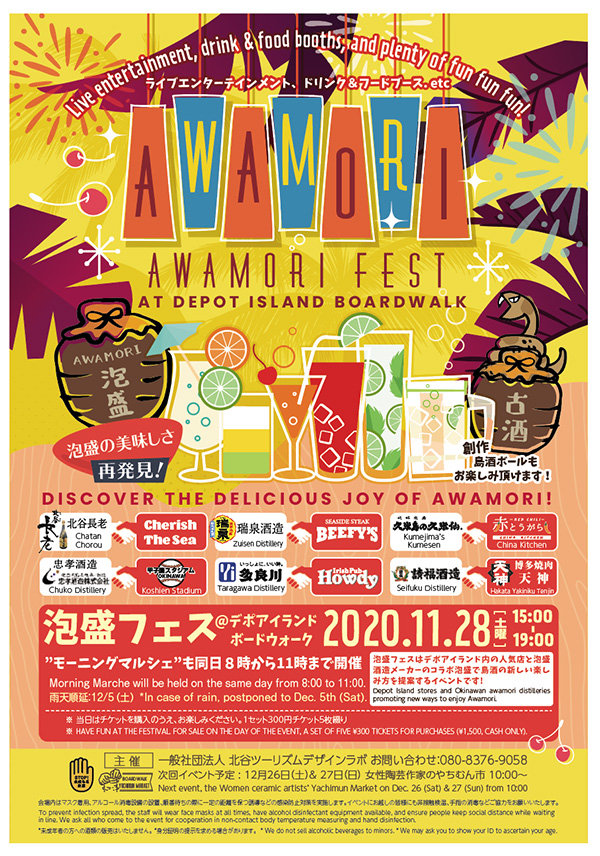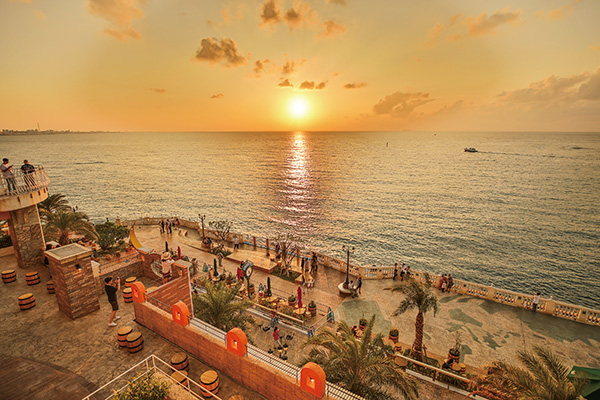 The venue on Depot Island Boardwalk.