今帰仁城跡桜祭り
COVID-19 emergency cancels Okinawa Cherry blossom festivals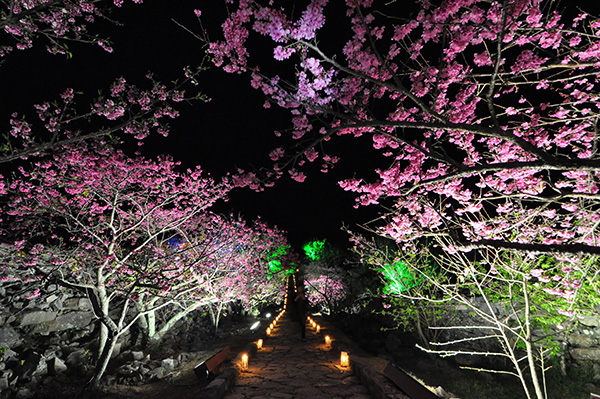 Northern Okinawa is known for having the earliest cherry blossoms in Japan. Although the cherry trees here are an admittedly different variety from the mainland, the flowers being pink in color while the mainland blossoms are white, they are as beautiful and revered by people, and thousands flock to the sites to admire them.
Because the Government of Japan has declared a state of emergency, the public cherry blossom festivals in Okinawa have been canceled either partially or wholly.
The Nakijin Gusuku Sakura Festival at the Nakijin Castle Ruins Park has been canceled but, on the weekend of February 13 and 14, the cherry blossom trees around the castle site are illuminated from 18:00 to 21:00 on both days. A project mapping show is also scheduled for the same time.
Dog owners should notice that they are welcome to the Nakijin Castle Ruins Park with their pets on weekdays. On weekends the pets must stay home.
The castle, the second largest on the island after Shuri Castle, is listed as a UNESCO World Heritage site. It was built sometime in the 14th century and was the residence of the ruler of Hokuzan, the northern kingdom of Okinawa. Its location 100 meters above sea level on a hill gave it a vantage point to watch ships approaching the island from the north.
Date: Feb. 13 (Sat) & Feb. 14 (Sun), 2021
Time: 18:00-21:00
Place: Nakijin Castle Ruins (Nakijin Village)
Admission: Free