琉球ランタンフェスティバル
Ryukyu Lantern Festival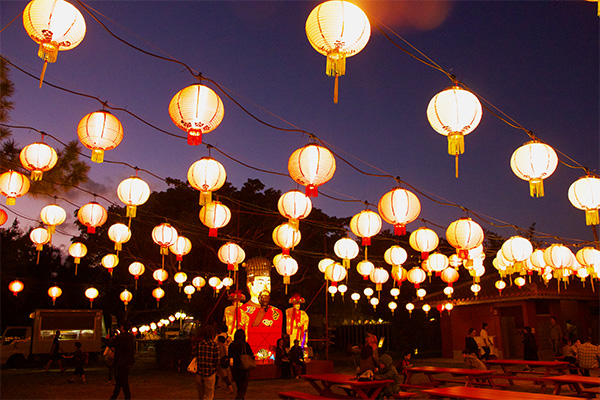 We may not see snowfall in the winters in Okinawa, but across the island, beautiful illuminations twinkle in the evenings to brighten our evenings. Among the various illumination events at resort hotels, shopping areas, and other facilities, there's a very special winter event in Yomitan that features the warm glowing lights of lanterns.
Murasaki Mura is holding their 5th edition of the Ryukyu Lantern Festival, a romantic event featuring thousands of Chinese lanterns adorning the park grounds.
Located in Yomitan Village, Murasaki Mura is a popular cultural theme park where a typical Ryukyuan townscape from the 14th and 15th centuries is recreated.
The festival runs every evening from 5 to 10 p.m. through the end of March. The lanterns create a mythical setting in the theme park's bygone-era surroundings that entice visitors to take photos of themselves and their friends against the colorful background of the festival.
Delicious snacks and great entertainment, such as traditional Eisa, Okinawan folk song performances and projection mapping shows are on stage three times every night. Okinawa Soba noodles and snack-style foods are served at several stalls throughout the park. The Lantern Café at the center of the festival offers popular Jumbo yakitori – grilled chicken – on skewers and Chinese-style steamed nikuman buns that are a perfect match to a cool winter evening.
A path descending to the main area of the festival is lined with lanterns hand-made by local school children, and visitors are invited to vote for their favorites among the children's works on a large billboard set up next to the display. And a booth behind the Lantern Café attracts visitors who want to try their hand on creating a lantern of their own. The booth has all the materials, like Japanese-style paper and bamboo strips, needed to make a creative lantern that they then can take home to enjoy and light up the upcoming dark winter nights.
Date: Friday, Dec. 4, 2020 – Sunday, Mar. 28, 2021
Time: 17:30 – 22:00 (The park opens 9 a.m., lights lit up at 6 p.m.)
Pleace: Murasaki Mura
Admission: Adults: ¥1,200
Junior high and high school students: ¥500
Elementary school students: ¥400
Children 5 and younger are free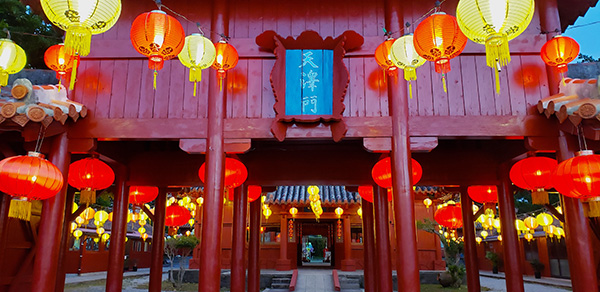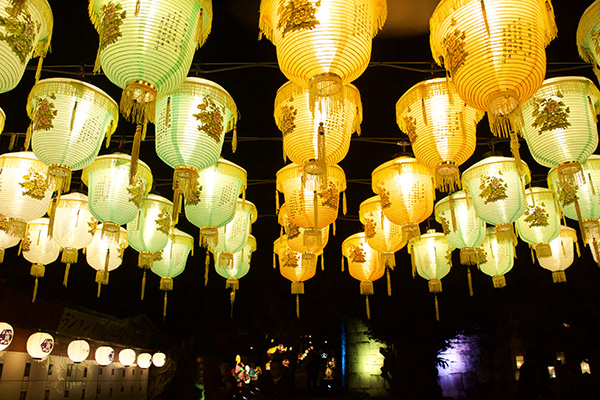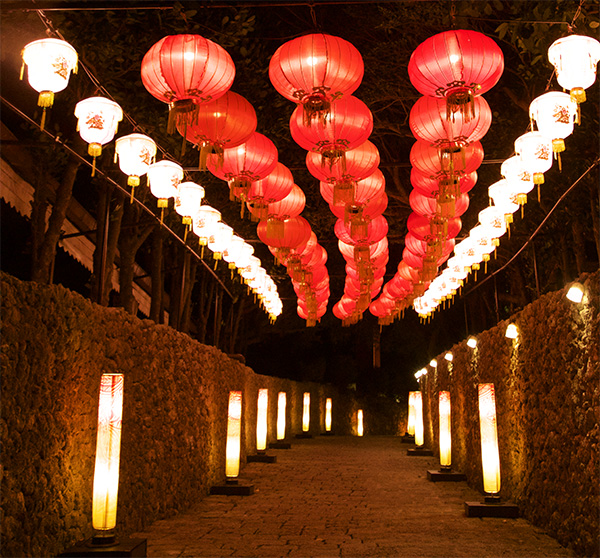 Murasaki Mura is a popular cultural theme park built as a typical Ryukyuan townscape in the 14th and 15th centuries. Each section of the park is decorated with different style lanterns that invite visitors to explore and find their favorite spot for a memorable selfie.
Ryukyu Lantern Festival